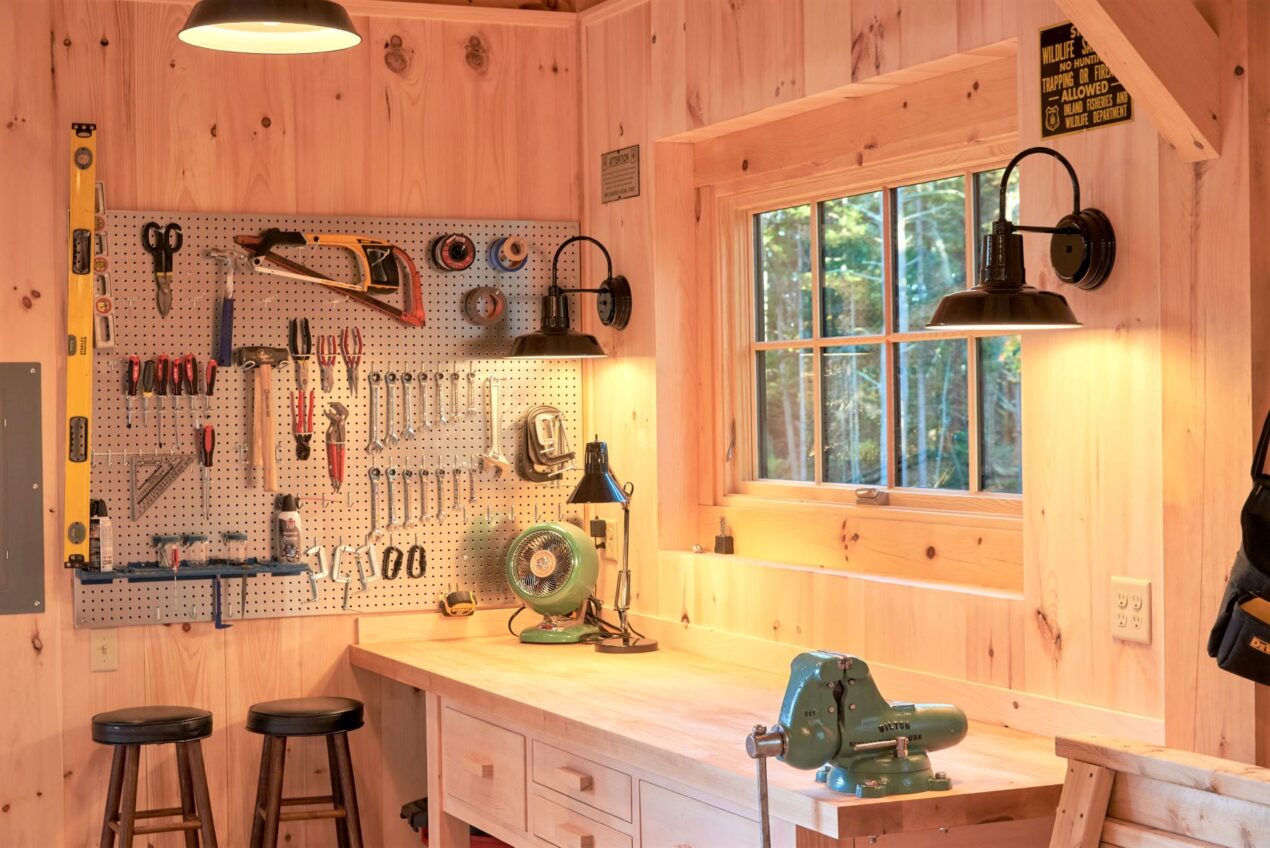 Don't Miss Our Favorite Residential Spaces of 2022
We're adding some reflection into the holiday prep this week as we take a look back at some of our favorite customer projects of 2022. If you missed Monday's blog post, we started with some amazing commercial spaces. Today, we're switching over to residential projects that really turned our heads this year!
If you're a sports fan, you've got to check out Jim's basement. He turned this previously unfinished space into a sports mecca with six TVs, a bedroom, bath, bar, and ping pong table. Jim is also a memorabilia fanatic. He highlights his framed treasures, including jerseys from Herschel Walker, Wayne Gretzky, and Shaquille O'Neal, with the Elliptical Sign Light. 
These sign lights are handcrafted with 9″ shades and a Textured Black finish. A Galvanized G11 gooseneck arm provides a contrast to the shade and 16″ of projection from the wall. Jim chose the swivel knuckle option for his lights so he could position them exactly as needed for each piece.
The addition of a new front porch made a dramatic change to the look of Leah's Napa, California, home. Be sure to click over here to see the before-and-after photos! Leah wanted to find something between old fashioned and ultra modern for the porch and landed on the Barn Light Electric website. She selected the Loma Stem Mount Pendant Light as the perfect blend. She customized her new light with a generous 20″ shade, a Navy exterior finish, and a Painted Aged Copper interior finish.
For the porch posts, Leah chose the Newport Gooseneck Light as it complements the Loma Pendant. It also offers the barn style but with a slight modern edge. These wall lights are customized with the same Navy finish as her pendant and G22 gooseneck arms. Leah also chose the heavy-duty backing plate option.
Megan wanted to give the kitchen in one of her rental homes an update to lend it a more beachy feel. A friend recommended Barn Light Electric which is just up the coast from Cocoa Beach, Florida, where the home is located. Megan searched for unique fixtures with plenty of color options.
She chose the Downtown 6-Light Pendant Chandelier to highlight the dining table and two Marathon Flush Mount Pendants for the kitchen ceiling. She customized these fixtures with a Blush Pink finish to add the Florida flair she was seeking. You can see more of this beautiful rental in this post!
Customers shared a lot of barn photos this year, and one of our favorites is this beauty in Cape Elizabeth, Maine. Nate wanted his new barn to look and feel old, so he carefully chose wood, hardware, and lighting to achieve that look.
Nate opted for fixtures from The Original™ Collection, one of Barn Light's most popular shade styles. Original™ Gooseneck Lights embellish the exterior doors while Original™ Warehouse Pendant Lights and Original™ Stem Mount Pendants bring illumination to the interior space.
Bathrooms can be one of the most difficult spaces to be creative. Most are small and offer no natural light. But Steff from St. Augustine lends her magical touch, working alongside MJ Construction, to create some beautiful bathroom spaces. Several of her recent projects were profiled in this blog post.
"I love the color choices and the huge variety of designs from Barn Light Electric," Steff says. "Your products allow me to give homes some personality and make them pretty instead of what would otherwise be boring and plain spaces."