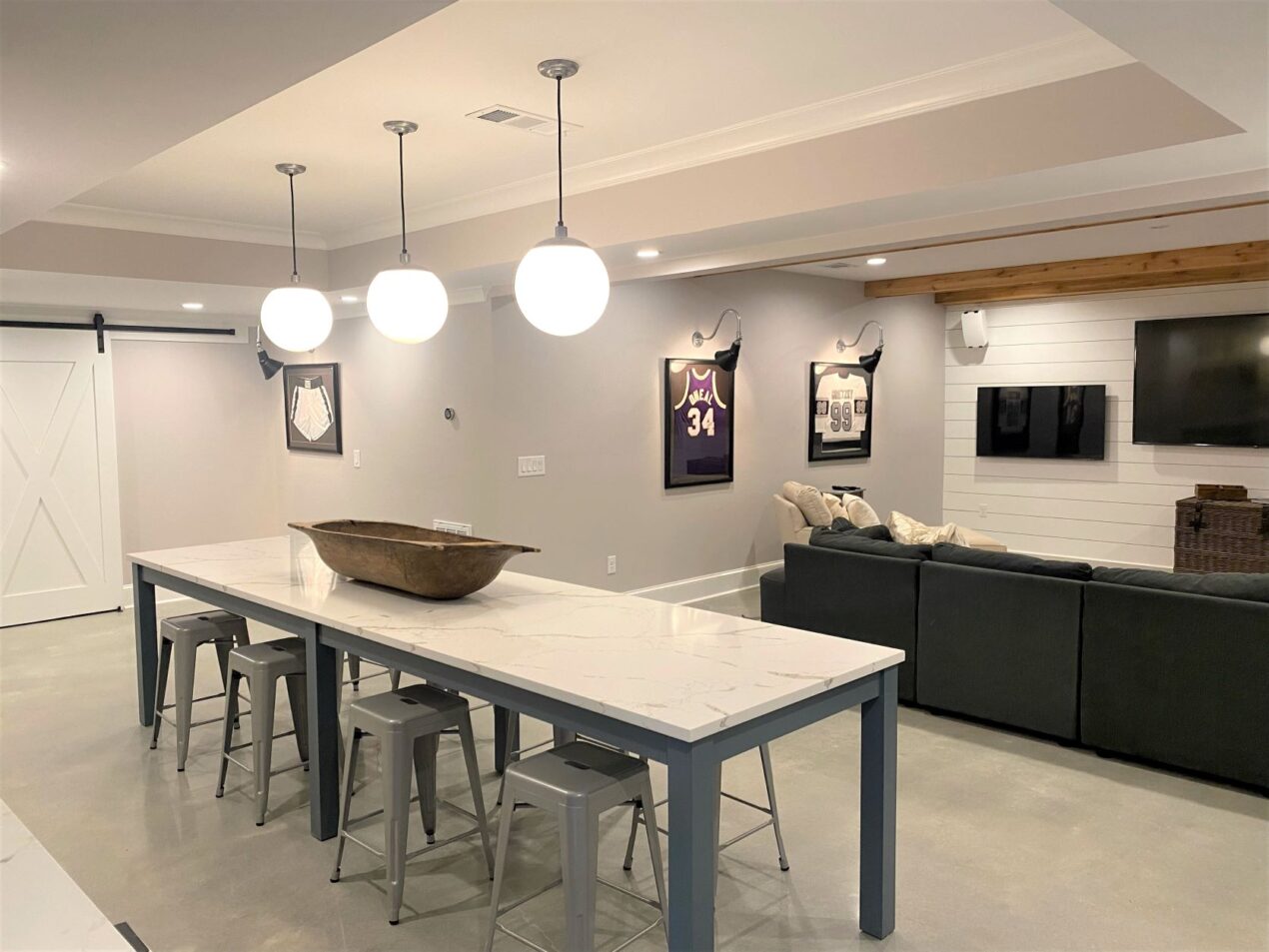 Industrial Sign Lights Spotlight Sports Memorabilia in Renovated Basement
Perspective is everything. Take an unfinished basement for example. While some people see a dark, damp space full of creepy-crawly things, others see potential. Plenty of potential!
Such was the case for Jim who purchased a home in Peachtree Corners, Georgia, with an unfinished basement. He envisioned a comfortable, inviting space with a TV room, game room, bedroom, and bath.
"We have a teenage boy so we wanted it to be a place where he could hang out with his friends," Jim says. "Plus I wanted a space to showcase sports memorabilia and to watch college football." The completed basement boasts six TVs with three dedicated to college football. And sports treasures? Would you believe jerseys from Herschel Walker, Wayne Gretzky, and Shaquille O'Neal?!
"My favorite piece is the signed Muhammed Ali trunks," Jim explains. "Most of it was purchased at charity auctions unless I wanted something specific like these trunks."
When planning the space, Jim chose fixtures and finishes to create a modern industrial look. With polished concrete floors, Jim felt the rugged metal construction of Barn Light Electric fixtures was the perfect complement to the space. Jim chose the Elliptical Sign Light to highlight his cherished historical pieces. He customized these handcrafted sign lights with 9″ shades and a Textured Black finish. A Galvanized G11 gooseneck arm provides a contrast to the shade and 16″ of projection from the wall. Jim chose the swivel knuckle option for his new lights so he could position them exactly as needed for each piece.
"These lights are a cool way to showcase something special," he notes. "We didn't put too much thought into the size or texture, but the knuckle allows us to adjust to the size of the jersey."
Game-day snacks are enjoyed along the generous, 12-foot island. Jim needed three pendant lights to fully illuminate the space, so he selected the Glass Ball Pendant. These pendants are customized with 12″ opaque glass, a Galvanized finish to keep with the industrial vibe, and standard black cords.
"We didn't want pendants that were so big that they block the view of the TVs," he explains. "The Glass Ball Pendants just felt right and turned out perfectly."
For the bathroom and stairwell, Jim needed fixtures with a smaller profile. The Downtown Minimalist Adjustable Wall Sconce fit the bill perfectly with its slender arm and bare bulb design. Two of the fixtures serve as vanity lights in the bathroom while one lights the stairwell without being obtrusive to foot traffic. These fixtures feature a Galvanized finish, an adjustable arm, and Victorian Edison bulbs.
"The bathroom has a throw-back vibe with a penny tile floor and large subway tile," Jim notes. "These lights and bulbs seemed to just fit. They look great!" Jim and his family like that their basement is different from their neighbors' with its unique aesthetic.
"This is the second time I have used Barn Light Electric fixtures," Jim says. "I found them after seeing the name on a light in a restaurant. The products are well made and of good value."
Photos courtesy of the homeowner