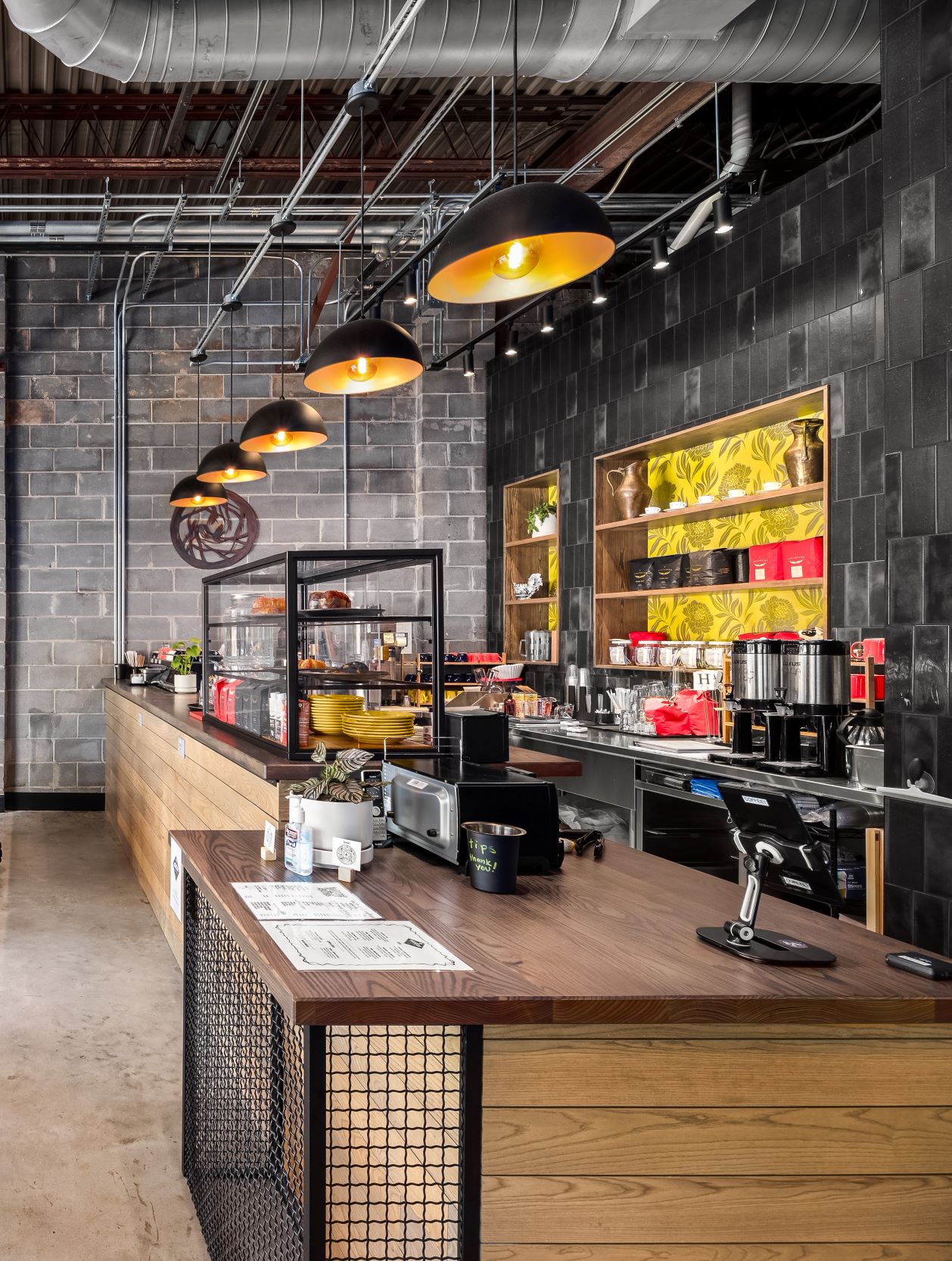 Barn Lights & Craft Beer Create Perfect Pairing in Atlanta Brewery
Every renovation project starts with questions. What is our design direction? What feel are we trying to convey with color and materials? How will furniture and other accessories affect the flow of a space? When the owners of Biggerstaff Brewing Company started planning for their new space located in the heart of Atlanta, they wanted to pay homage to the Biggerstaff family.
"The brewery is named after a family who owned and operated a farm," explains Morgan Justis, interiors project manager for the Office of Design who led the renovation efforts. "The concept was to keep the bones of the space relatively undisturbed in honor of its history, but to work on some farmhouse-inspired elements in homage to its namesake."
The full-scale, gut remodel meant transforming a former automotive garage into a fun and inviting place where patrons enjoy coffee in the morning and craft beer in the afternoon and evening. Working with tall ceilings and exposed piping, block, and ductwork, Morgan looked for lighting that could add warmth to the space. Her online search took her to Barn Light Electric.
"It was important to find a cost-effective solution that recalled typical barn lighting," Morgan notes. "We love that Barn Light has so many color options and combinations." She and the team honed in on the Loma Pendant Light to accent the coffee bar area. They chose to customize these handspun pendants with 16″ shades and black cords. The exterior of the shades feature a Textured Black powder coat finish while the interiors are a Painted Aged Brass.
"The bar needed some warmth and additional accent lighting to ground it within the space," she explains. "The 16″ size was necessary for the scale of the space. The Textured Black fits within the color scheme we were working with throughout, and the Painted Aged Brass adds a little warmth."
The Loma Collection features a variety of shade sizes ranging from 12″ to a generous 36″ version. Mounting options include stem mount, cord hung, and chain hung plus our latest adjustable wall sconce.
"The curves are a bit of a departure from some of the other, more rectilinear elements in the design," Morgan says. "They effectively light the coffee bar workspace and serve as a nice focal point."
Photos courtesy of Eric Sun Photography