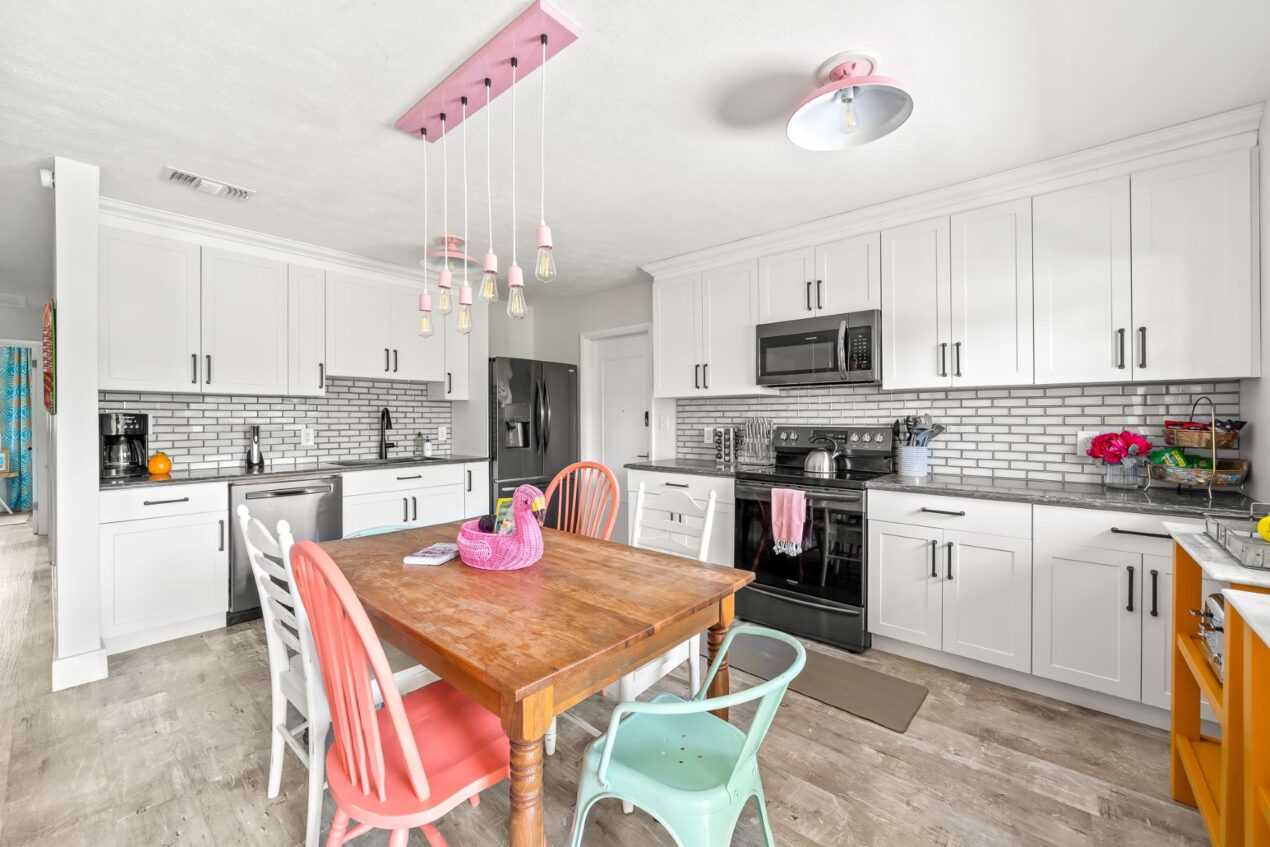 Blush Pink Pendant Lighting Brightens Florida Kitchen
With so many vacation homes available at the click of a button, rental owners find creative ways to make their properties stand out from the crowd. Megan McCrea owns a small collection of rental homes which she leases through her company Southbound Stays. The homes she rents are thoughtfully curated with special touches throughout to make the space not only comfortable and functional but visually inviting as well.
Megan's home called Lunar Beach Bungalow in Cocoa Beach, Florida, recently got some fixture updates to lend more of a beachy feel to the kitchen.
"I wanted the entire space to be a representation of Florida fun in the sun," Megan says. "To me, this means bright and colorful while still being relaxed and comfortable." Megan opted to update the kitchen which she described as being drab and simple.
She found Barn Light Electric through a friend who encouraged Megan to check out the easy-to-customize fixtures available just up the road from Cocoa Beach.
"Uniqueness and color options were my top criteria," Megan notes. "It's an added bonus that Barn Light was local to this project." Megan chose two Marathon Flush Mount Pendants for the kitchen ceiling. She customized these handspun lights with 16″ shades and a bright Blush Pink finish.
"I chose these mainly due to the color," she explains. "These help liven up the space and match the feel throughout the rest of the home." Over the dining table in the center of the kitchen, Megan chose a Downtown 6-Light Pendant Chandelier. She customized this fixture with the same Blush Pink finish and standard white cords.
"I like that it's a chandelier without feeling formal or trendy," she says. "It's a timeless piece with a fun twist."
Barn Light's vast array of customizing options makes it easy to create the perfect lighting for any space. Whether it's a coastal kitchen like Megan's or a rustic log cabin in the mountains, Barn Light will handcraft your lighting from commercial-grade materials and finish it to your specifications all right here in America!