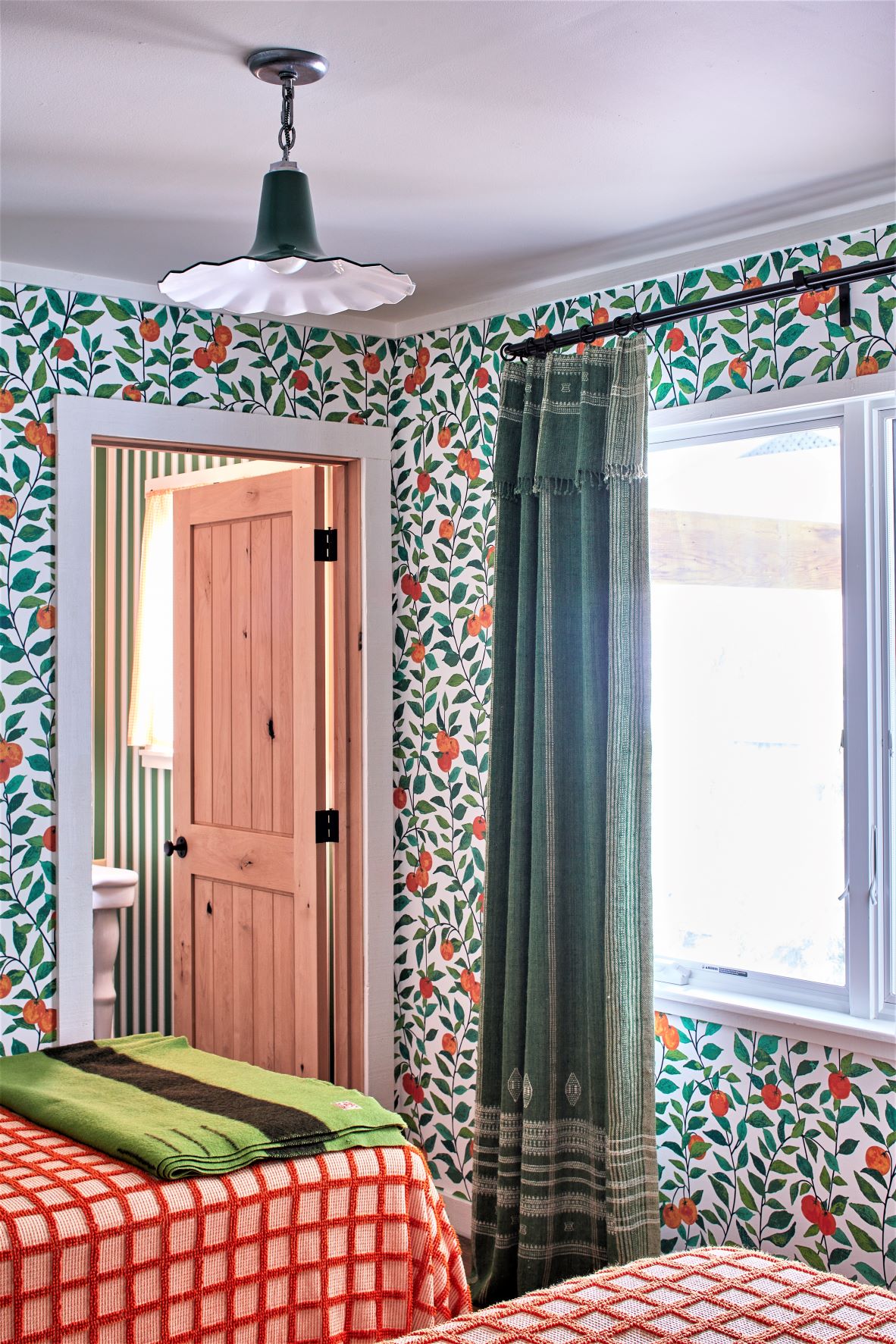 Bold Designs, Stylish Lighting Highlight Wallpaper Wednesday
Although we're just dipping our toes into the fall season, the buzz is already beginning about what's hot and what's not for 2023. One design trend that shows no sign of fading is the use of wallpaper. Not only is wallpaper an attractive way to add color or to hide imperfections on a surface, but new types of wall coverings are being introduced including recycled paper, bamboo, and straw.
Today's edition of Wallpaper Wednesday starts with some beautiful inspiration from Allie in Massachusetts. Allie describes herself as a stay-at-home mom of four who designs spaces in their home as a creative outlet. This bathroom features our handcrafted Esso Wall Sconce with a 10″ shade finished in the perfect shade of Navy to complement the whale wallpaper.
Allie chose another Esso Wall Sconce for this bathroom which offers an eye-catching map of Casco Bay off the east coast of Maine. This 10″ wall light is finished in a powder coat White.
Rolling gray-and-white waves create the perfect backdrop for a Lovell Plug-In Wall Sconce in this bedroom designed by Adrianne in South Carolina. This American-made wall light is customized with a porcelain enamel White finish, a Weathered Brass arm, and a black-and-white cloth cord which adds visual interest and texture.
Our friends at Country Living magazine are passionate about recipe development so their test kitchen is outfitted to the nines! An industrial space at their Birmingham, Alabama, headquarters was transformed into a beautiful and highly functional kitchen including a photo studio. The blue wallpaper offers a soothing backdrop for the tools of the trade which are highlighted by two Gladstone Pendant Lights. These striking pendants feature 10″ shades finished in Navy with a nickel socket and knob switch. You can read more about this project in this blog post.
You can't help but wake up with a smile in this bedroom thanks to the cheery wallpaper. This space was created by Nathan Turner, author, designer, and home cook extraordinaire. The room is accented with a Seaside Chain Hung Pendant customized with a 16″ shade, porcelain enamel Vintage Green finish, and a black-and-white cloth cord.
If you're looking for more inspiration, don't miss the Barn Light Instagram feed which is a constant source of beautiful photos! Be sure to share your space with us and use the hashtag #mybarnlight to be featured!