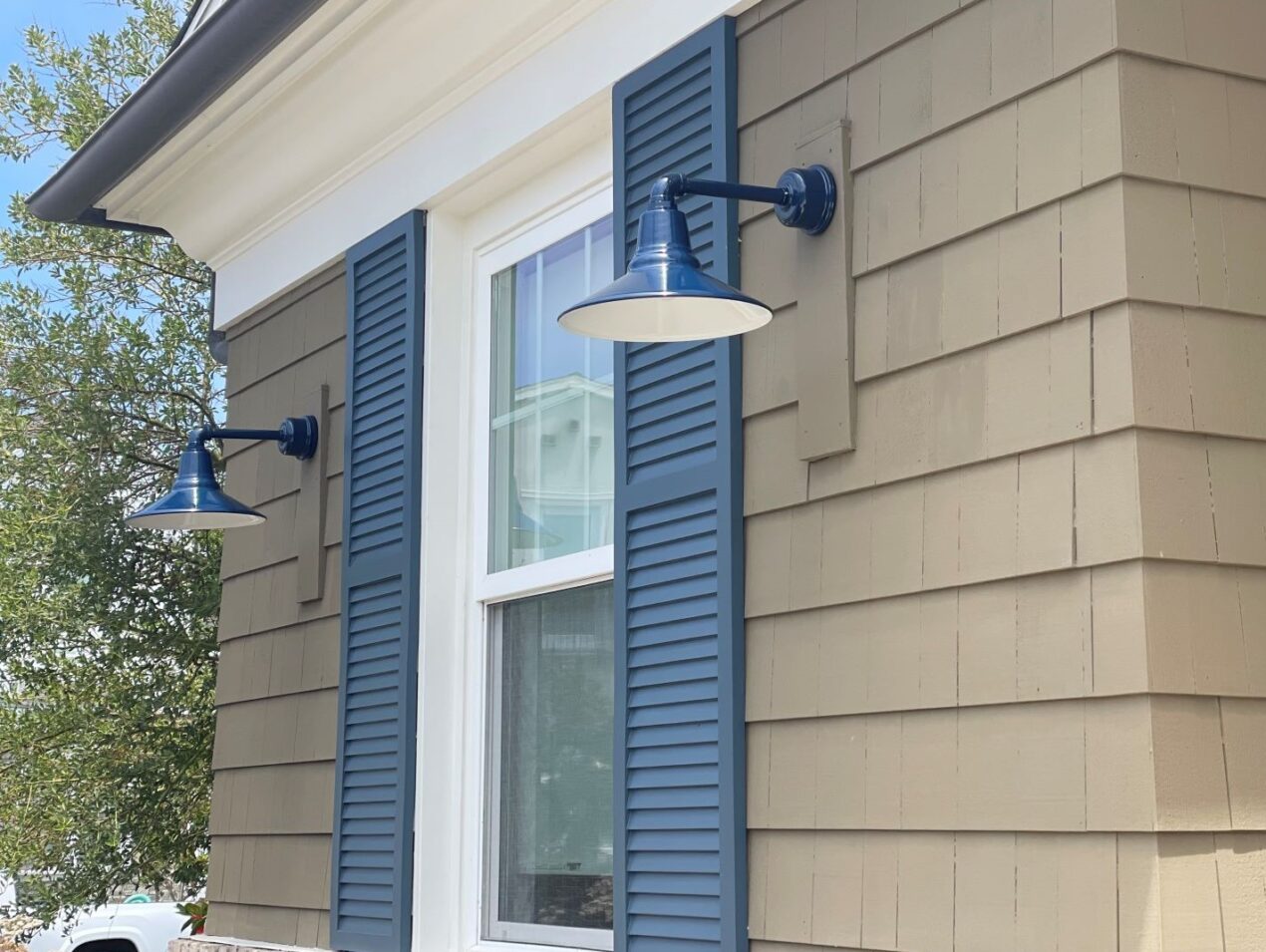 Durable, Nautically Inspired Lighting Brightens Coastal California Home
Ten years after building their new home in Huntington Beach, California, Leslie and her husband knew it was time for a refresh on the exterior. The coastal location, with its abundance of sun and salt air, can be hard on surfaces so the couple repainted and purchased all new outdoor lighting.
"We were looking for durable lights that would hold up well along the coast. The lights in the backyard were also very small and didn't give off much light," Leslie says. "We wanted a simple nautical design in a color that would complement the shingles and shutters on our home."
The couple had purchased lighting from Barn Light Electric in the past so they knew where to turn for easy-to-customize lighting that is built to last. They honed in on the Gooseneck Collection and chose the Aero Gooseneck Light for both the front and back of the home.
"The Aero Gooseneck has a simple, straightforward design that feels contemporary and reminiscent of traditional, nautical lights," Leslie explains. "We live in a newer community of beach homes that were inspired by the shingle-style beach houses built along the east coast in the late 1800s. The Aero Gooseneck is a new spin on a classic design just like our home!"
The couple customized their handcrafted gooseneck lights with a Navy finish that perfectly matches their doors and shutters. They also chose G17 gooseneck arms and added dusk-to-dawn photocells on some of the fixtures. They specified 12″ shades for the fixtures on the back side of the house and slightly larger 14″ shades for the front.
"The 12″ shades are for the back and the patios," Leslie notes. "They provide just the right amount of light without overwhelming the area. The larger shades in front provide plenty of light for security at night and create a nice balance with the scale of the windows, doors, eaves, and other architectural details."
With its stacked neck, sleek flared base, and iconic gooseneck arm, the American-made Aero offers a versatile aesthetic. With plenty of options to choose from including three shade sizes, more than three dozen finish colors, and a wide variety of arm styles, the Aero can be customized to complement most any residential or commercial space.
"Ordering from Barn Light is fun because everything is customizable from the shade type and size to color," Leslie says. "Our new lights are stylish, welcoming, and provide just the right amount of light."
Photos courtesy of the homeowner