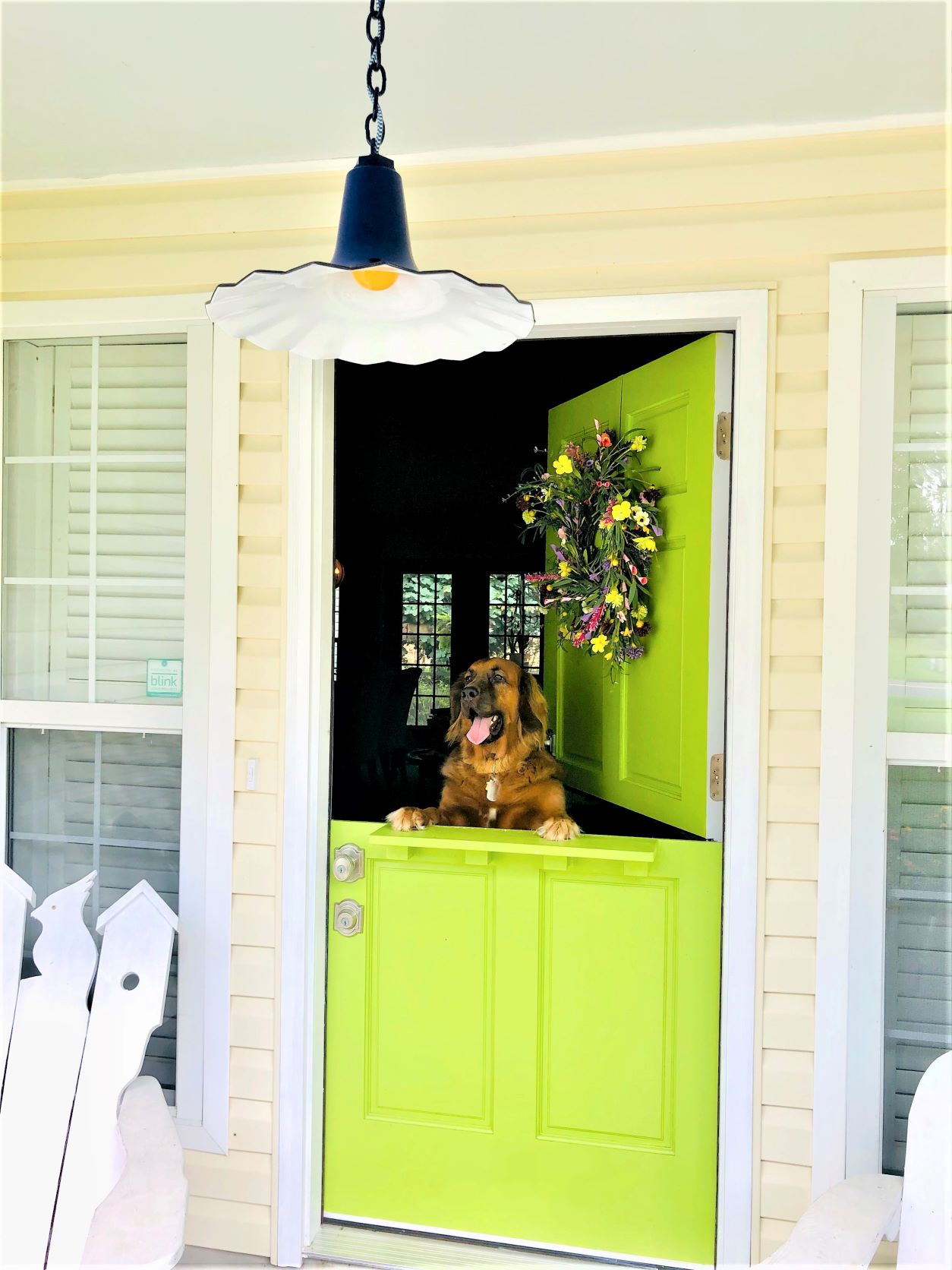 Entryway Enhancements Topped Off With Dutch Door, Chain-Hung Pendant
It took more than 20 years, but Carlyne finally took the plunge and replaced her front door with the Dutch door she always wanted. Her main concern had been the security of the door, but not only does each half feature a deadbolt lock, but the halves are secured together with another heavy-duty lock.
Once the door was hung and painted in an eye-catching chartreuse, Carlyne only needed to freshen her porch with a new rug and lighting.
"I googled lights for months," Carlyne says. "I looked at hundreds of lights. When I first saw the different styles and choices available at Barn Light Electric, I was captivated. The choices were charming and the ability to customize was so much fun! And the fact that it is a family-owned company here in America, not far from my south Georgia home, just made me feel that this was the right decision for me."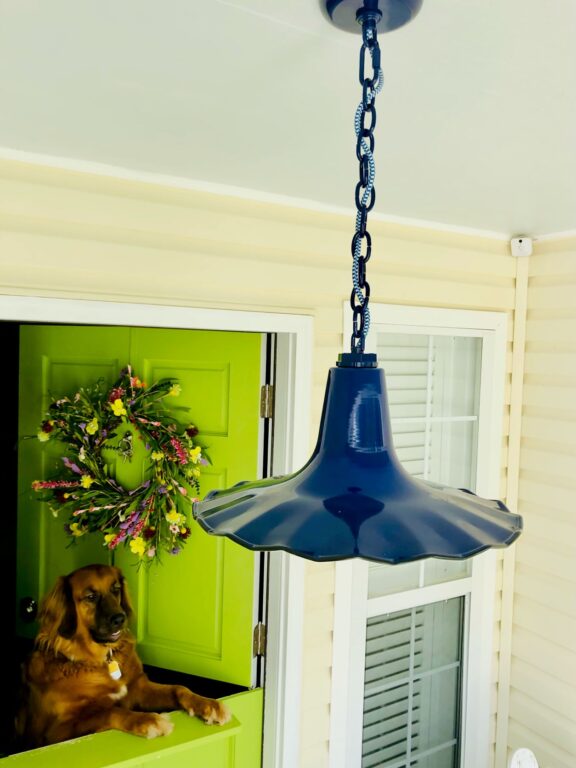 After hours of searching over several weeks, Carlyne chose the Seaside Chain Hung Pendant as the finishing touch for her front porch. She customized this handcrafted light with a 16″ shade and a brilliant Cobalt Blue finish. She also selected a blue-and-white cloth cord for added texture and visual interest. Jack, her pup, brings his own charm!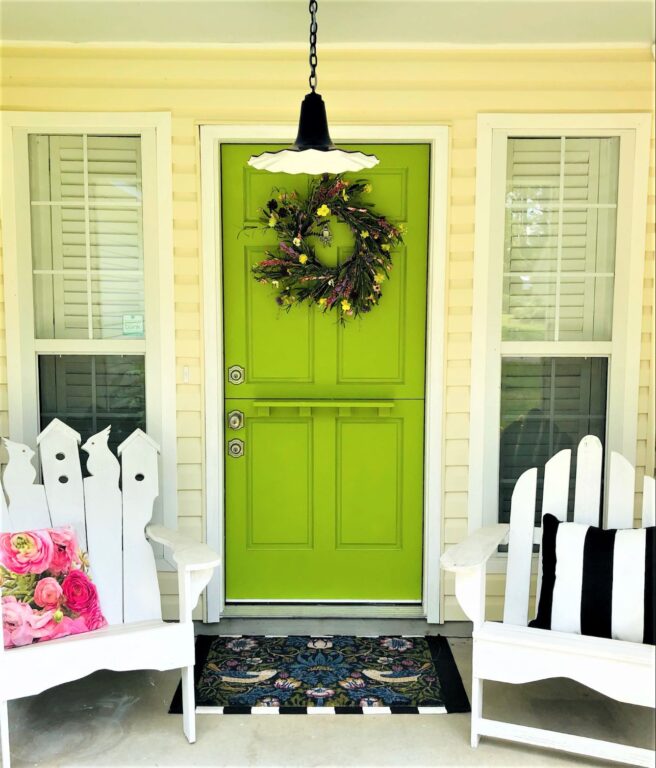 "The Cobalt Blue is mesmerizing. It's unlike any other blue that is out there," she explains. "It is a beautiful blue from a distance, but the closer you get and the longer you look, you can see that the color sets this shade apart from any other on the market." Carlyne adds that she chose the cloth cord to support her vision of a small, inviting cottage that was built in another time.
"The light fixture steals the show!" she notes. "One of my favorite features is the wavy shade. It is an unexpected, subtle, and nostalgic touch. I honestly don't believe my entry would have felt special without this gorgeous light!"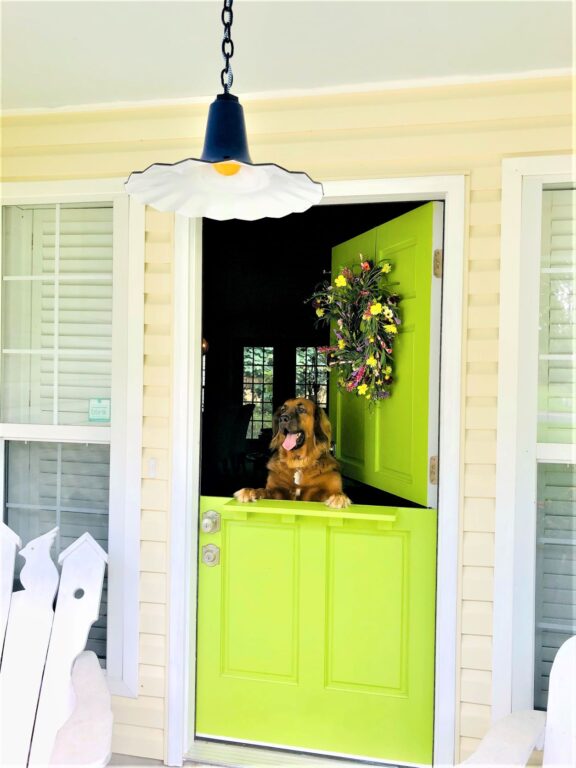 The Seaside is one of Barn Light's most popular shade styles. Available in a variety of mountings including stem, cord, gooseneck, wall sconce, and post mount, the Seaside can be customized in dozens of ways to complement any residential or commercial space. The shade starts with handspun aluminum, steel, copper, or brass, and can be finished in one of more than three dozen powder coat or porcelain enamel finish colors.
"I discovered Barn Light through my extensive google search and what a discovery it was!" Carlyne says. "I briefly entertained the idea of similar lighting from other companies, but I soon realized that while they may have seemed similar at first glance, in reality, they aren't similar at all. There is no comparison for the quality lighting that Barn Light Electric produces!"
Photos courtesy of the homeowner