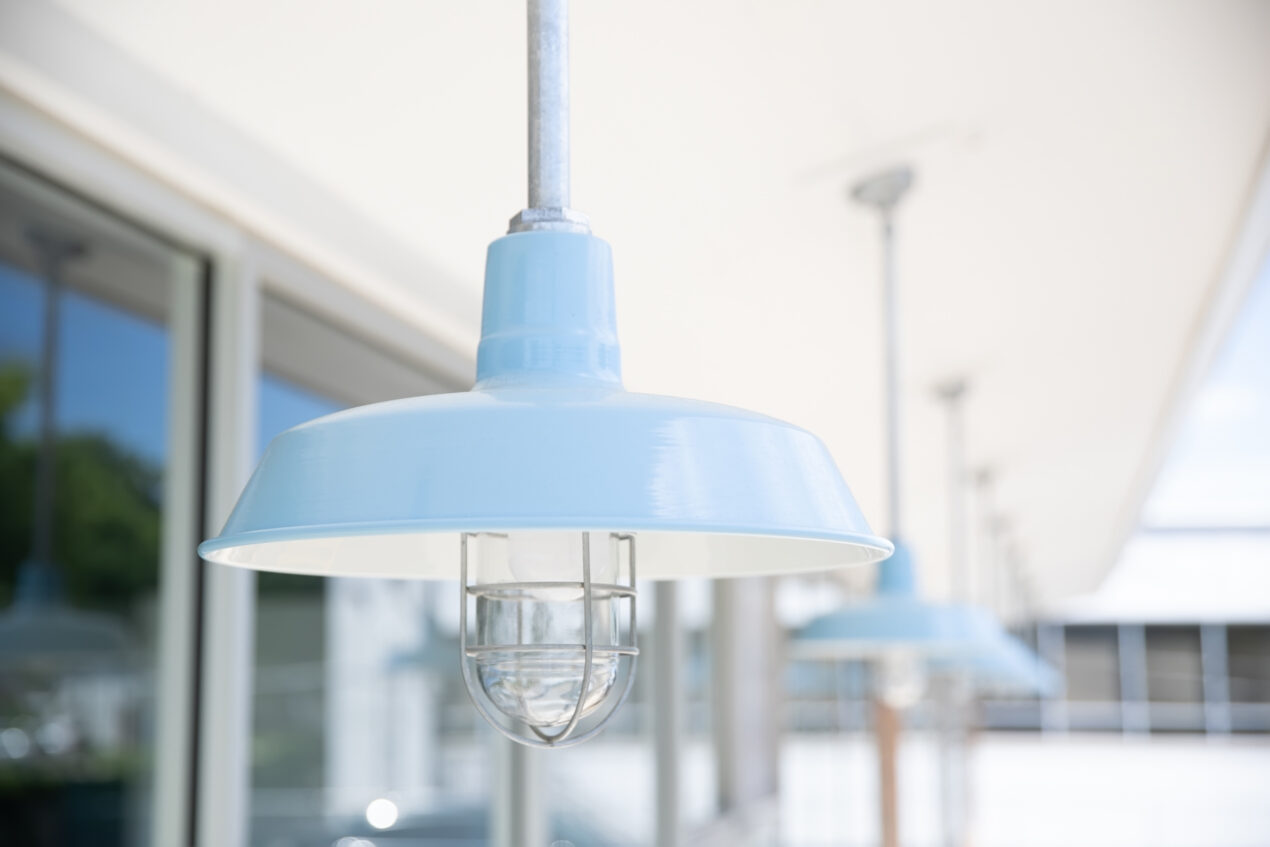 A Look Back at Our Favorite Commercial Spaces of 2022
It's our favorite time of year! Holiday shopping, festivities with friends and family, and plenty of reminiscing before we turn the page on 2022! Today, we're taking a look back at some of our favorite commercial spaces from this year.
While you might think commercial lighting is all about safety, these projects show that Barn Light Electric fixtures offer not only excellent illumination but also loads of style. And our easy-to-customize lighting means that commercial customers can create the perfect fixture to complement their brand.
First up is Watauga Brewing located in Johnson City, Tennessee. This brewery occupies an historic building which was transformed into a three-level tap room, restaurant, and sky bar. The street-level tap room and bar feature our stunning Loma Pendant Lights with a moody Black exterior and Raw Brass interior.
The rooftop bar features all new construction and has a more modern vibe while still tying in with the historical features of the floors below. The design team chose to accent this bar with Industrial Guard Stem Mount Pendants customized with a powder coat Black finish, clear glass, and 24″ stems. Check out this link to see more of this beautiful brewery!
When the good folks at Vernon Family Farms in Newfields, New Hampshire, expanded their operations to include a large pavilion and kitchen, they knew where to turn for quality lighting. They purchased Barn Light's Chicken Wire Pendant Lights back in 2020 for the farm store which was profiled in this blog post.
Fast forward to 2022 and exterior lighting was needed for the new pavilion. Owners Nicole and Jeremiah Vernon chose colorful Laramie Wall Sconces and Canal SoHo Sconces to accent the new building. You can see more photos here!
When Liz moved her photography studio, Something Blue Photography, to downtown Arlington Heights, Illinois, she wanted to create an inviting atmosphere for her clients. The building is 60 years old and never had exterior lighting. Liz remedied that problem with a row of 14 Original™ Stem Mount Pendants. 
These American-made pendant lights are handcrafted and feature generous 16″ shades and 24″ stems. The Delphite finish on the shades matches Liz's brand color perfectly. You can read more about why Liz chose these fixtures in this blog post.
When we first saw the pictures from Livingston's Soda Fountain & Grill, we were immediately transported back to the early 20th century. Owners Jack and Glenda Pettigrew nailed the design of this retro-inspired soda fountain with the jadite color scheme and classic schoolhouse lighting.
The long bar is highlighted by a row of Primary Schoolhouse Pendant Lights. These American-made pendants feature opaque glass, a Galvanized fitter and canopy, standard black cords, and a triple painted band of Teal.
Excellent lighting makes all the difference when you're shopping. The Bear Rock Adventures store, located in the Great North Woods region of New Hampshire, wanted a rustic industrial look for its new retail expansion. They opted for pendants and gooseneck lights from Barn Light's Discount Lighting Collection.
Two dozen All Weather Farm Light Stem Mounts bring plenty of illumination to the clothing displays. These lights are customized with 17″ shades and a powder coat Black finish. The team also chose 10 matching All Weather Gooseneck Farm Lights to mount to the posts throughout the shop. These feature slightly smaller 15″ shades, G31 gooseneck arms, and the same powder coat Black finish.
Be sure to check back on Wednesday when we reminisce over our favorite residential projects!