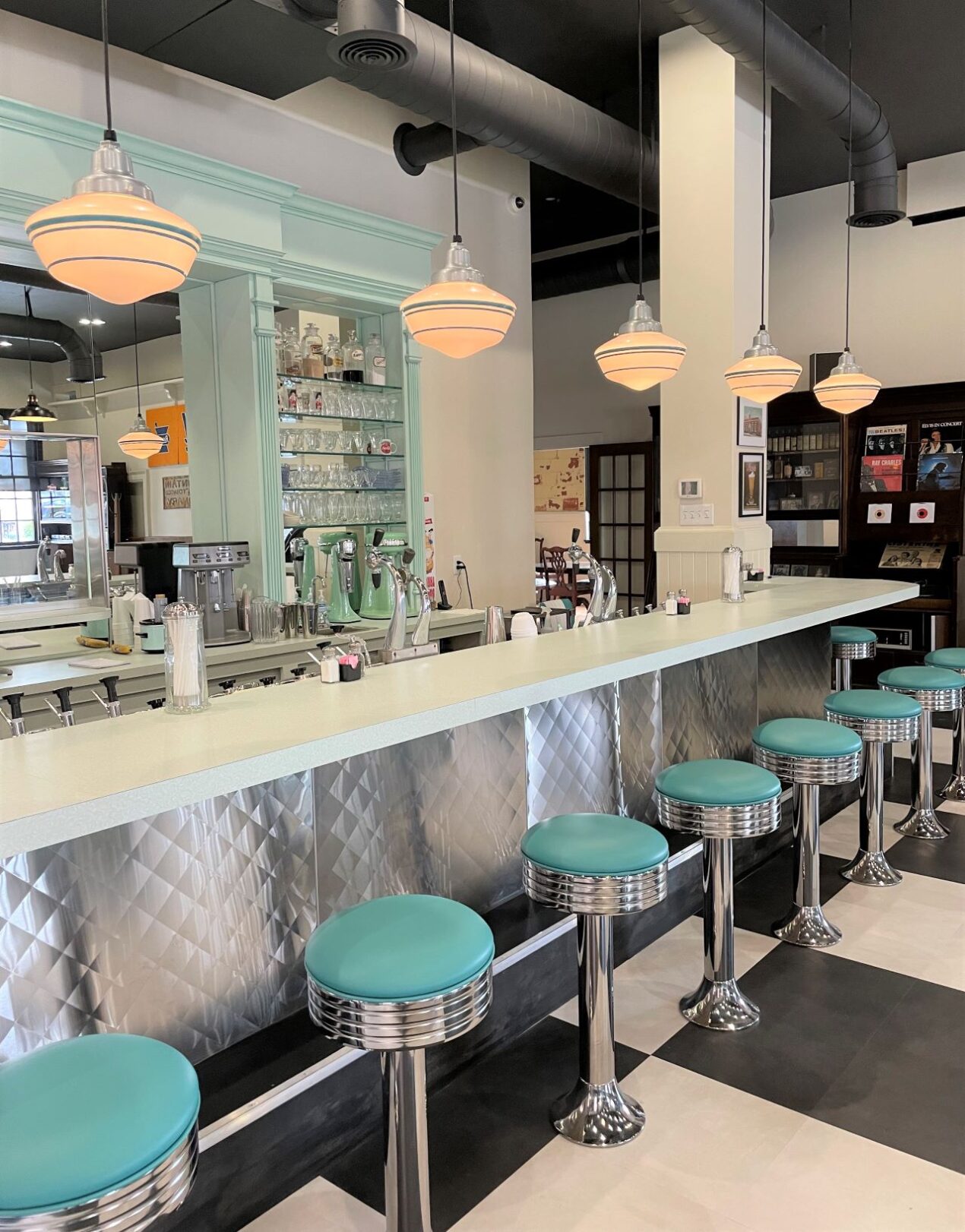 Vintage-Inspired Lighting Completes Retro Look of New Diner
Stepping into Livingston's Soda Fountain & Grill in Brownsville, Tennessee, is like walking through a portal that zips you back to the 1930s. The era when the local drug store was the heart of the town. And where locals sit on stools at the soda fountain to connect, eat homestyle cooking, and drink frothy milkshakes.
"This was originally a post office built in 1935," says Glenda Pettigrew, owner of Livingston's. "The post office moved in the 1970s, and it was a home furnishings business until Jack and I bought it in 2021." The couple wanted to create a space that harkened back to the retro era of soda fountains. They visited a variety of places in Tennessee to get ideas for colors and designs.
"We hired Gina Sills, a decorator from Jackson, who really pulled it all together for us," Jack notes. "She found Barn Light Electric and suggested we look at their website for lighting." The post office used schoolhouse lights for decades, and the Pettigrews wanted to stay in the same 1930s timeframe for fixtures and finishes.
With help from Gina, the couple selected six Primary Schoolhouse Pendant Lights to highlight the counter. They customized these American-made lights with large opaque glass, a Galvanized fitter and canopy, standard black cords, and a tripled painted band of Teal.
"We like American-made products for sure, and being able to customize these was important," Glenda explains. "We saw the lights on Barn Light's website and knew they were perfect. We loved the idea of the banding on the globes."
"The shape is what got me," Jack adds. "We did exposed ductwork in the ceiling, and these lights fit right in. Our decorator chose the three bands of Teal which seemed more authentic and very retro."
In a separate dining area, the couple chose two Calico Chandeliers to highlight the tables. These handcrafted chandeliers are customized with three lights, a Matte Black finish, five feet of chain, and standard black cords.
"The original hanging lights in the building's basement were warehouse style, and these chandeliers matched those vintage shades," Jack explains. "The black finish matches the black-and-white tile floor in the soda fountain and looks great with the hardwood floor in the dining room."
Since opening over 18 months ago, word has spread throughout western Tennessee about Livingston's. Great food and plenty of nostalgic details keep them coming back for more.
"We have people drive all the way from Memphis to eat with us," Glenda says. "They go on and on about the lights. It's really amazing!"
Photos courtesy of Livingston's Soda Fountain & Grill