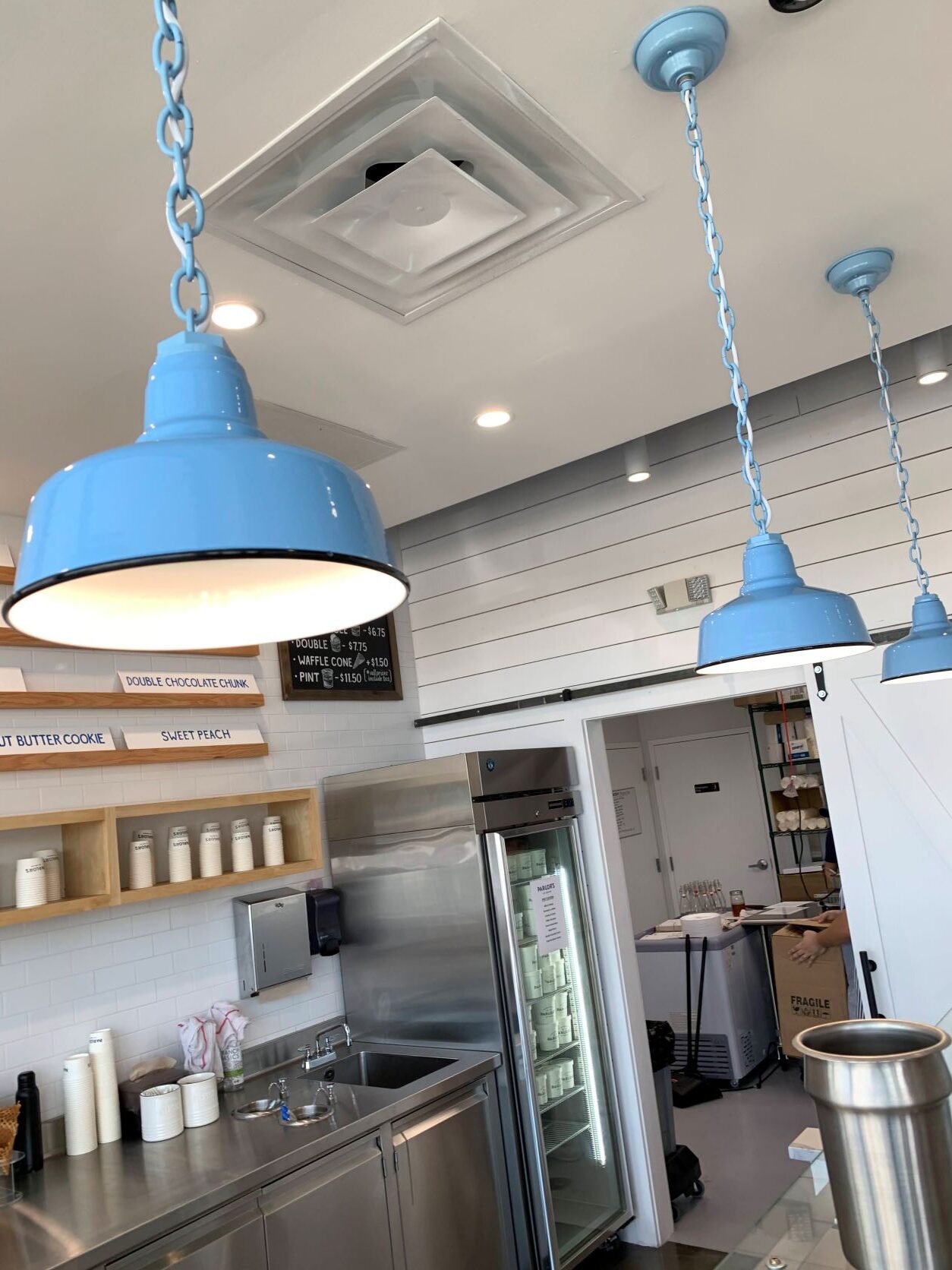 Colorful LED Lighting Creates Farm Vibe for Ice Cream Parlor
When Brandon and Kelli traveled to Italy four years ago, they were enamored with the delicious Italian meals they ate featuring locally sourced ingredients. Back home in Dallas, the couple realized they could turn their love of ice cream into a similar business model by making classic ice cream flavors with fresh milk and eggs sourced from local farms.
Parlor's Ice Creams, a farm-to-scoop ice cream parlor, started out with a scoop cart. Then in 2022, the couple opened their first brick-and-mortar shop. Located in the northeast corner of Dallas, Parlor's was designed to create the feeling of an old-fashioned ice cream shop.
Working with LightSpek, a Barn Light Electric commercial representative in Dallas, the couple chose fixtures to create the atmosphere they envisioned.
"The owners were going for a light, fun feel to the space," says Jim McMillan, who handles specification sales for LightSpek. "The finish color of the fixtures was very important, and we recommended LED as the best option for a retail location."
The couple chose the Esso LED Chain Hung Pendant to highlight the counter area. They customized the 10″ handspun shades with a Delphite Blue porcelain enamel finish, standard white cords, and a flat lens.
"We chose these pendants because they have a farm feel to them," Kelli explains. "All of our ice cream is made from scratch, and we source our eggs and milk locally. We wanted to give that farm feel with the lighting." The Delphite Blue finish complements the Parlor's branding scheme and brings a welcoming pop of color to the space.
Kelli adds that while the shop is very simple, they knew the lights would become the design piece to bring the space together. These American-made pendants are handcrafted from solid steel in Barn Light's Florida manufacturing facility and finished by hand. The integrated LED module in each fixture offers energy-efficient illumination plus saves time and money on maintenance.
"We love that the pendants complete the space. Without them, the shop would feel very different," Kelli says. "They even look awesome at night! They help bring our shop to life!"
Photos courtesy of Parlor's Ice Creams