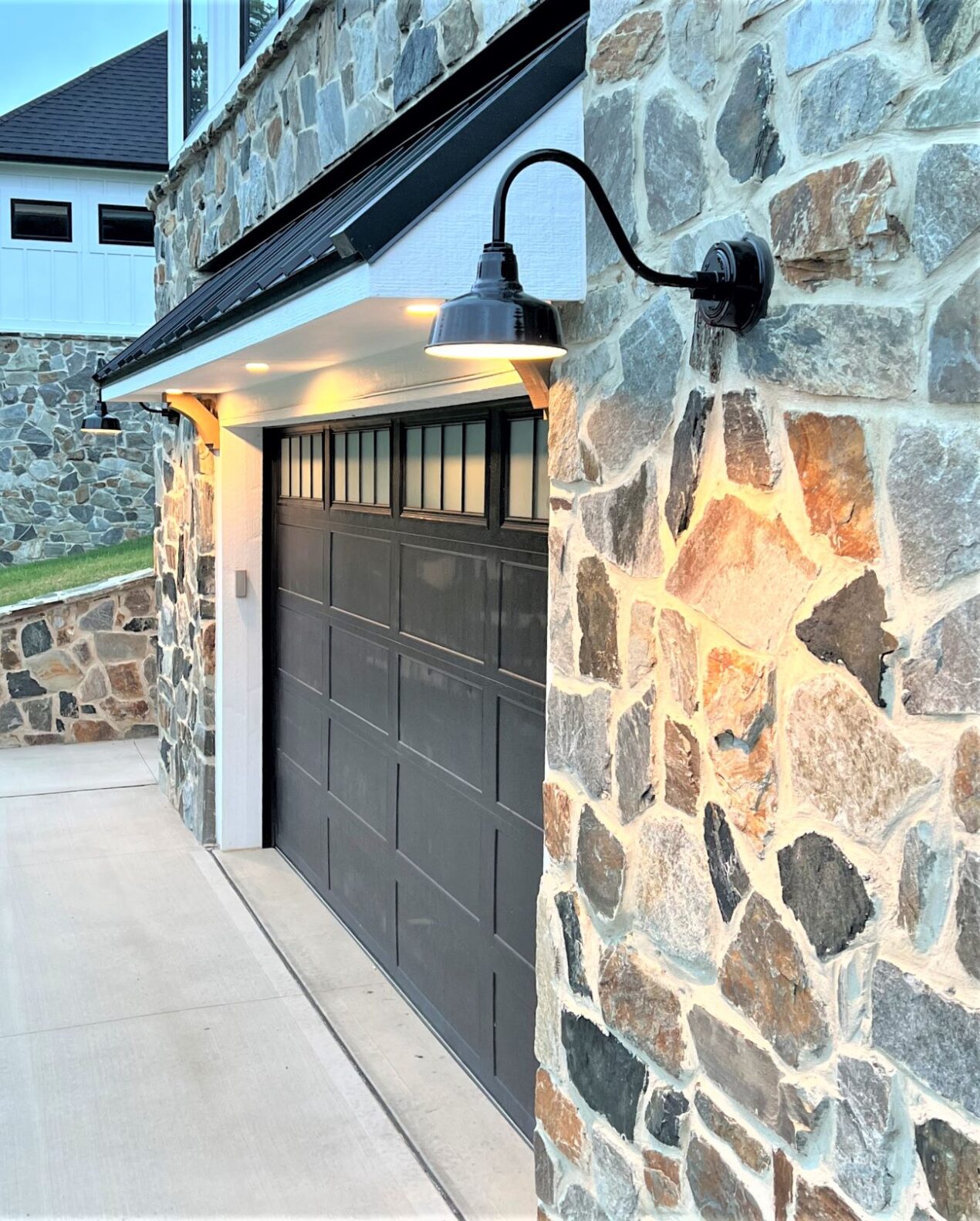 Barn Lights Accentuate Modern Farmhouse Vibe to New Build
Jeremiah and Laura faced countless questions during the build of their modern farmhouse four years ago in central Indiana. But there was no question, in their minds, when it came to lighting.
"We wanted barn lights that would not only look good but would be high quality and last for a very long time," Jeremiah says. "In the same way vintage barn lights lasted so long on farms around the Midwest." The couple did a deep dive into the Internet to find high-quality barn lights. They discovered Barn Light Electric and selected the Esso LED Gooseneck Light to accent their home.
They customized these handcrafted lights with 10″ shades, a porcelain enamel Black finish, and G11 gooseneck arms. Their LED options include a 2700K warm white temperature and a domed lens.
"We needed a large shade to go with our eight-foot, double front doors. Originally, we weren't sure the 10″ would be large enough, but once we test fitted one, we were very pleased," Jeremiah explains. "We chose the black finish to match our black gutters and downspouts and provide the sharpest contrast to our Snowbound exterior white paint on the house."
The porcelain enamel finish on the lights offers the quality Jeremiah and Laura desired. The finish is hand applied to shades spun from solid steel then baked in Barn Light's porcelain oven at temps reaching 1,500 degrees. This time-honored process seals the porcelain to the shade for a high-gloss, never-fade finish.
Fast forward to 2022 when Jeremiah and Laura built a barn to complement their home. The crisp, white board-and-batten siding and stunning rock work create a gorgeous addition to the property. And the couple knew exactly where to turn for lighting for the new building.
"Many of our lights are more than four years old and they still look brand new. There was no question that we would be installing them on our barn when we built it this year," Jeremiah notes. "These fixtures give off a great amount of light while not being too bright when you catch the LED in your eye. We are also very happy with how sturdy the gooseneck mount keeps the light straight and solid."
The couple chose the same fixture — the Esso LED Gooseneck Light — to highlight the barn's front, side, and rear doors. These also feature the 10″ shade, porcelain Black finish, and G11 gooseneck arm.
"There really was no question that we wanted barn lights as they fit the style of our home perfectly," Jeremiah says. "In our opinion, no farmhouse is complete without barn lights."
Photos courtesy of the homeowner