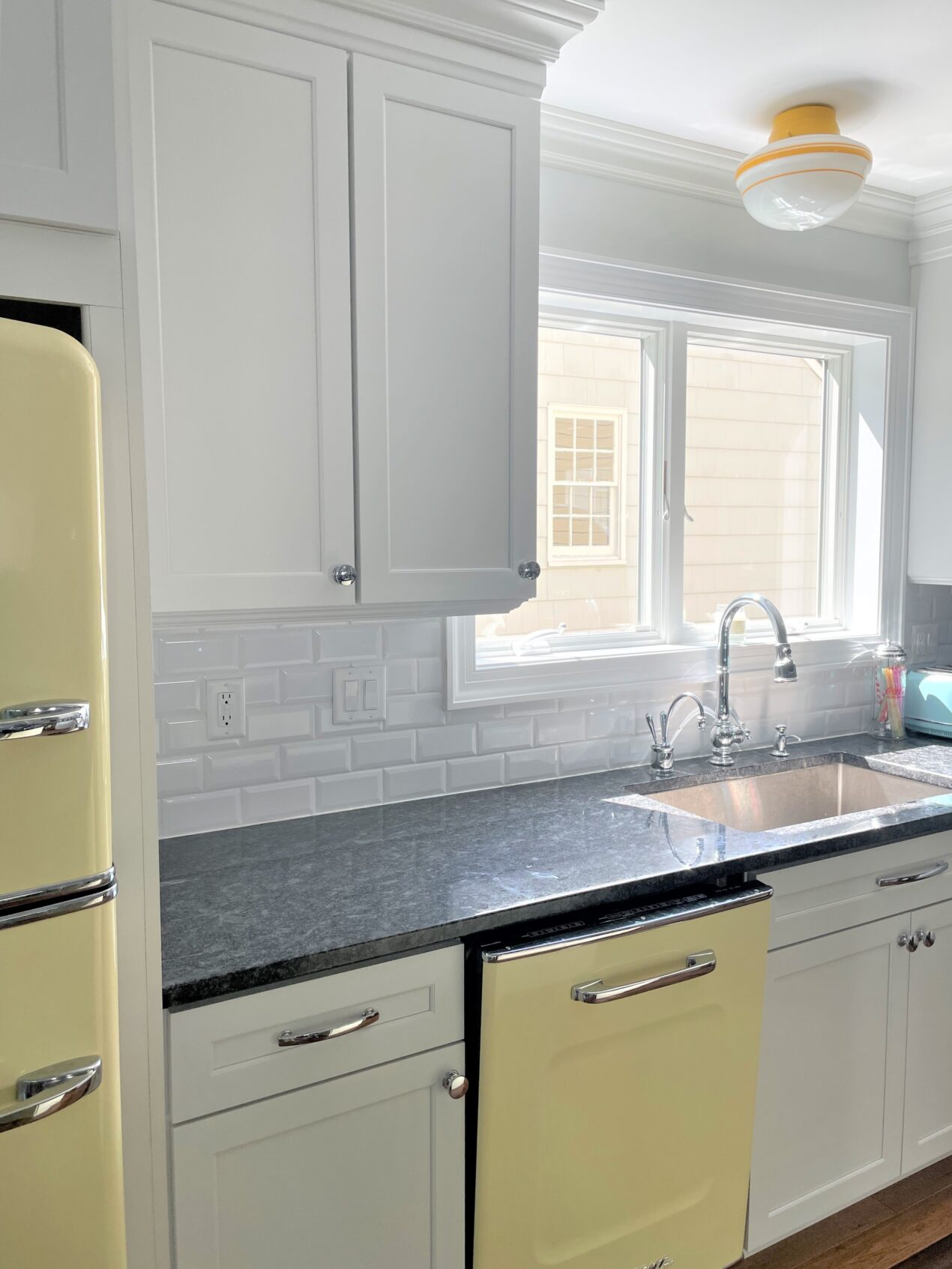 Schoolhouse Lighting Complements Retro Vibe of New Kitchen
Of all the elements to consider when designing a space, it could be argued that color is one of the most important. Color often catches the eye above all else and sets the mood of a room. Color can make a small space feel bigger or a large space cozier.
Color played an important role when Janine rebuilt her home recently in Verona, New Jersey.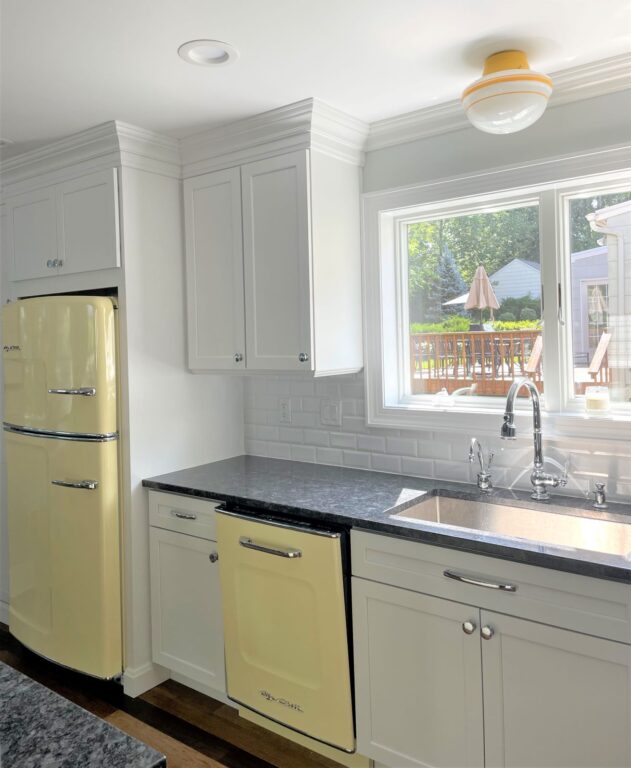 "We lived at this location for 10 years, then tore down the entire house and rebuilt," she says. "When working on the kitchen design, we wanted a modern retro feel for the space." Janine nailed the look with her Big Chill retro refrigerator and dishwasher, both in a soft yellow color.
When looking for a light for the sink and counter area, she wanted to find a fixture that would complement the appliances and bring a touch of yellow to the ceiling.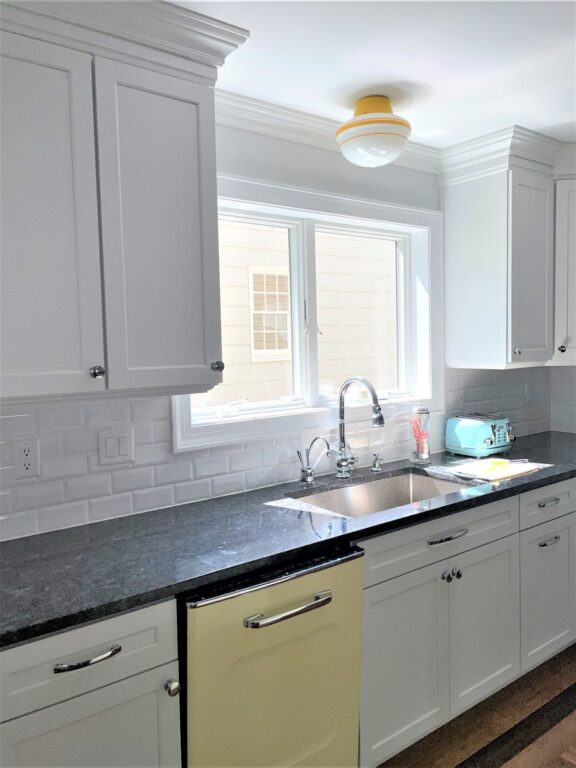 "American made was important and well as the ability to customize the light," Janine explains. She discovered Barn Light Electric during an online search for vintage lighting. She fell in love with the classic charm of the Acorn Schoolhouse Collection.
"We have a lot of old oak trees in our neighborhood," she notes. "The acorn shape reminds us of all the acorns that flood our yard in the fall." Janine chose the Acorn Schoolhouse Flush Mount Light to highlight the sink. She customized this compact ceiling light with opaque glass, a bright Buttery Yellow fitter, and three painted bands of Buttery Yellow.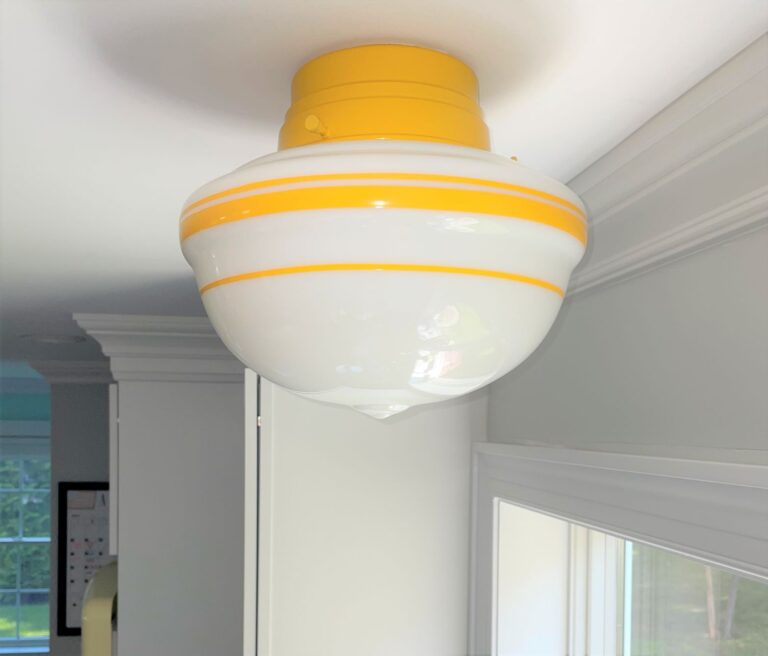 "Yellow is my favorite color, and the Buttery Yellow finish fits in perfectly with our refrigerator and dishwasher," she says. "The three bands give just enough pop of color without being overwhelming."
The simple aesthetic and classic lines of the Acorn Schoolhouse can also be found in a cord-hung, chain-hung, or stem mount pendant as well as a gooseneck light or wall sconce. All are easy to customize with Barn Light's array of finish colors to complement both residential and commercial settings.
"The light is perfect!" Janine says. "The quality, the color, and the size are exactly what we were looking for!"
Photos courtesy of the homeowner