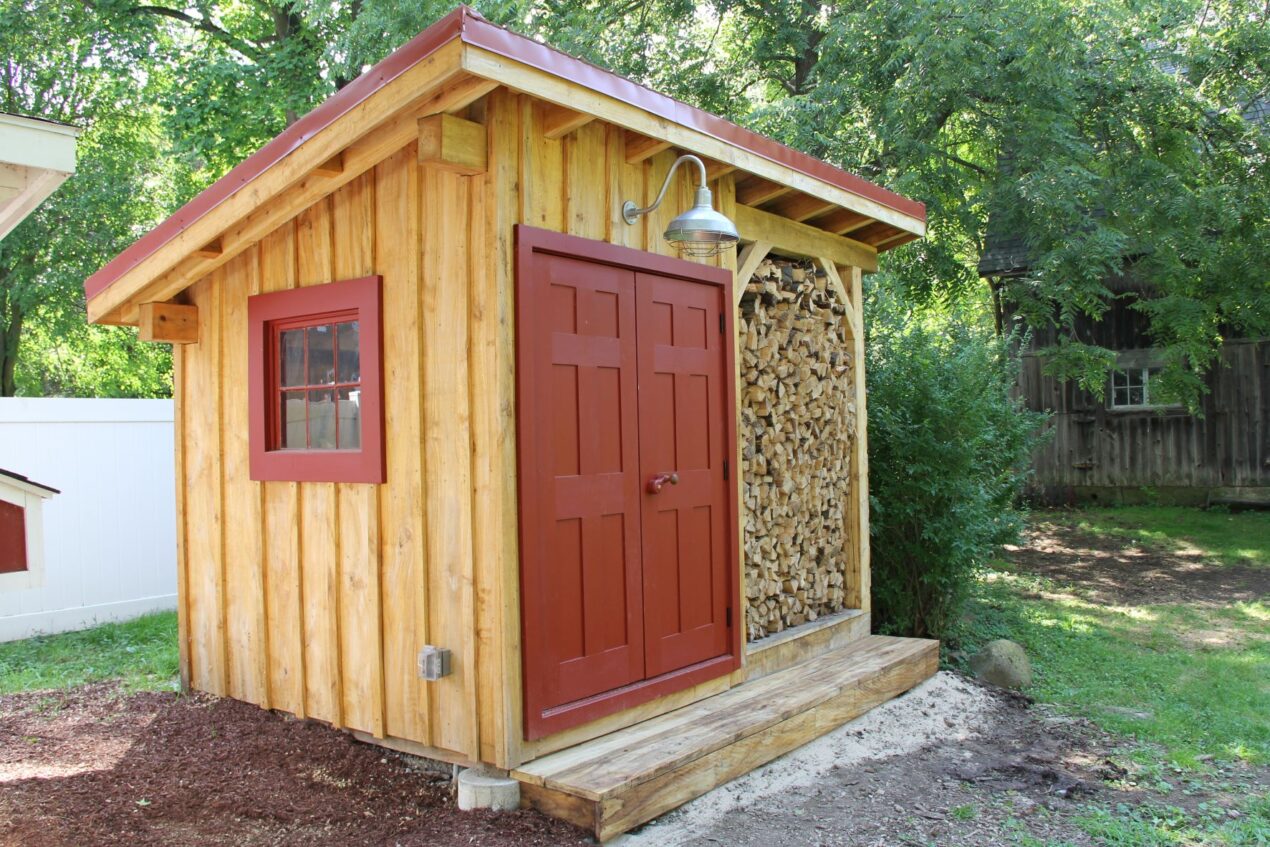 Gooseneck Barn Light Lends Industrial Vibe to New Shed
When Judd decided he needed a new shed on his property in Salem, Michigan, he started from scratch. Seriously from scratch.
"I started the process by cutting down trees," Judd says. "All the timbers and lumber for the project came from poplar trees that I cut from my friend's family farm in Ligonier, Pennsylvania." The shed design is also made from scratch by Judd, a retired mechanical engineer. He used a CAD program to create the design which mimics a timber frame wood-fired sauna he built last year.
The natural woods on that building, above, are finished with linseed oil and the trim is a barn red, a longtime favorite of Judd's. The new building would have the same look and feel. When it came time to choose lighting for the shed, Judd turned to Barn Light Electric.
"We've been a fan of Barn Light for awhile now," he explains. "Quality materials. Classic style. American made with pride." Judd chose the traditional industrial vibe of the Dino Gooseneck Light for his new shed. He customized this handcrafted fixture with a 14″ shade, Galvanized finish, and G15 gooseneck arm. He also chose the wire cage option for extra industrial flair and to protect the bulb.
The Dino remains one of Barn Light's most popular RLM shades. Available in two shade sizes and multiple finishes including porcelain enamel, powder coat, and natural metals, the Dino can be easily customized to complement both homes and businesses.
This American-made light can also be customized with an integrated LED module for energy-efficient lighting. While Judd chose the wire cage option, other shade accessories include cast guard and glass for a nautical flair or an acrylic diffuser to soften the illumination.
"The galvanized finish reminds me of the galvanized pails or watering cans that a garden shed might contain," Judd says. "It's just a perfect fit."
Photos courtesy of the homeowner