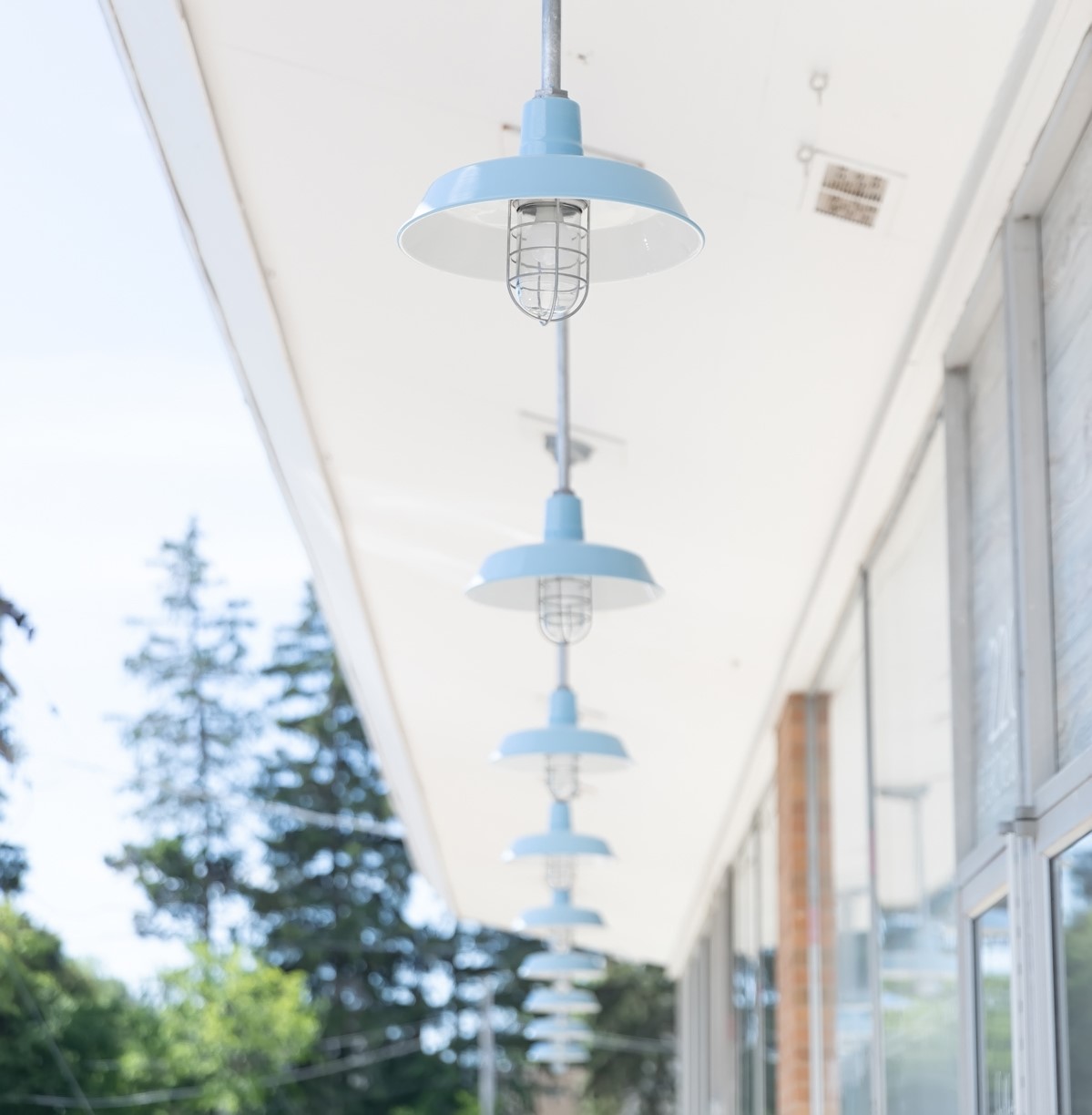 Brilliant Shade of Baby Blue Complements Business Brand
When Liz moved her photography studio to downtown Arlington Heights, Illinois, she wanted to create an inviting atmosphere for her clients. As part of her branding plan for Something Blue Photography, Liz renovated the space to include a blue barn door which serves as a room divider and backdrop for photos.
"We wanted baby-blue barn lights outside to echo the aesthetic," Liz says. "The building is 60 years old and had no exterior lighting for more than 40 years."
In an online search for lighting that she could customize with her finish color of choice, Liz discovered Barn Light Electric. She fell in love with The Original™ Stem Mount Pendant which is handspun from commercial-grade metal and easy to customize with a variety of finish colors and options.
"We wanted to find fixtures that were on-brand with our color, and we were so happy to find these beautiful lights," Liz explains. "It was an extra bonus that the lights are made in America! They are truly perfect for us!"
Liz customized her new stem mount lighting with 16″ shades, 24″ stems, and a beautiful Delphite finish that matches her brand color perfectly. She also added a wire guard in a Galvanized finish with a clear jelly jar glass. These details help safeguard the bulbs and offer optimum illumination. The fixtures are suspended from the slanted ceiling on hang-straight canopies.
The Original™ Stem Mount Light is one of Barn Light's most popular warehouse-style shades. With roots in early 20th-century vintage lighting styles, The Original™ was once a staple on farms and in factories. With our vast array of options, this rugged light can be customized to complement not only farmhouses and mid-century modern condos but commercial spaces as well.
"We have gotten so much attention from our neighbors with these beautiful new lights," Liz says. "They really draw people into the space and are so warm and inviting!"
Photos courtesy of Something Blue Photography