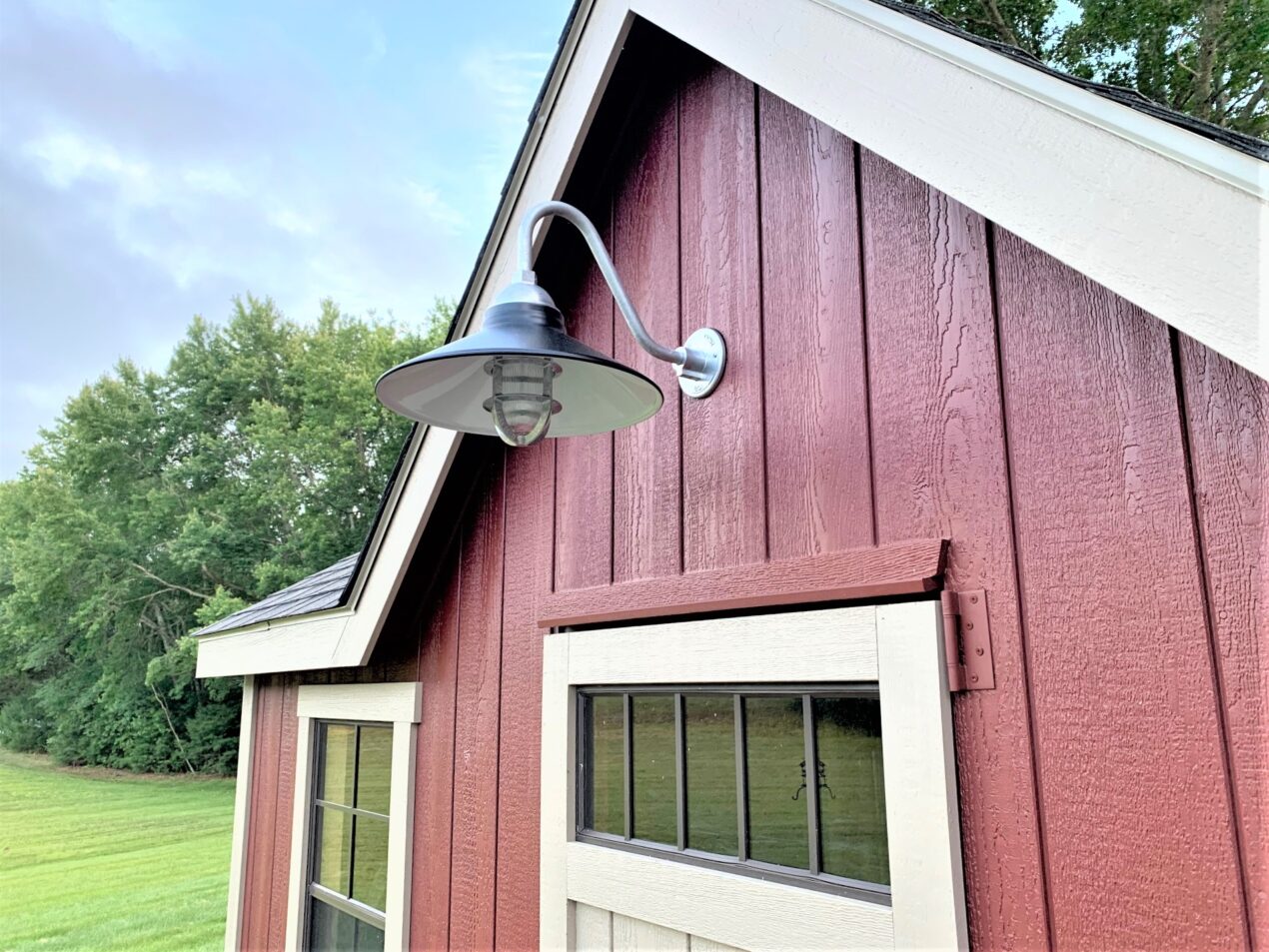 Outbuildings Overflow with Style Thanks to Handcrafted Lighting
Homeowners often find they need more space for the stuff of life. After all, if you actually park cars in the garage, where do you keep yard tools, trash and recycle cans, paint, and storage boxes full of holiday décor?
Today, we're featuring two outbuildings shared by our customers. Robert, from Sudbury, Massachusetts, created a "super shop, man cave paradise" for his woodworking and metal fabrication. The space also has a lift so Robert can tinker on antique cars.
"I love my hobbies," Robert says. He chose his new building from The Barn Yard in Connecticut which builds stunning timber frame barns, garages, and sheds. He discovered Barn Light Electric fixtures on some of the model buildings at The Barn Yard and liked what he saw.
Robert chose the Brisbane LED Gooseneck Light for his exterior lighting on the shop. He customized these three fixtures with 16″ shades, a Matte Black finish, and G11 gooseneck arms. He also chose a Barn Red guard and clear glass for optimum illumination.
"We love their appearance and function," Robert notes. "They are on a wifi switch and turn on automatically at 7:45 every evening and off at 11pm. They look great at night!"
In Coventry, Rhode Island, John built a new shed on his property to house his outdoor tools and related yard items. His home is a craftsman/mission-style house, and he wanted a complementary, but smaller structure.
"I'm a big fan of quality construction materials with a focus on making sure the finishing touches are well thought through," John explains. "I wanted an authentic, vintage light that complemented the building design and our overall property."
John purchased Barn Light Electric fixtures for his kitchen when he built his home seven years ago. He returned to the website to find the same quality, handcrafted lights for his new shed. He chose the Cleveland LED Vintage Industrial Gooseneck Light and customized this American-made fixture with a 16″ shade, powder coat Black finish, and G26 gooseneck arm in a contrasting Galvanized finish.
"The shade size was key to filling the front peak space," John notes. "The black finish picks up the black window finish and doesn't overwhelm the rest of the structure's color scheme." The sleek warehouse shade evokes the vintage style John desired while the integrated LED module adds energy-saving, environmentally friendly illumination.
"It really completes the look of the building," he says. "It looks like the building and the light were designed to go together. Friends, family, and neighbors seem to always comment about the light first, not the structure!"
Photos courtesy of the homeowners