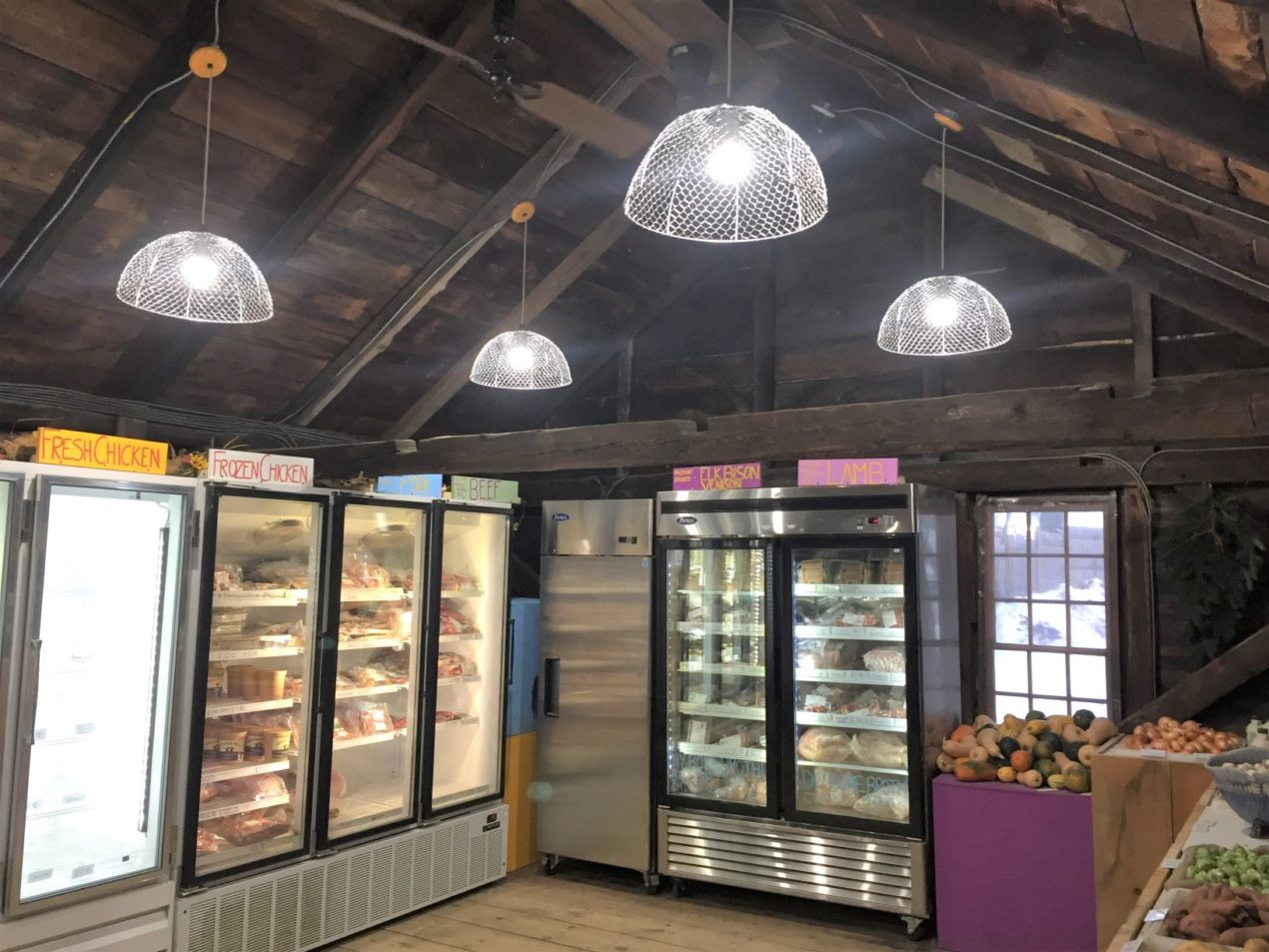 Chicken Wire Ceiling Pendants Right at Home Down on the Farm
New product launches are super exciting here at Barn Light Electric, and the recent launch of our Chicken Wire Pendant Collection was no exception.
But we soon discovered that others are equally enamored with our newest offerings including the owners of the Vernon Family Farm in Newfields, New Hampshire.
"We are a pastured poultry farm so chicken wire light fixtures were the perfect accent to our space," says Nicole Vernon. The space is a recently remodeled retail store that once housed a blacksmith shop.
"We sell our own products plus we support 30 other small farms and local businesses that we retail in our store," Nicole explains. "Our store was very poorly lit so we needed more and better lighting to highlight all of our products."
The Vernons chose our new Chicken Wire Pendant Light to brighten up their store. They customized these ceiling lights with a Galvanized finish and gold-and-white cloth cords. They also chose a Sunflower canopy to bring a pop of color to the ceiling.
"The fixtures help add some color against the dark wooden boards," Nicole notes. "We love how they look against the barn wood, and the Sunflower canopy is what resonated most. We immediately loved it!" The Chicken Wire Pendant is also available in a stem mount style.
Buying American-made products is important to the Vernon family. With chicken wire in use throughout the farm, the new pendants, handcrafted here in Florida, were a perfect fit for the store. The Vernons discovered Barn Light Electric after their electrician recommended the company.
"It is an authentic, organic, and thoughtful look to enhance who we are and what we do," Nicole says. "We love how much more light is available now. The pendants highlight our products better and add light to the entire space. The chicken wire is cute and the color is great!"
Photos courtesy of @wyldephoto