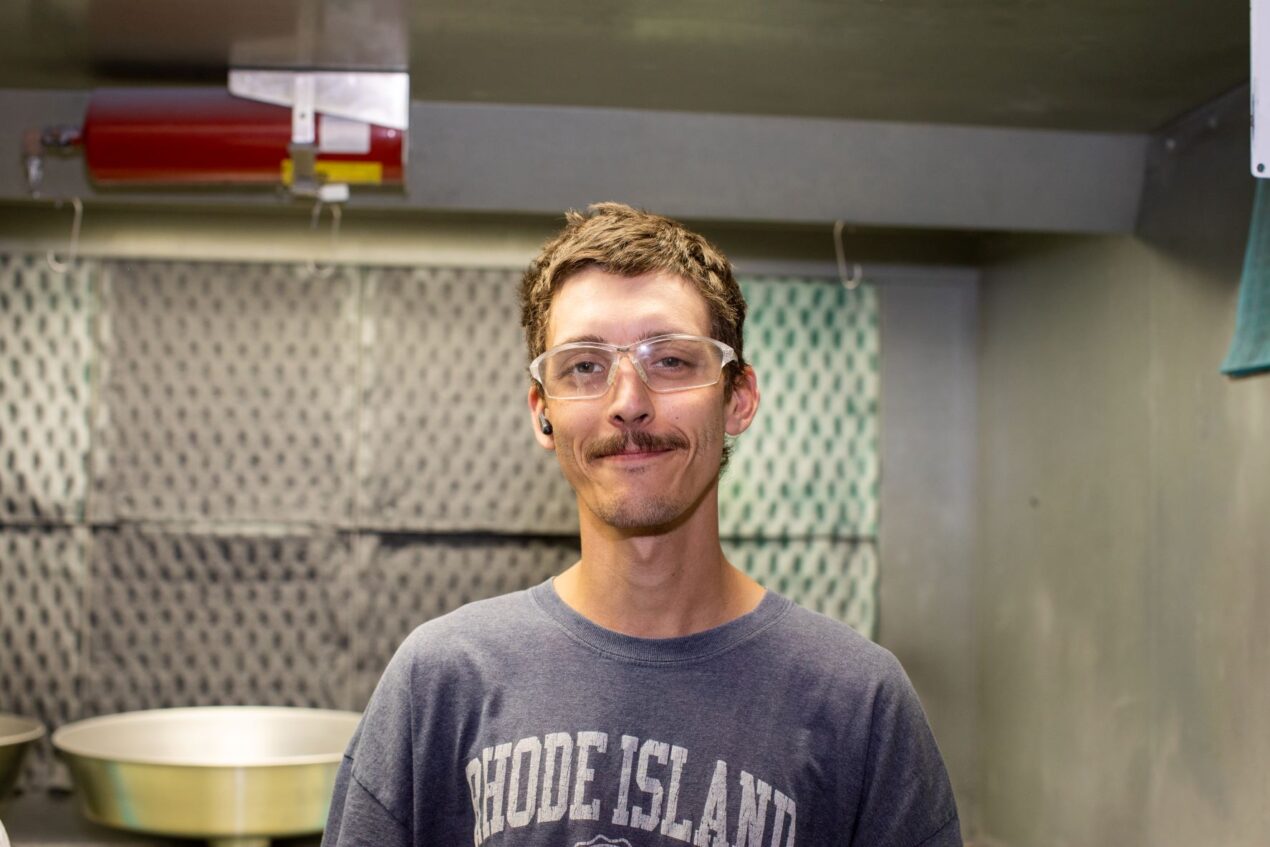 Behind the Scenes with Barn Light's Galvanized Steel Expert
One of the things our customers love most about Barn Light Electric is the abundance of finish colors we offer. Dozens of colors ranging from Vintage Green, Bronze, and Cobalt Blue to Magenta, Sunflower, and Lavender make it easy for customers to create the perfect fixture for their homes and businesses.
One of our most popular finishes is the iconic Galvanized steel. This finish has roots in early 20th century RLM-style lights that adorned barns and factories and were crafted to last.
Today, we're featuring Nathan whose job is to create our signature Galvanized finish. Nathan has been with Barn Light for almost three years. He started in our porcelain enamel department then spent time learning powder coating before moving to his current position.
"I start my morning by turning on the air box for the helmets, gathering spray paint and paint thinner, then grabbing my safety gear including my helmet and gloves," Nathan says. "I also prep rags for the day's work." As the shades roll in from being handspun on a lathe in the machine shop, Nathan gets to work.
"The hardest part is getting the perfect mix of paint and thinner to achieve the galvanized finish," he explains. "Rush orders are also hard because you tend to get behind." Nathan appreciates the team of people he works with each day who keep things moving.
"I love the interaction with the work force here. It's a great community," he notes. "I enjoy the opportunities they've given me, and I'm not afraid to try something new." Nathan describes himself as a problem solver and he's quick to pull a fixture that needs attention.
"When I go through an order and see something wrong with one of the pieces, I pull it and fix it. I'm a problem solver, not a naysayer," he says. "I don't like negative nellies who just complain but never problem solve. I like people who are persistent and active."
Josh, Barn Light's manufacturing supervisor, describes Nathan as a hardworking and valued employee.
"He is punctual and truly cares about every product he touches," Josh says. "He has experience in porcelain and in powder coat, but he has really excelled in creating our galvanized fixtures. Nathan is very motivated and wants to succeed at every task we throw at him."
Originally from Rhode Island, Nathan has been in Florida for nine years and likes to spend his days off fishing near Merritt Island.