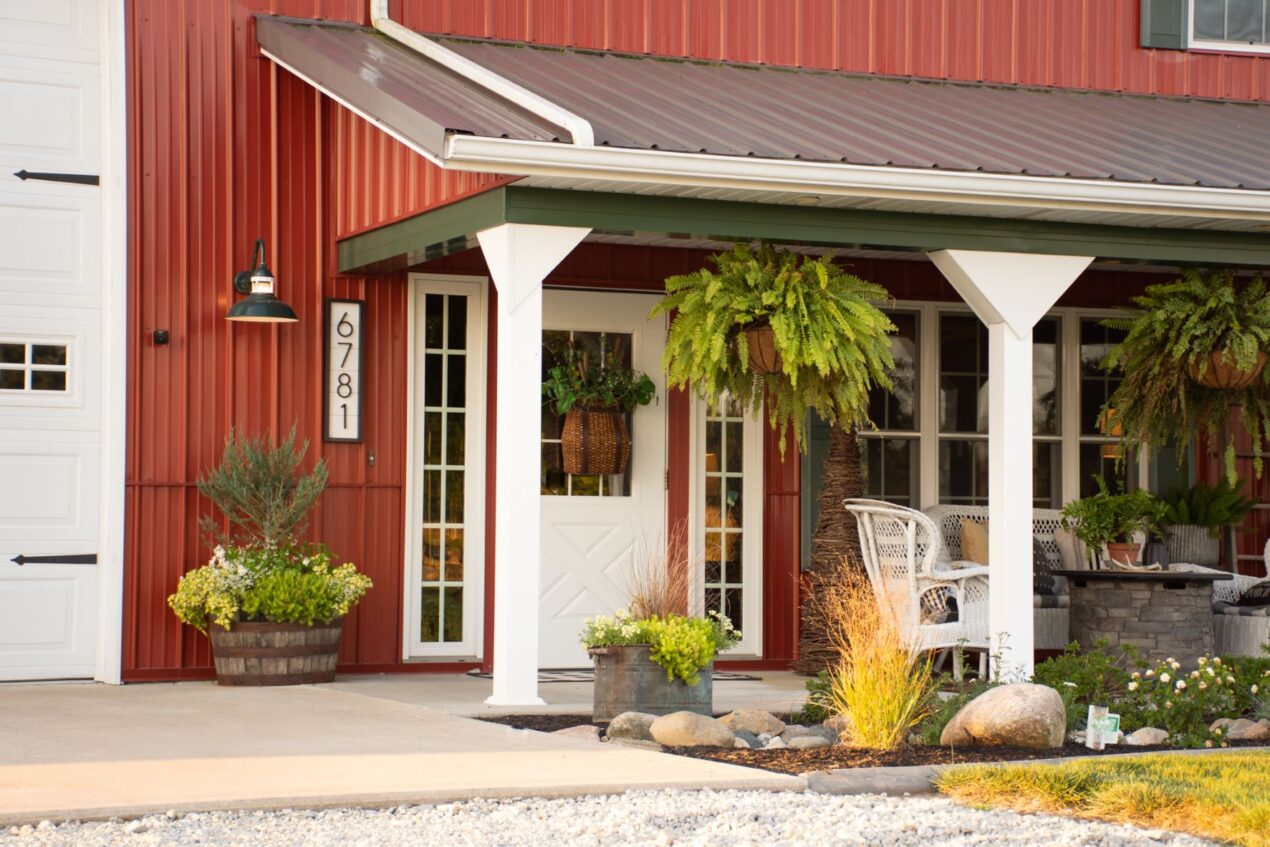 American-Made Gooseneck Lights Adorn Remarkable Pole Barn Home
Nestled on a plain in the northern reaches of Indiana lies a beautiful home surrounded by farms and dense forests. Built in 2011, the homeowners started with the shell of a pole barn then built out the structure which encompasses their home and a farm shop.
"One third of our home is living quarters with a front entry and wraparound porch," Kelly explains. "The other two-thirds of the structure is a farm shop/garage. The shop has its own entry with a mini covered porch."
The exterior features the classic, clean lines and features of a traditional Midwest barn. Kelly notes that the interior has more of a rustic, log cabin feel. She has been trying to marry the two styles by giving the exterior a more lodge-style aesthetic.
"But I didn't want to take away from the integrity of the traditional barn exterior," she notes. "By incorporating new lighting from Barn Light Electric and adding some more natural textures to our landscaping, I've achieved the look and feel I want without spending a lot of money on architectural upgrades."
Kelly chose the Outback Gooseneck Light for the exterior of her home. She customized these American-made wall lights with 14″ shades and Dark Green powder coat finish. She also chose a contrasting White finish for the guard, clear glass, and a G26 gooseneck arm.
"Buying American-made products and supporting small businesses are very important to us," Kelly says. "I like having pieces of our home that are heirlooms that can live on for many generations. I like classic pieces that hold their value over time."
Kelly fell in love with the Outback Gooseneck and notes that many people say the fixtures look like they were made for her home. She chose the 14″ size to be large enough to make a statement but still fit within the structure of the porches.
"I wanted the aesthetic that a barn light brings by directing light downwards," Kelly explains. "But because we live in a rural area where it gets very dark, it was also important that we had some light pool upwards. These create a very warm and inviting aesthetic!"
The Outback Collection includes not only the gooseneck mounting but a variety of pendants as well. All are handspun from commercial-grade materials and assembled by hand in our Florida manufacturing facility.
"I love that they dramatically changed the look of our home without having to invest a lot of money in other areas," Kelly says. "I strongly believe a light fixture can make or break your style. It is so fun to see the new landscaping and lights together!"
Photos courtesy of @OldBlueSilo