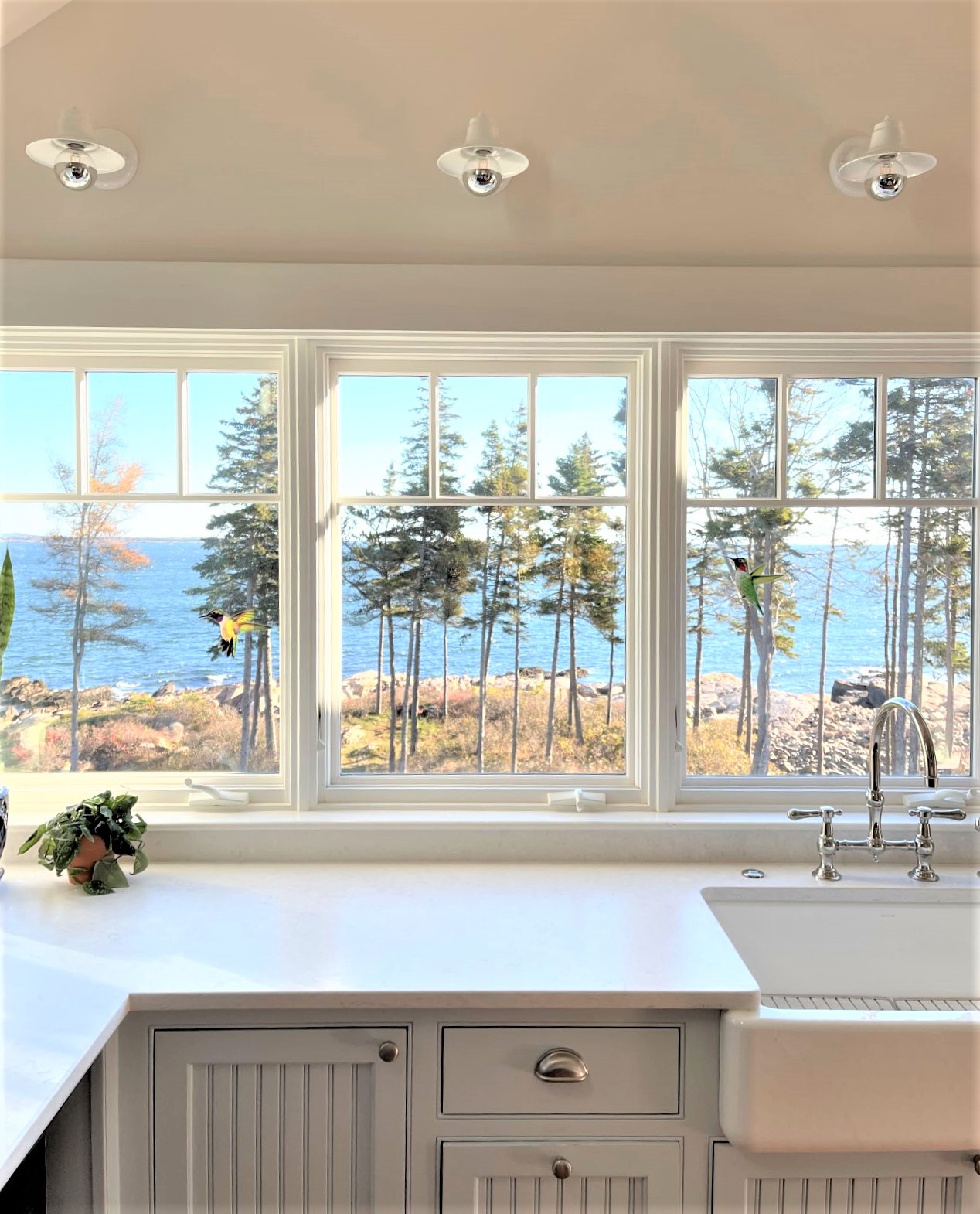 Plentiful Customizing Options Create Ideal Fixtures for Kitchen Remodel
Remodeling is an exercise in problem solving. Traffic flow in the kitchen is awkward. There isn't enough closet space in the bedroom. The living room is too small for family gatherings. By changing a floor plan, moving a wall, or maybe just switching out lighting, you can create a whole new look for your home without building from the ground up.
When Cindy tackled the remodel of her kitchen in her home in Gouldsboro, Maine, she wanted to make the space more open and take advantage of the stunning view.
"We wanted to keep the kitchen light and bright and let the view of the ocean take the main stage," Cindy says. She moved her large peninsula against the wall to create an L-shaped floor plan and added a large island. She updated the appliances, countertops, and lighting then painted the walls and ceiling.
"We went with a soft coastal blue on the cabinets and a darker blue on the island," she explains. "The previous lighting was very industrial, and we wanted something more modern that fit with our coastal theme." Cindy admits to spending a long time pondering lighting choices. She started following Barn Light Electric on Instagram and browsed the company website for inspiration.
"The pendant lighting had to look right hanging from our tall ceiling without looking too big or too small," she notes. "I found another Barn Light customer on the website who also had very tall ceilings in her renovated barn, and I loved how they looked."
Cindy chose The Original™ Warehouse Pendant Light to accent her new island. She customized these handspun lights with 18″ shades, a powder coat White finish, and standard white cords.
"I love that Barn Light Electric allows you to customize the size and color of the shade as well as the color and length of the cord," Cindy says. "The Original™ Pendant looks substantial for the space but not intrusive. The white finish and cord are perfect to keep the lighting neutral as an accent to the views out the window."
Over the sink, Cindy selected Barn Light Mini Eclipse Wall Sconces. She customized these wall lights with the same powder coat White finish and G37 gooseneck arms.
"I like how they look with the pendants," she notes, "although I fretted over the type of arm for an embarrassingly long time. I wasn't sure if I wanted to introduce too much of a curve with the gooseneck, but I didn't want super straight. This was the perfect option — straight with a slight curve."
Cindy's new lighting offers the crowning touch on the dramatic transformation of her kitchen. The fixtures were crafted by hand in Barn Light's Florida manufacturing facility and assembled with the customizing options Cindy desired for her space.
"I love the warm feeling they give the space. The coastal and cottage vibe is a major upgrade from the industrial lighting that was there previously," Cindy says. "I already have plans to replace the lighting in others parts of the house and would not hesitate to hang Barn Light Electric fixtures again."
Photos courtesy of the homeowner