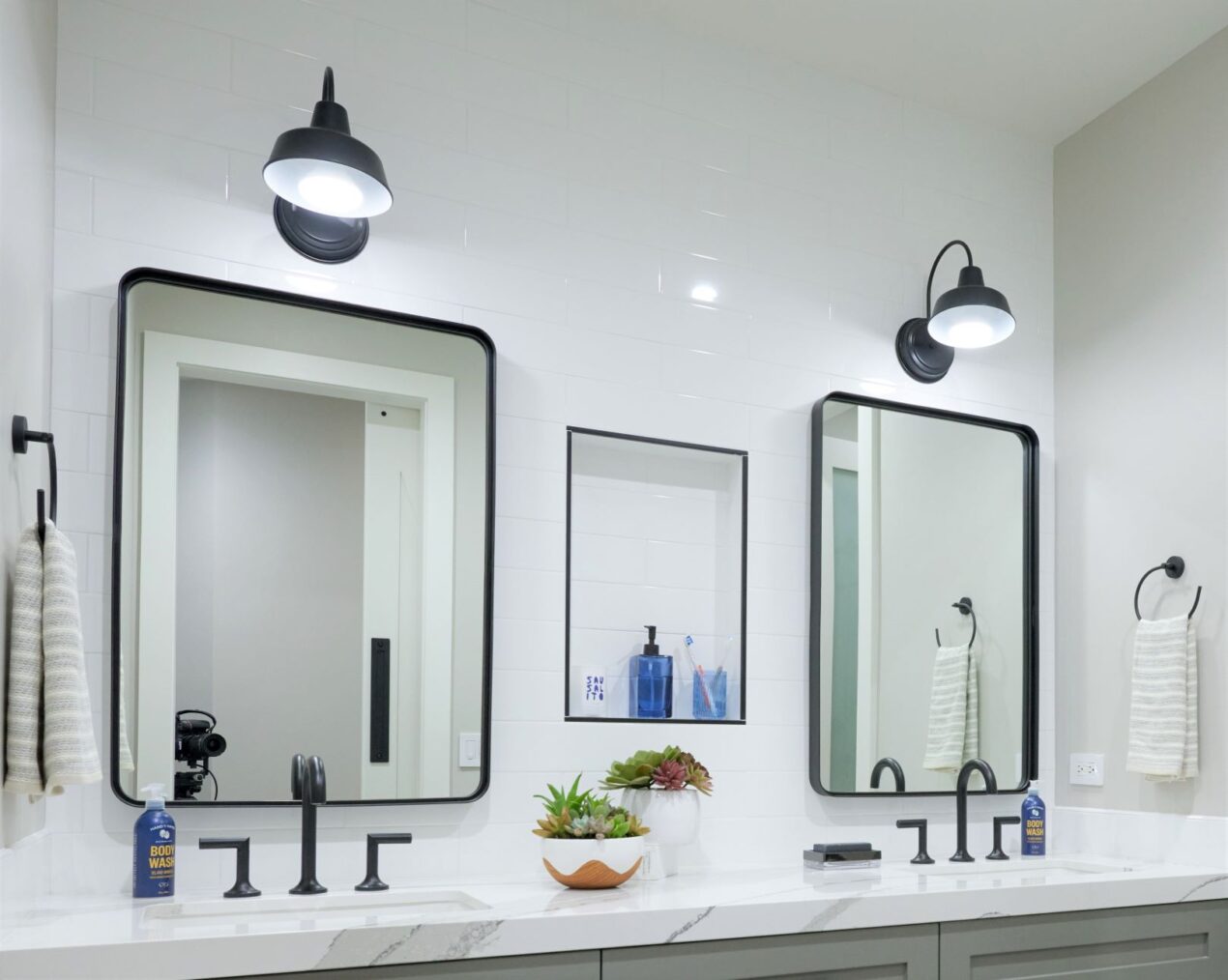 Bathroom Updated from Boring Beige to Bright & Beautiful
Who loves good before-and-after photos? We certainly do! And when we saw these photos from Janine with JAS Interior Designs, we just had to share!
Janine was tasked with transforming this outdated, beige, boring, and dark bathroom into a space that would not only be functional but fun for two teenage brothers.
"Creating shared spaces can be challenging, rewarding, and fun," Janine says. "The goal was to create a bathroom that they would not outgrow in a few years while keeping it both youthful and grown up." Here's the amazing transition….
Design features in the new space include fun shapes and patterns, open shelf storage for laundry and towels, an architectural barn door, and cool lighting. And who can resist whimsical bath mats?!
"Products had to be high quality and easy to maintain all the while ensuring that the elements harmonized with the rest of the home" Janine explains. "Greige hues and black finishes enforce strength, sophistication, and a bit retro while the white tiles adds high contrast."
For highlighting the new vanity, Janine chose the Austin Wall Sconce customized with 8″ shades and a powder coat Black finish. These compact wall sconces are handspun from commercial-grade aluminum and finished by hand in Barn Light Electric's Florida manufacturing facility.
"We wanted to find American-made lights that fit in with our design aesthetics and were easy to customize," Janine notes. "These sconces harmonized succinctly with the boys' bathroom which has a slant toward both modern and vintage design."
She chose the Black finish color to complement the plumbing fixtures and finishes plus it creates a high contrast in the white, black, and taupe space.
"We love the uniqueness and quality of these fixtures as well as Barn Light's customer service," Janine says. "They have charm and character. And the custom Z-frame barn door pulled the design to the finish line!"
Photos courtesy of JAS Interior Designs and Dean Birinyi Photo