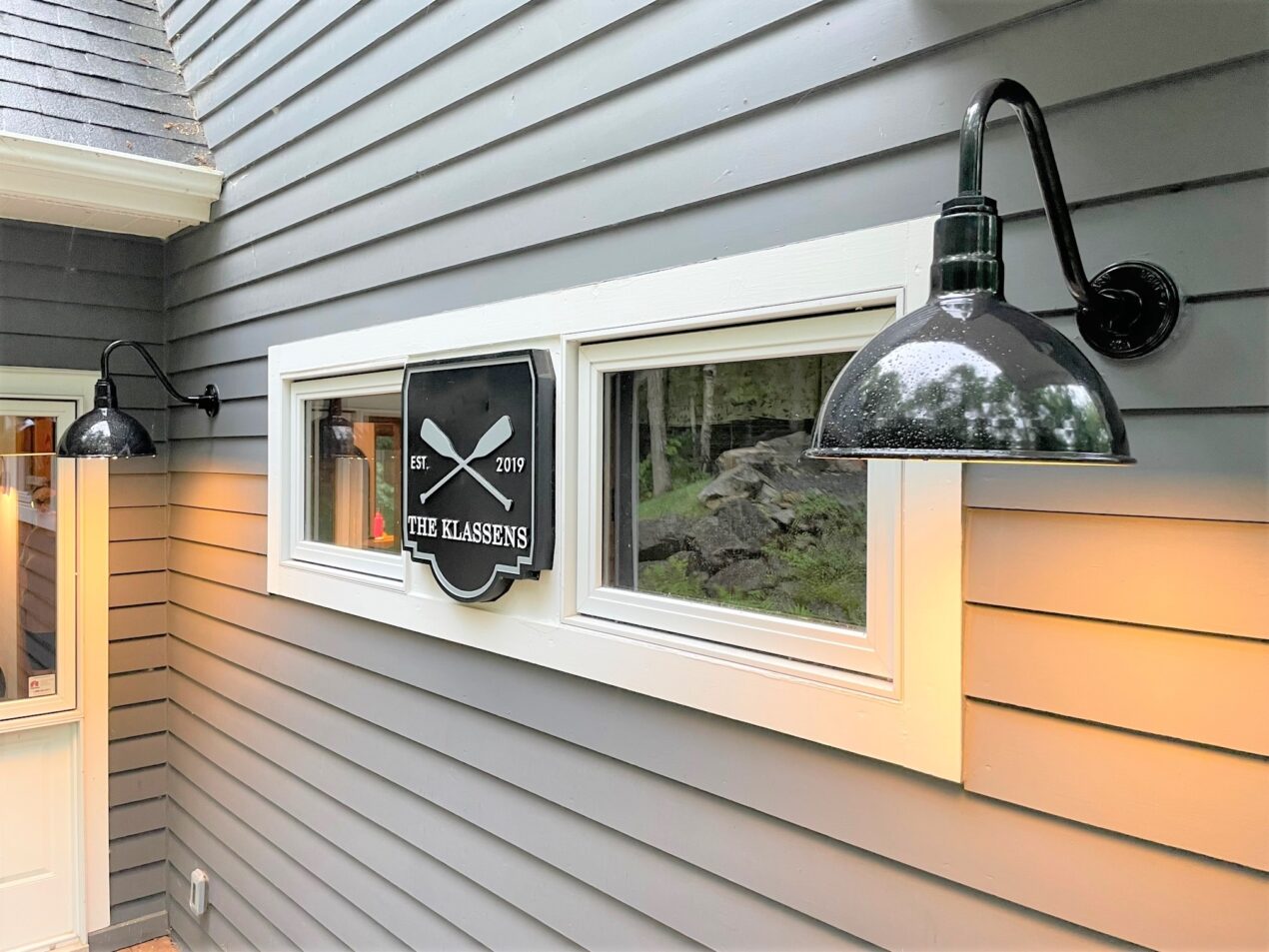 Vintage-Inspired Lights Easy to Customize for Timber Frame Home
Like many people, Bruce and Mary Ann grew tired of cheap, mass-produced lighting found in big-box stores. When it came time for a complete refresh of the lighting at their vacation cottage in northern Ontario, they looked for customizable lights to create a more personalized space.
"At this point in our lives, we're done with the standard 'big-box' look in fixtures," Bruce says. "We want to have input into the spaces we live in. Barn Light Electric allows us that privilege." The couple discovered Barn Light last year when they searched for a new dining room chandelier. Their project was featured in this blog post back in January.
Returning to the Barn Light website for more interior and exterior lights, Bruce and Mary Ann were attracted to fixtures with vintage appeal.
"Our cottage is timber frame construction so it has an older, period feel," Bruce explains. "We wanted to keep that feel going forward with the new fixtures." For the front porch and entryway, the couple chose the classic look of the Wilcox Deep Bowl Gooseneck Light. They customized these handcrafted wall lights with 12″ shades, a porcelain enamel Black finish, and G26 gooseneck arms.
"The 12″ shades were the appropriate size. Large enough to make a statement, yet small enough not to overpower the area," Bruce notes. "And who doesn't like a striking, black porcelain enamel finish? Trying finding that at Home Depot. Pure classic!"
Keeping the barn vibe going for the entire perimeter of the home, Bruce and Mary Ann stayed with the 12″ Wilcox in Black but used a G3 straight arm for the patio area.
"The G26 arms would stick out too far in this area, so we went for the straight arm," he says. "And, honestly, why not have something a little different? Close, but different."
For the screened porch, the couple chose another classic look in the Acorn Schoolhouse Gooseneck Light. These American-made fixtures are customized with opaque glass, an Oil-Rubbed Bronze finish, and the same G3 straight arm.
"Opaque is the true look of schoolhouse lights, and the Oil-Rubbed Bronze finish matches the overhead fan on the porch," Bruce explains. "Again, a pure classic, period look!"
Just inside the doors leading to the porch, two Fargo Wall Sconces add a touch of color and some vintage style. These wall lights are customized with a Barn Red finish and a paddle switch to allow easy on-and-off functionality. Victorian Edison light bulbs complete the vintage look.
"We love the older look and feel of these sconces, and being able to turn them on and off individually," Bruce notes. "The Barn Red finish matches our dining room chandelier and the bulbs take us back in time to the good old days."
Two stairwells in the home needed lighting to add both safety and a hint of color. Bruce explains that both fixtures needed to be compact but also robust in case someone bumps into them. One space is highlighted by an Industrial Static Topless Ring Sconce customized with a Buttery Yellow finish and frosted glass.
"Two accent colors permeate the interior — red and yellow," Bruce says. "This yellow closes matches the other yellows while the frosted glass tones the light down in the stairwell."
Another wall light that caught Bruce's eye was the Kao Wall Sconce which now adds a pop of illumination to another stairwell. This fixture is customized with a Rust finish and a Victorian 60-watt Edison bulb.
"The color looks stunning beside the large, pine timbers and matches the picture frames in that area," he explains. "The bulb, again, classic 1930s look."
For the kitchen, Bruce and Mary Ann didn't need new lighting but they fell in love with Barn Light's porcelain signs. Their coffee station is now complete with a COFFEE Sign that has become a focal point in the kitchen.
"That coffee sign is a home run with our guests! They LOVE it!" Bruce says. "Why? Because it's unique. No one has seen anything like this before. Coffee and conversation are such a special part of our cottage, and the sign contributes perfectly to this. Who would have thought a little sign like this would evoke such interesting emotion in our guests! So cute…and fun too!"
Photos courtesy of the homeowner