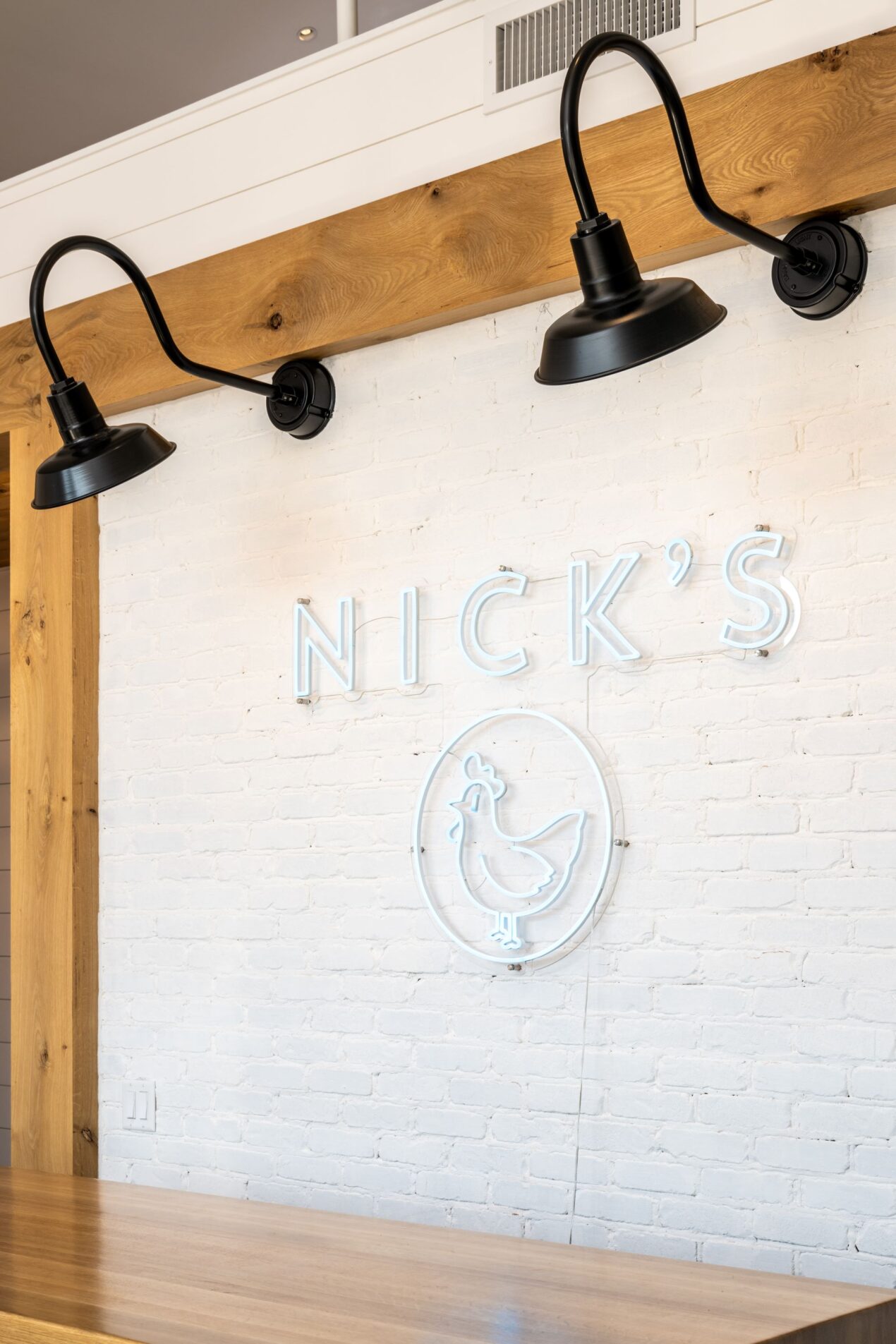 Energy-Efficient LED Lighting Creates Bold Statement for Restaurant
In the realm of restaurant design, the impact of lighting extends far beyond mere functionality. It's a vital ingredient in the overall plan that sets the mood, enhances ambiance, and elevates the overall dining experience for customers.
When the owners of Nick's Restaurant in Kingsport, Tennessee, moved locations recently, they opted to build a new space where lighting plays a key design role. They tapped Zarah Bates, principal and interior designer with Z Creative Group, to tackle the design.
"The owners wanted a modern farmhouse feel that was fresh, inviting, and infused with soft color and texture," Zarah says. She adds that when considering lighting, they wanted something true to the modern farmhouse style, the re-brand of the restaurant, and that would illuminate the space well.
A long-time fan of Barn Light Electric, Zarah worked with FSA Lighting, Barn Light's commercial rep in Knoxville, to create a dynamic lighting plan that would hit all the goals with American-made style. She honed in on The Original™ Collection which features a timeless profile and a wide variety of mountings.
"We basically created a family of lighting," Zarah explains. "With the modern farmhouse style of the building, Barn Light was the best, and first, choice!"
In the parking area, guests park under the generous illumination provided by Original™ LED Single Post Mount Lights. The rugged lights are customized with 16″ shades, a powder coat black finish, and a flat lens. Zarah selected the 2000 lumens package and a 3000K neutral white color temperature.
And if there was any doubt about eating out, this sign allays any guilt you may have pulling into the parking lot. This simple question is highlighted by Fire Chief LED Sign Lights customized with 14″ shades, a powder coat Black finish, and G22 gooseneck arms. The swivel knuckle option allows precise placement of the shade for optimum light distribution.
"This was a late design add during construction," Zarah notes. "We needed lighting that blends with the building but highlights the owner's new signage concept. These lights are the perfect fit!"
Inside the new restaurant, Zarah opted for The Original™ LED Warehouse Gooseneck Light to bring farmhouse charm and well-directed light to the tables, booths, interior signage, and back patio.
Nick's popular tag line is repeated above this booth and is illuminated by two 12″ Original™ LED Gooseneck Lights. The G25 gooseneck arms give a classic, barn-style look to the fixtures.
"There is nothing worse than sitting in a restaurant and it being too dark or you feel like you're sitting under a spotlight," Zarah notes. "Finding the right balance is so important. We needed to make sure we brought the light to the user zones above the tables and other locations."
Zarah also used larger 16″ shades for some of The Original™ Goosenecks throughout the space both inside and out. All of these handcrafted lights feature an 850 lumens package and 3000K color temperature.
"We wanted the lighting to be consistent. The 3000K provides a warm, yet brighter, balance," she explains. "We selected LED for energy efficiency and also longevity of the fixtures to minimize owner maintenance."
Like all of the fixtures in Barn Light's collection of vintage-inspired lighting, these lights are constructed with a solid commitment to quality and craftsmanship. Commercial-grade metal is hand spun then finished and assembled in a process that results in a durable design well suited for busy commercial spaces like Nick's. 
"These lights are the perfect fit to the style and feel of the restaurant," Zarah says. "I have specified Barn Light Electric for many years and have always been a fan!"
Photos by Derek Cress Photography