The Chic Simplicity Of An Industrial Ceiling Fan
Photo courtesy of Design * Sponge blog
At Barn Light Electric, we know everyone has different styles, tastes, and ideas for how their home should be decorated. That's exactly why we try to carry an assortment of products – from Goosenecks, Sconces, Pendants, and Ceiling Fans. We even provide six categories of Light Bulbs to allow customers to be energy efficient, achieve a vintage look, or use their light fixtures in commercial areas. It's a combination of wide product selection and creative customer designs that bring together photos like these shown above.
Today's photo takes one of our similar styled black Industrial Ceiling Fans and places it in an unconventional setting. We found this photo on one of Design * Sponge's home tours in Singapore. Both vintage and modern accessories and furniture combine to create a unique setting. From the vintage art, the recognizable white Eames recliner, or the very modern red Double Octopus chandelier; the least expected item would be a ceiling fan designed for industrial or commercial applications.
The down blowing function of this particular fan from Barn Light Electric is ideal for loft like settings shown in this photo. Ceiling Fans are a wonderful way to save money during the summer and winter months, especially with high ceilings shown here. Most of our industrial ceiling fans possess a down blowing function, but some of our commercial models have an option for both up blowing or down blowing, which can bring warm air up during cold months and can keep airflow moving during summer months. This simple feature ultimately allows you to run the air conditioner less or at a higher temperature.
Whether you have an industrial work area or an industrial home, the ceiling fan selection at Barn Light Electric will provide you with a selection unlike any other. Browse our variety of vintage, commercial, modern, or industrial products, today.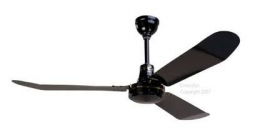 Shown on the Left: 56″ Barn Ceiling Fan Industrial (in Black) Prices start at $199.00 each.