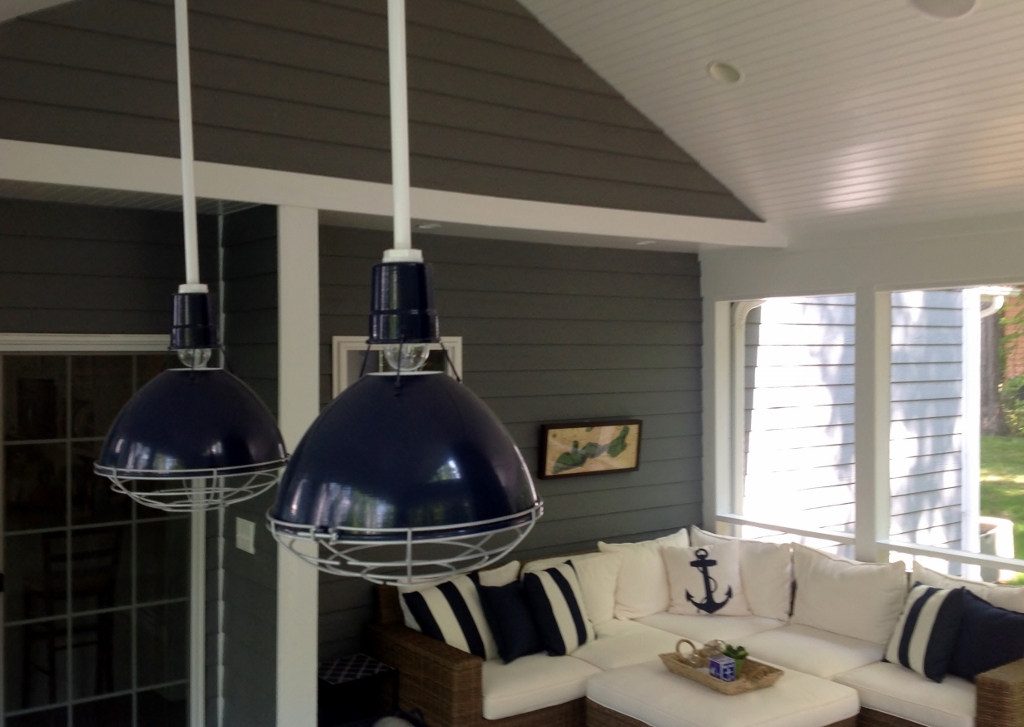 Deep Bowl Uplight Pendants Add Nautical Flair to New Porch
We love revisiting customers to see what's new. Just this week, we crossed paths again with Jocelyn from Lake Geneva, Wisconsin. Jocelyn was featured in a blog post not once, but twice, way back in 2011 when she and her husband built their new home. Jocelyn confesses to being up late one night browsing the internet looking for unique lighting when she came across the Barn Light Electric website.
"We have 12 of your barn lights both inside and outside of our home," Jocelyn says. "We just love your lighting!" The couple's latest project was a new screened-in porch where the family can take advantage of the spring, summer, and fall seasons. With Geneva Lake close by, Jocelyn wanted to bring a nautical look to her new outdoor space.
"We were definitely going for a nautical feel with the décor, colors, and lighting," she explains. "I kept it mostly navy and white with a couple of splashes of red." Jocelyn notes that in looking for ceiling pendants for the table, she liked both the look of a deep bowl pendant but also one with a wire cage. She found that she could easily customize her new pendants to get exactly the look she wanted.
Jocelyn chose the 14″ Wilcox Uplight Stem Mount Pendant and customized it with a durable Navy powder coat finish color. This American-made pendant light also features a 36″ stem finished in White and a Galvanized wire cage.
"The three Barn Light Electric pendants we have in the kitchen and the chandelier over our dining table are all Galvanized," Jocelyn explains. "I thought adding the wire cage would help tie that look onto the porch."
The Wesco's design is rooted in classic industrial lighting and has the added feature of an open neck to provide a touch of uplighting. The stem mount is perfect for damp areas like screened porches or breezeways, and Jocelyn added a hang-straight canopy so her lights would hang perfectly from the sloped ceiling.
"I just love the Navy color best," Jocelyn says. "I told my husband that you just don't see anything like these lights around here. They really are unique and the focal point in the room. I love them!"
Photos courtesy of the homeowner