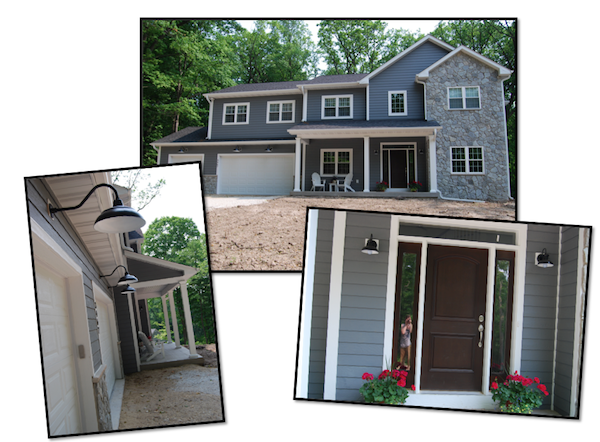 Jocelyn from Lake Geneva, WI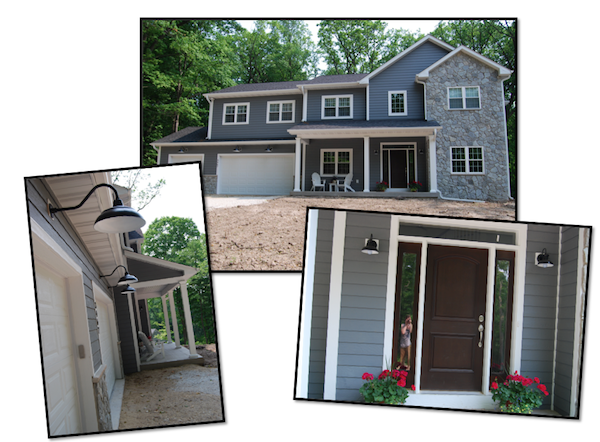 Most say to never judge a book by its cover, but why not aim to make a great first impression? Illuminating the exterior of your home is just as important as lighting the interior. Sure, the majority of family treasures and prized possessions are kept indoors, but the outer facade of your home could be calling for some TLC as well. With that being said, the variety of lighting options available are multi-use – meaning that many of our gooseneck and pendant lights are rated for interior or exterior use.
Today's featured customer comes from Northern Michigan. Jocelyn's new build features Barn Light Electric products all around the exterior. Among many details, she kept her outdoor lighting simple – a good choice considering the beautiful stonework and blue-grey siding that takes center stage.
Jocelyn chose two styles of barn lighting for the face of her home. Mounted over the three car garage are three of our warehouse gooseneck lights. The black finish pops out against the siding, and when paired with the crisp white trim the home really has a very welcoming front. For a look like Jocelyn chose, check out our 17" Bomber Gooseneck Light. This gooseneck barn light even complies with Michigan's Dark Sky Laws, projecting all lighting downwards. The Bomber is one of our most flexible barn lights, considering the options for variation. It can blend with almost any style home, whether it is a farmhouse, craftsman, or mid-century modern home.
Jocelyn also chose two Barn Light Rawhide Sconces to place by the front doorway. As if the porch area wasn't inviting enough with the white Adirondack chairs, the two outdoor wall sconces give off a soft amount of light to enjoy a relaxing summer's evening. Just like the Bomber Gooseneck light, the Rawhide Sconce provides you with over 40 finish options to choose from. With all those choices, you'll be able to customize wall sconces for the outer and interior spots in your home.
Want to view more featured customers? View our Barn Light Photo Gallery to see how others are illuminating their homes.