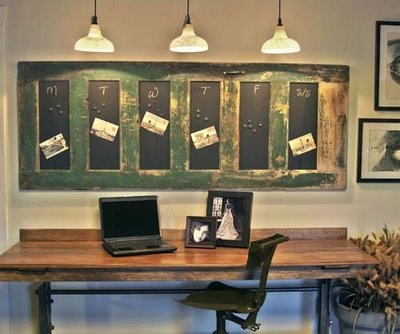 Vintage Barn Lighting: Repurposing the Past
Homeowners and interior designers across the country are finding ways to re-purpose one man's trash into their own treasures. If you're familiar with the happenings in the blogosphere, we're sure you've noticed how immensely popular anything vintage industrial or rustic has become. When it comes to this design trend, the more worn the item in question is, the better. The photo shown today has taken an old barn door and added chalkboard inserts to create a weekly workstation calendar. Add a few magnets and it has been transformed into a rustic photo board.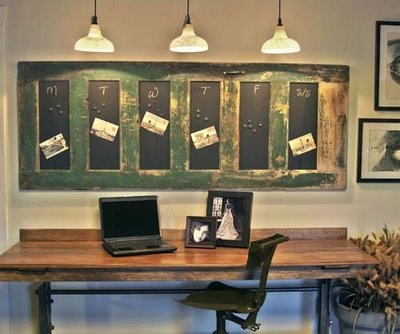 Barn Light Electric, in team with Vintage Barn Lighting, carries many products to complete your old world industrial farmhouse look. We have everything from industrial furniture to factory carts and of course our specialty, vintage barn lighting! On vintagebarnlighting.com, you'll find everything from heavy-duty explosion proof warehouse shades, all the way to delicate holophane and cased glass pendants. However, in order to mimic the three pendants lighting the desk, we recommend a milk glass or clambroth shade. These pendants have all been cleaned and rewired for safe usage within your home or office. If you're worried about the visual quality of the light, no need. We only sell the best of the best!
If you find your perfect vintage light, make sure you take advantage of its 'in stock' status as these lights can be limited in numbers. We are constantly refreshing our inventory though, so keep your eyes peeled for new additions to our collection. If you cannot wait, we do offer newer alternatives; our line of porcelain barn lights reflect the same designs from years past. The white 10″ Ivanhoe® Esso Warehouse Porcelain Pendant bears a striking resemblance to the pendants shown in the photo, and has a minimal price tag!
Photo Courtesy of One Lucky Day