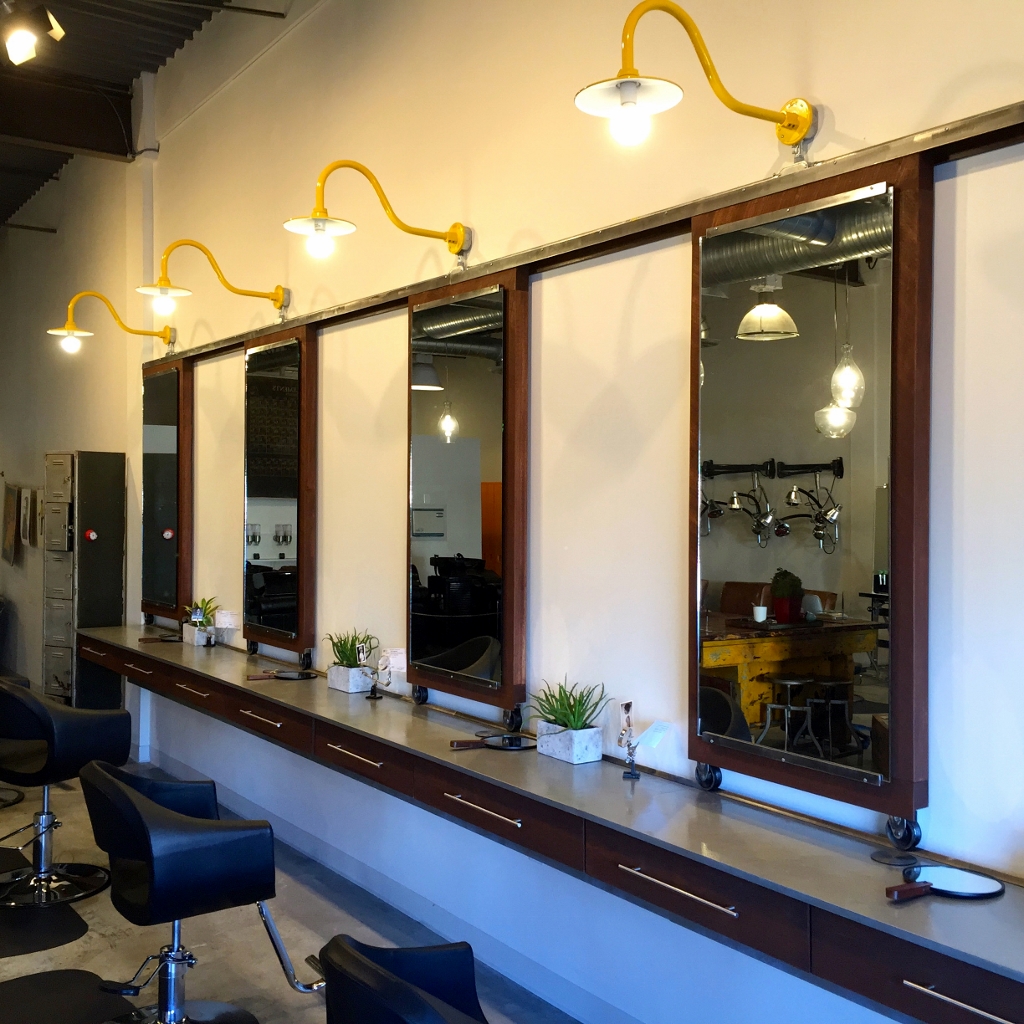 Gooseneck Wall Lights Exude Modern Style in Salon
Christopher Ritchie has been designing furniture for companies such as Neiman Marcus, Horchow, and Ballard Catalogs for 25 years. With a lifelong passion for design and custom woodworking, Christopher has launched Industrial Home, a new concept that focuses on interior design services, home furnishings, and accessories in the quaint western Maryland town of Frederick. One of his recent renovation projects was for a local hair salon that needed an update.
"We wanted to remodel the space to make it look more streamlined and professional," Christopher says. "We wanted a modern feel with an industrial style look." This before photo shows the space burdened with clunky filing cabinets and oversized framed mirrors. As part of the makeover, Christopher used barn wood to give the space a rustic feeling, and he added modern hardware to round off the overall look and feel of the salon. For lighting, he chose the Conoco Gooseneck Light to highlight the work stations.
"The lighting is so important in a salon. It can't be overbearing," he says. "I chose gooseneck barn lights to give the space an industrial modern feeling. Using the gooseneck gives it a unique feeling and a pop of color." Christopher customized these American made wall lights with a 10″ shade, a G22 gooseneck arm, and a Buttery Yellow finish.
"I wanted the light to focus only on a certain area of the mirror and table top," he explains. "The Conoco bounced the light perfectly off the cone, not giving an overbearing brightness. The Conoco also did not overwhelm the space. The pop of yellow gives the area a splash of color while feeling modern and clean."
The shallow bowl of this gooseneck barn light is hand spun from commercial-grade materials into one of three shade sizes. Suitable for both indoor or outdoor use, this stylish wall light can be customized with one of more than 30 finish colors. The gooseneck arm, available in a variety of styles, can be finished to match the shade or with a complementary Black, White, Galvanized, or Brushed Aluminum finish.
"The clients love it!" Christopher says. "It is completely unique and stylish!"
Photos courtesy of Industrial Home