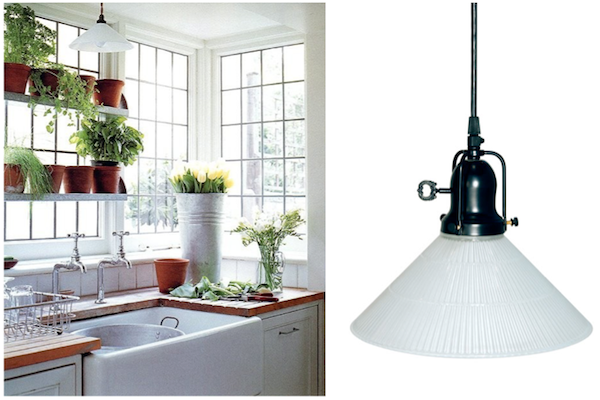 Classic Barn Pendants For Your Kitchen Workstation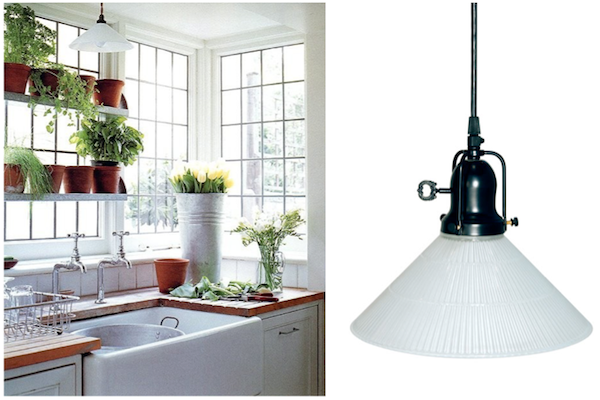 Our kitchens are not always reserved for food related purposes. We often find ourselves accomplishing other tasks in this utilitarian space – like balancing a checkbook, helping with homework, or entertaining guests. Some even use the sink to bathe their small children or to soak delicate clothing.

By the looks of it, this kitchen is even used for gardening and floral purposes as well. It's for good reason too – with a small area this beautiful, some might want to spend as much time here as possible. The giant windows give off more than enough sunlight for the plants to grow and flourish; they also let the homeowner work with ease and accuracy during the day. Not only do the windows serve a beautiful and useful purpose, but the over sized farmhouse sink is roomy enough for washing herbs, fruits or transferring plants from one pot to the next. Paired with the butcher-block counter top, this kitchen sink area is purely a recipe for success!
Not only is there beauty found in every corner, but it's also found within the vintage barn pendant suspended over the sink. The pendant light shown has a frosted glass shade and is paired with a black socket. It reiterates the industrial farmhouse look, while also lighting up the work area during evening hours. What more could you possibly ask for?
If you are familiar with vintagebarnlighting.com, you may have noticed a few styles with Milk Glass or Holophane Glass shades. These would give you the same look as we showed above, however, if you happen to miss purchasing the one you liked, we have a back up plan: the Barn Light Homestead Pendant is available with almost an identical look. Our choice for a similar effect with the Homestead Pendant is the frosted ribbed glass paired with a black socket and black cloth cord. If you prefer a pop of color, choose an amber or green shade to give off retro 50's feel. No matter what vintage look your home may have, the Homestead Pendant is a great choice for pendant lighting throughout.
Top Left Photo Courtesy of Tumblr