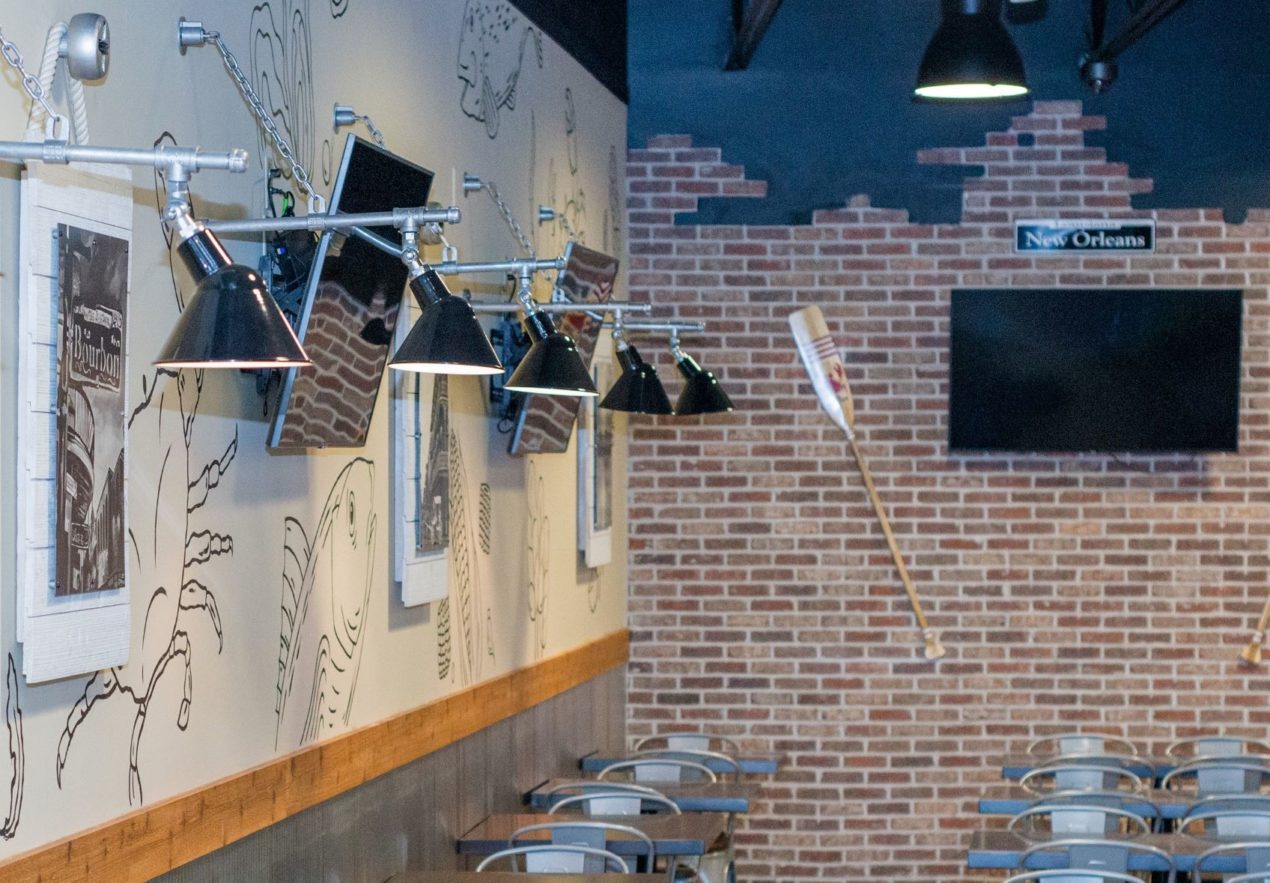 Easy-to-Customize Lighting Creates Unique Commercial Spaces
Whether you live in a traditional country farmhouse or a modern, high-rise condo, it's easy to customize lighting to suit your space at Barn Light Electric. And while residential customers enjoy the multitude of sizes, colors, and other options we offer, our commercial customers also appreciate creating fixtures that not only complement their brand but can stand up to high-traffic spaces.
Danielle Myers, principal of Elle Designs in Indianapolis, Indiana, recently lent her talented hand to the newest location of Nola Seafood Boil. She was tapped to create a space that would represent the unique cuisine of New Orleans through colors, materials, and appropriate lighting.
"Our directive was to create a themed environment that would represent the flavors of New Orleans," Danielle says. "We wanted the colors and materials to represent the culture of Nola, the spice of the food, and give visitors an experience. This is reflected in the industrial vibe and the red-and-black color palette we chose."
Being able to customize the lighting was huge, Danielle relates, as she searched for the perfect style, scale, and colors for the space. Working with Techlite Corp., one of Barn Light's commercial reps, Danielle chose the Fire Chief Sign Light for the wall lighting. She customized these angle shade lights with 10″ shades, Black finish, and G64 gooseneck arms.
"I wanted to highlight the side walls with a wash of light, giving them illumination without shining a direct light on patrons," she explains. "The color, scale, and style all fit with our design, and I love the chain detailing on the arm."
In the restrooms, Danielle chose another industrial wall light — the Static Ring Triple Vanity Light. This rugged vanity light is customized with a Barn Red finish which offers a great contrast against the tile.
"I love these in every way possible! They are industrial, a fun red color, and the perfect touch for our space!" she notes. "Knowing we were mounting these on black tile, I wanted the pop of red." Danielle has worked in interior design for more than 18 years and loves doing both residential and commercial projects such as this. Finding a company that creates quality, custom-built, American-made lighting makes her job a bit easier and definitely more fun.
"We love these lights for the design details they provide and their functionality of lighting each space well," she says. "They lend to the appearance we desired and to the overall ambiance of the space."
Photos courtesy of Stacy Wolf Photography and Elle Designs