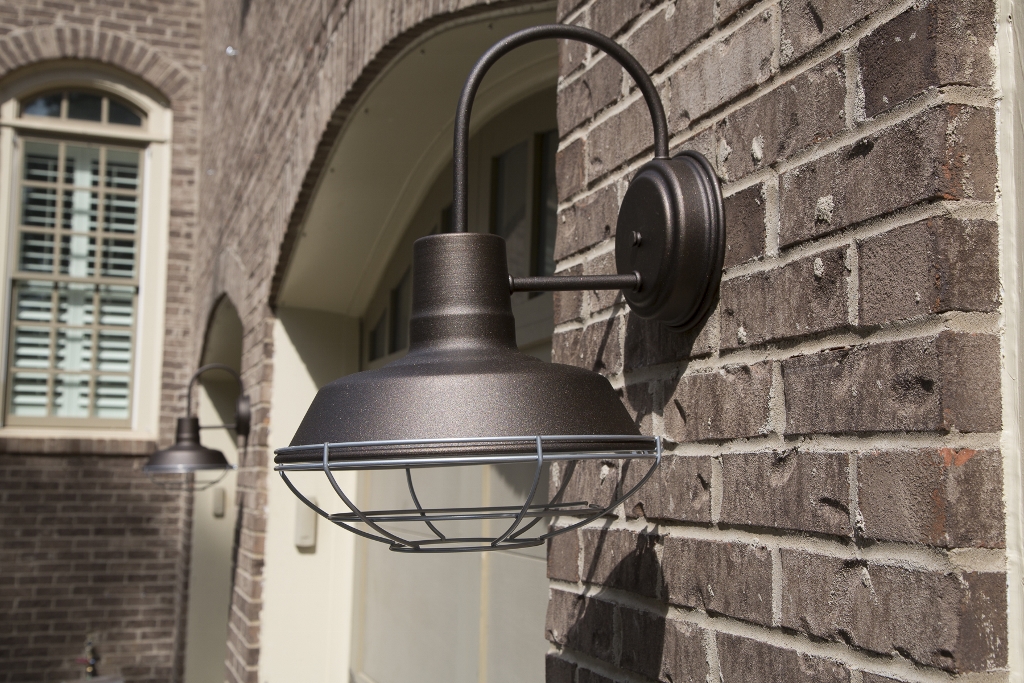 Oversized Barn Light a Perfect Fit for Georgia Home
In last Wednesday's blog post, we offered some advice on how to choose the correct size of light shade for your space. Today, our Featured Customer, Tony from Decatur, Georgia, schooled us up with another solution — Photoshop!
When Tony and his wife were looking to update the exterior lighting on their 10-year-old home, they wanted to find a fixture that would better illuminate their front steps.
"We wanted something that was high quality with a slightly rustic or industrial look," Tony says, "but the most important criteria was that it provide good illumination of the stairs leading to the front door and the front door itself." The couple searched but it wasn't until Tony was on a business trip that he stumbled across a restaurant that had barn-style lights.
"I realized that was the perfect solution!" Tony says. He ordered a 16″ shade from another company (we forgive you Tony) but found, after installation, that the scale was way off.
"It just looked silly and we knew we needed something much larger," he adds. A Google search for "28-inch barn light" led Tony right to Barn Light Electric.
"The information on your web site sold us," he explains. "Made in the USA, beautiful finish selections, and your easy return policy." But when it came to choosing the 28″ size, Tony admits to being a bit scared. He and his wife made paper mockups and photoshopped the picture above to help them decide. Their home is large and the light sits far above the front landing, so they took a leap of faith and ordered the 28″ Original™ Warehouse Gooseneck Light.
This classic barn light is customized with an Oil-Rubbed Bronze finish and a G22 gooseneck arm finished in the same color as the shade. The couple also added a Black cast guard and Clear glass to the fixture.
"We struggled with the finish selection a bit since we have brushed nickel hardware on the door," Tony says. "We thought Galvanized might work but ultimately chose Oil-Rubbed Bronze so that it would blend in rather than contrast with the surroundings." For the garage, the couple chose matching Original™ Wall Sconces also in Oil-Rubbed Bronze. These 12″ shades are hand spun and feature the optional wire cage.
"We wanted simple yet elegant," Tony says. "We love the quality and appearance of our lighting!"
Photos courtesy of the homeowner who, by the way, was the winner
of ABC's Great Christmas Light Fight in 2013!