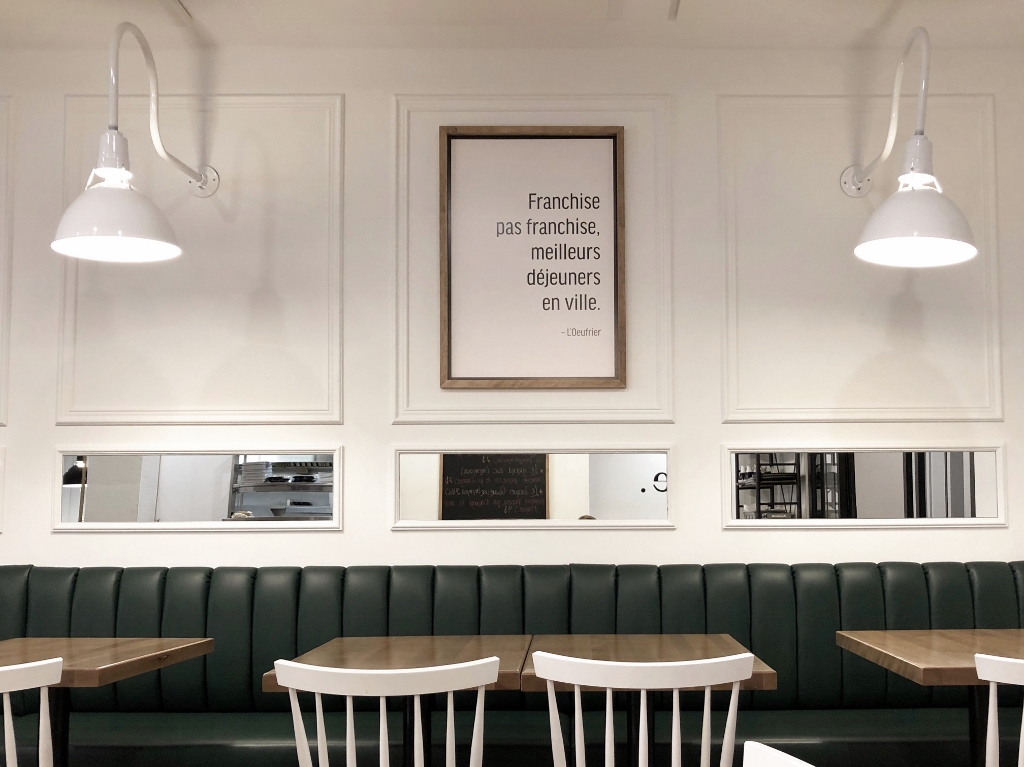 American-Made Lighting Highlights New Canadian Restaurant
Some of our favorite customers hail from north of the border. Our Canadian friends enjoy not only the convenience of online shopping but also the American-made quality of Barn Light Electric lighting.
One of the latest projects we discovered is L'Oeufrier Restaurant, a chain that specializes in breakfast delights. The design of the newest location in Montreal, Quebec, was created by the interior design firm Blanc Marine Living.
"The building used to be a woodworking and wood furniture store," says Laurence Pons-Lavigne, one of the interior designers who worked on the project. "We changed absolutely everything from the floor plan to the wall design to the furniture."
New lighting was in order as well. The team desired a look that was not too industrial and not too farm-like but with a style that was easy to mix with other elements.
"We wanted the restaurant to be very welcoming and not too fancy but with some nice highlights here and there," Laurence notes. "As it's a breakfast restaurant, it was important for us to keep it simple. As we prefer timeless design instead of flashy ones, we chose our favorite materials and colors — white, black, green, wood, and quartz."
The team chose the Wilcox Uplight Cord Hung Pendant to highlight some of the tables. The handspun pendants are customized with 18″ shades, a Black finish, and standard black cords.
For the banquette tables, the complementary Wilcox Uplight Gooseneck Light provides the necessary illumination. These gooseneck wall lights are customized with 14″ shades, a White finish, and G6 gooseneck arm.
"We like that the goosenecks become a design element on the walls," Laurence explains. "Plus it was easier for the owner to change the position of the tables without having a pendant hanging over a specific table."
Laurence adds that she chose the White finish to keep the look tone-on-tone with little contrast. The large fixtures are noticeable without dominating the space with added color.
Both the goosenecks and pendants feature the same open neck design allowing a bit of uplighting to escape. These American-made lights are easy to customize with shade size, finish color, and other options including LED.
Photos courtesy of Blanc Marine Living