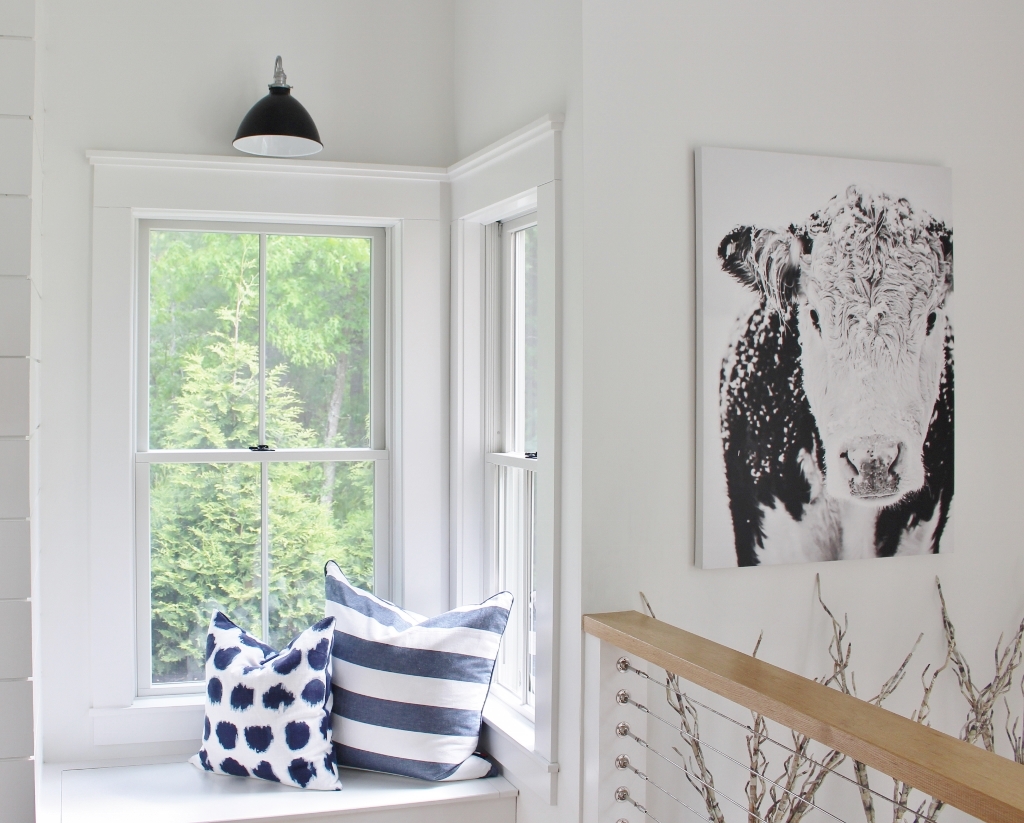 How To Incorporate Elements of Farmhouse Style
Just when you think the farmhouse style might be going down the road of popcorn ceilings, a trip through Pinterest or Instagram confirms that the style is still wildly popular. This very blog has showcased dozens of modern farmhomes that blend classic farmhouse elements with modern finishes for an updated look.
Today, we're looking at what elements make the farmhouse style so desirable. If you love the look, consider these touches shared by some of our customers.
Vessel sinks are a hallmark of farmhouse style. Lori-Ann highlighted her new sink with porcelain enamel lights. These pendants are manufactured in much in the same way as they were almost 100 years ago — by hand and with careful attention to every detail. Lori-Ann chose the 10″ Porcelain White Conoco Shade with a Polished Nickel socket and knob switch. These vintage-inspired pendants also complement her claw-foot soaker tub, another classic farmhouse piece.
Chip and Joanna made shiplap one of the most-searched terms on Houzz. These wide, horizontal planks can be found in most any room including the bathroom as shown here in Kelli's farm-style home. Kelli chose to add a happy pop of color to her white shiplap wall with the Industrial Guard Double Vanity Light in Yellow.
Every good farmhouse boasts a mudroom to serve as a collecting space for coats and shoes. Kasey selected the Avalon Stem Mount Pendant Light to line her mudroom which features generous storage areas including baskets, cabinets, and bins. Kasey customized her American-made pendant lights with 12″ shades, a Textured Black finish, and 24″ stems.
One of our favorite elements of a farmhouse kitchen is an apron-front sink. Christina opted for a copper version that is the focal point of her space. It's especially lovely at night under the glow of a Brisbane Stem Mount Pendant Light.
Homeowners often embrace distressed wood for their farmhouse tables which hints at the many family meals enjoyed here. This American-made Bomber Chain-Hung Pendant Light, in creamy Jadite, offers a welcoming touch to this eating nook.
And nothing screams farmhouse more than our Enamel Graniteware Bowls for serving up a bountiful farmhouse breakfast!
When Megan added a new family room to her Massachusetts home, profiled here, she created two cozy nooks to flank the fireplace. The Gladstone Wall Sconce in Black with a Galvanized arm complements the rest of the room's black-and-white palette. And it wouldn't be a farmhouse without a sweet cow keeping watch!
For the garage, many homeowners opt for wood-tone doors highlighted by gooseneck barn lights to add the perfect farmhouse touch. These Bomber Gooseneck Lights feature 17″ shades, a Black finish, heavy duty cast guards, and honey crackle glass.
And while this garage features the classic wood-tone doors and gooseneck lights, the couple opted for fixtures from our Porcelain Enamel LED Collection. Boasting true farmhouse style these Avalon LED Gooseneck Lights also offer the latest in energy-efficient and environmentally friendly technology along with a never-fade finish.
We've spotted a fair number of Dutch doors which add a fun element to a farmhouse. Here, the typical black-and-white palette is enhanced by the soft blue door flanked by two Original™ Warehouse Gooseneck Lights.
We followed, shared, and pinned pics about Janna's renovation of a 120-year-old farmhouse in Salem, Oregon, as she brought the homestead back to its former glory. Her inviting front porch features board-and-batten siding, another hallmark of farmhouse style. Janna's porch is brightened by Marathon Gooseneck Lights with handspun 12″ shades of steel coated with multiple layers of Black porcelain enamel.
And finally, a farmhouse wouldn't be complete without a porch swing to wile away a summer afternoon. Carrie chose The Original™ Stem Mount Pendant Light to highlight her swing, and she customized her new pendant with a 14″ shade, Galvanized finish, and 18″ stem. Bonus points for a horse in the pasture!