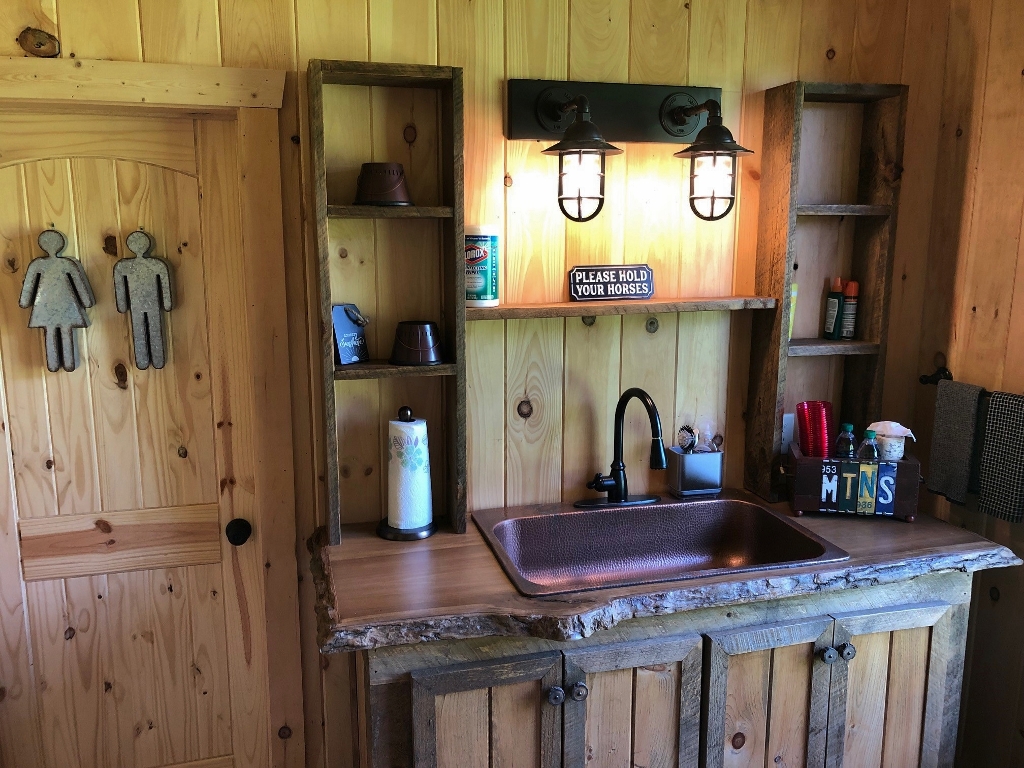 Rustic Industrial Lighting Highlights New Construction in Georgia
Nestled on the outskirts of the Chattahoochee National Forest in northern Georgia, the tiny town of Blue Ridge boasts an abundance of outdoor activities plus breweries, local restaurants, and antique trains running to nearby mountain towns.
It's also home to today's Featured Customer who recently completed a new barn on their property. Jim Stacy, the contractor who handled the project, describes the barn as "a new structure designed to look old."
The results of Jim's careful touch and the owner's thoughtful selections of materials and fixtures are stunning! With the warm tone of the board-and-batten siding topped off by a red metal roof, the barn looks reminiscent of the old tobacco barns often found in this area.
Over the massive sliding barn doors, a large metal star is surrounded by three Streamline Industrial Guard Sconces. These rugged outdoor lights are customized with a Charcoal Granite finish, flared shades, standard cast guards, and clear glass.
"All of the colors and finishes were chosen by the owner based on the look they wanted," Jim explains. "The lights are attached to metal junction boxes that are mortised into the wood."
Inside the barn, the walkways are highlighted by more handcrafted barn lights made with pride in the U.S.A. These Union Gooseneck Lights feature 12″ shades, the same Charcoal Granite finish as the exterior wall sconces, and G22 gooseneck arms.
Just like the original barn lighting crafted in the early 20th century, the Union is handspun from high-quality metal in a process that provides an unmatched durability. In spite of its classic influences, the Union's aesthetic feels sleek, relevant, and slightly modern with its midsized shade.
The downward-directed light afforded by an RLM warehouse shade such as the Union means excellent lighting on walkways and doorways without excessive glare.
In the nearby bathroom, the owners selected the Industrial Guard Double Vanity Light to highlight the rustic vanity. Influenced by nautical lighting fixtures found on ships and in marine settings, this vanity light sports a Bronze finish, flared shades, and standard cast guards. Ribbed glass offer slightly diffused light.
A second vanity, with a rough-hewn countertop and built-in shelving, also sports the same wall light. Easy to customize with finish color, shade style plus cast guard and glass options, this vanity light can be crafted to complement most any décor!