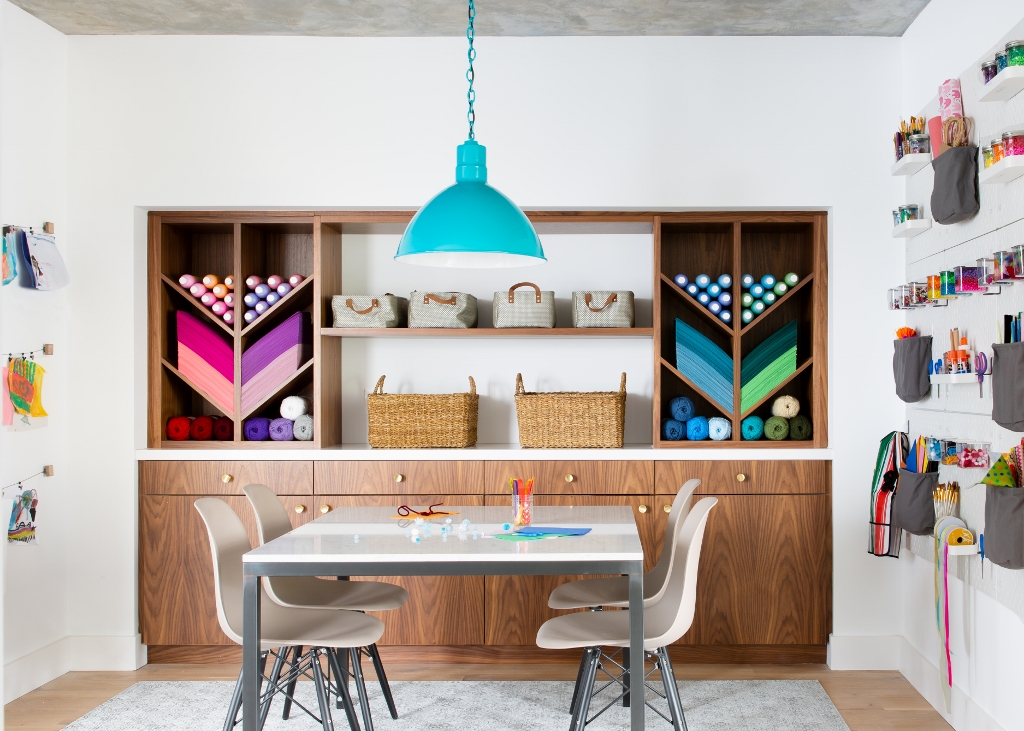 Deep Bowl Chain-Hung Pendant Lends Fun Element to Kids' Craft Room
How do you turn an oversized wine cellar designed for adults into a fun and creative craft space for kids? This was the design dilemma posed to Regan Baker, principal designer at Regan Baker Design in San Francisco, California.
Today, we're chatting with Regan about the challenges she faced in creating this special space in a home in San Francisco's Pacific Heights neighborhood.
Q: How extensive was this remodel?
A: Our clients brought us in to help adapt this recently-updated spec home to their needs. We were able to accomplish this through furniture choices, updated light fixtures, and, in some areas, with cabinetry or built-in elements. When our clients challenged us to adapt the oversized wine cellar into a craft space, we were, of course, up for the challenge!
Q: Who uses this room and what activities take place here?
A: The craft room and adjacent play room see a lot of use from our clients' three young children. This large, open area on the lower level of the home was the perfect space to customize for creative and active play. In the craft area, there is plenty of room to make and display artwork. In the adjacent playroom, soft furnishings, a climbing wall, and plush floor rugs create a safe place for gentle roughhousing or curling up with a book.
Q: What feel were you going for with the colors, materials, and fixtures?
A: We wanted to design a kid-friendly room that was still approachable for adults and saw these two adjoining spaces as an opportunity to really balance fun and function. We used lots of colorful elements and made sure to really plan for storage needs. The craft room built-ins, originally intended to house wine, are loaded with colorful crafting materials.
Q: What was important as you looked for lighting this space?
A: Because lighting tends to be where your eye lands first, we knew we wanted something colorful and impactful. It was really important to balance the formality of the walnut built-ins with more colorful elements that would make this feel like a kid-friendly space.
Q: What attracted you to the Wilcox Deep Bowl Chain Hung Pendant?
A: Because crafting with young kids can be messy, we chose hard-wearing surfaces that can be wiped down like the sealed marble-and-steel table and molded Eames chairs. We were also working with an existing concrete ceiling which lends an industrial feel to the space. With all of these utilitarian materials at play, we felt that the factory-style design and painted metal finish of the Wilcox Chain Hung were right at home here.
Q: Why did you choose the 20″ shade and the Teal finish?
A: The 20″ shade balances the table perfectly and holds its own against a backdrop of art-supply-laden built-ins. It provides ample lighting for all that masterpiece making! The bright color really establishes a casual sense of fun in this room.
Q: Now that the space is complete, what do you and your client like best about the lighting?
A: We like the happy punch of color it adds to this bright space and love that it perfectly echoes the colors of the art supplies!
Photos courtesy of Suzanna Scott Photography and  Regan Baker Design