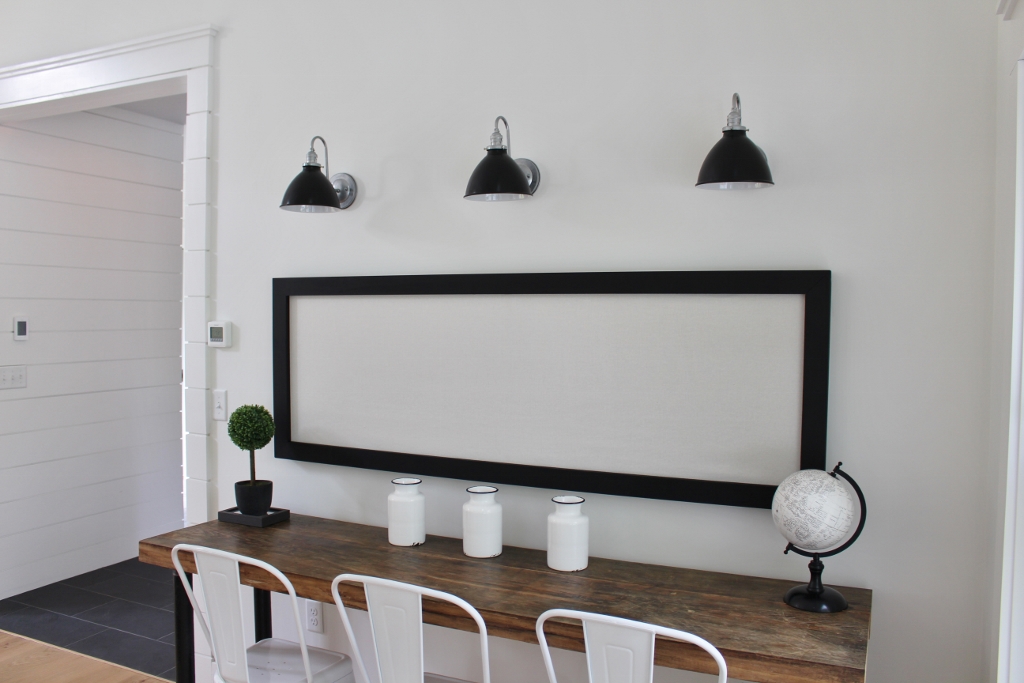 Barn Lights Help Transform Garrison-Style Home to Classic Farmhouse
What to do when you live in a garrison-style home but would love a modern farmhouse instead? Tear it down and start over? Move?
Megan faced this dilemma, and though she loved many things about her home and neighborhood, she had three requirements for staying put.
"We needed a mudroom, more living space, and an overall different look to the outside," Megan explains. "So we transformed our boring garrison colonial by adding a farmer's porch, mudroom, family room, and half bath."
Under the talented hands at Sail Architects, the result is a classic farmhouse with plenty of white, rustic wood touches, shiplap walls, and black barn lights. We visited Megan a few weeks ago where she gave us a tour of her renovated space in Duxbury, Massachusetts.
On the exterior, Megan wanted a large, black wall light to add contrast to the white siding. She looked at a lot of inspiration photos before choosing the Wilcox Gooseneck Light with a generous 20″ shade. She customized this handspun fixture with a Black finish and a G22 gooseneck arm.
"I saw Barn Light on Houzz, Pinterest, and Instagram, but our contractor also recommended the company because of all the options available," she notes.
In the new mudroom, Megan searched for fixtures that would not only be simple and clean, but would provide a smooth transition between the old and new spaces of the home. She brought the look of her exterior gooseneck inside with the Wilcox Vented Cord Hung Pendant Light for the space.
"I loved the simplicity and size options but chose it mainly because I was able to select a black-and-white cloth cord," she explains. Megan's mudroom lights feature 12″ shades, a Black finish, and narrow slot vents in the neck which offer a beautiful play of light at night.
"I remember spending hours, maybe days, contemplating all of the options," she says, laughing. "I chose the narrow slots for the neck because I thought they would look great on the ceiling at night."
In the new family room just off the mudroom, Megan wanted wall sconces to highlight the artwork on the walls and two nooks that flank the expansive fireplace. After pondering many options, the Gladstone Wall Sconce became the clear winner.
Megan chose two different sizes of this wall sconce — the 10″ version for over the window seats and the smaller 8″ size for over the homework desk. She also used a 10″ sconce over this framed inspirational quote.
"I felt the window seats needed the larger size," Megan notes. "And I chose the smaller sconces for over the homework desk because I felt three side-by-side didn't need to be as large." Megan chose the Galvanized mount on all of the sconces to add another layer of contrast to the overall look.
"All of the options matched well with the design I was going for throughout the entire space," she says. "I especially love the simplicity of the mudroom lights and the extra touch the outdoor gooseneck gives to the exterior. I really like how these lights help tie everything together."