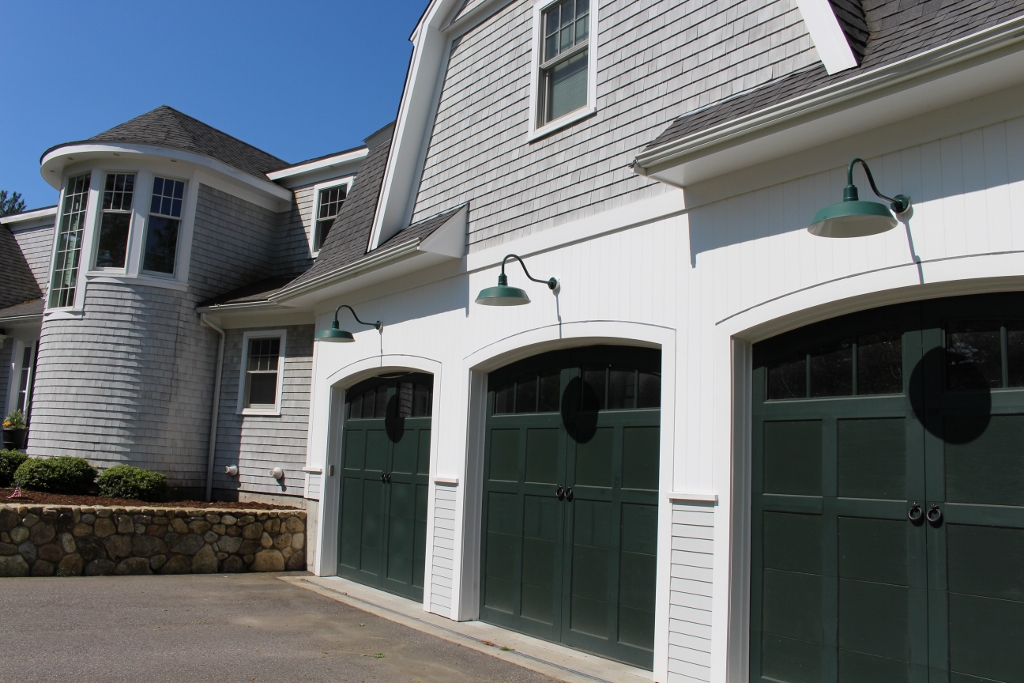 Durable, American-Made Lights Keep Massachusetts Homeowner Coming Back
On a recent road trip through New England, we had the chance to visit with several Barn Light Electric customers. Megan was featured on Monday as we shared how she transformed her garrison colonial into a classic farmhouse complete with bold, black barn lights.
Today, we're visiting with Jill who has lived in her Duxbury, Massachusetts, home for 22 years. The house has undergone numerous updates and renovations during that time including a garage addition several years ago.
"The original house is a cape and when we were designing the garage, we wanted it to look like the old New England capes that have interesting architecture and character," Jill says.
With the help of a friend at Grapevine Interiors, Jill planned for the new garage to resemble a barn with a sliding barn door. She chose Original™ Warehouse Gooseneck Lights to highlight the new addition. Jill customized these handspun wall lights with 20" shades, a Dark Green finish, and G22 gooseneck arms.
"We chose the green finish to continue with the barn theme and to match the color of our front door," she explains. "We wanted to combine a traditional and industrial look while still keeping with the New England coastal vibe."
Just around the corner, a smaller Original™ Gooseneck sheds light onto the man door and entrance to the outdoor shower. This 12″ shade is finished in the same Dark Green powder coat finish with a G15 gooseneck arm.
About two years ago, Jill tackled another renovation — a new patio and kitchen. When it came time to choose lighting for the patio, Jill returned to Barn Light Electric.
"We were happy with the quality and service from Barn Light, so we decided to shop there for our outdoor deck lights," she notes. "Again, we were looking for a light with a traditional look but also with an industrial flair." Jill chose the Streamline Industrial Guard Sconce in a Barn Red finish to achieve the look she envisioned.
"We wanted to have a little fun with color so decided on the Barn Red finish for the sconces," she says. "And we didn't want the light to look too dainty, so we opted for heavy duty guards." Jill chose the ribbed glass for her wall sconces as she prefers not to see the bulb.
"We like our handcrafted lights because they are sturdy, have endured many harsh New England winters and still keep their color and function," Jill says. "We prefer to shop American-made products and Barn Light has countless combinations of colors and styles. It is easy to find exactly what we want in lighting. We are extremely happy with our lights and have frequently recommended the company to others."