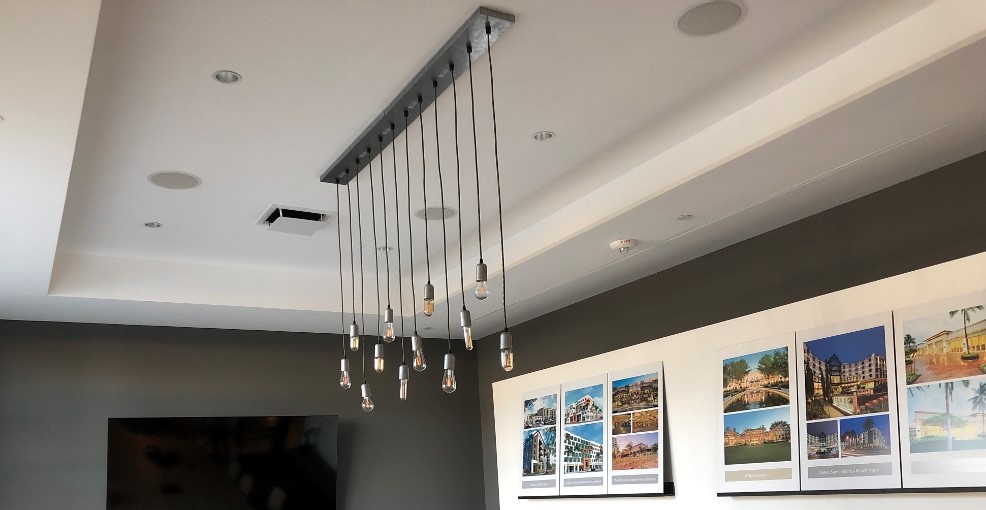 Minimalist Lighting Goes Bold with Color and Style
The minimalist mantra of "less is more" aptly describes Barn Light Electric's collection of modern lighting. Whether you need lights for a small space or just love the sleek, streamlined look of modern fixtures, you won't have to compromise on style, color, or even drama with these handcrafted lights!
Today, we're sharing a variety of spaces from bathrooms to board rooms that show how to achieve maximum effect with minimalist lighting.
The Downtown Minimalist Chandelier is a perfect fit inside this tiny home created by designer Kim Lewis. Shown here with a Raw Brass finish and Edison light bulbs, this minimalist chandelier is available in more than two dozen powder coat finish colors to complement any space.
Bathrooms are a perfect place for minimalist designs. In this bath, with ample space around the mirror, the homeowner chose Kao Wall Sconces for proper illumination without shadows. These compact, vintage-style wall sconces add a pretty pop of color with their creamy Jadite finish.
Helen chose Downtown Minimalist Sconces to highlight her new vanity and add a coordinating punch of color to the wall. These handcrafted vanity lights feature an Orange powder coat finish and half-chrome light bulbs.
Sometimes criticized for being cold or harsh, modern spaces can be softened with color and texture. This stark, white fireplace is warmed with the addition of live plants, wood flooring, and a Downtown Minimalist Adjustable Wall Sconce in Brass.
Katie also chose the Downtown Minimalist Adjustable Sconce to highlight the open shelves in her new kitchen. She customized these bare-bulb sconces with a Black finish to coordinate with her cabinets and plumbing fixtures.
In the dining space nearby, Katie chose the 6-Light Pendant Chandelier to pour light onto the table. This multi-light chandelier is customized with a Black finish and Black cloth cords. Each individual pendant is adjustable to create the exact look and feel desired.
And if you're surprised to find the words chandelier and minimalist in the same sentence, don't miss the Ellis Adjustable Arm Chandelier profiled here in this celebrity nursery.
Commercial spaces also embrace minimalist lighting thanks to the endless ways it can be customized to complement most any brand identity. At Sushi Maki in Miami, a grouping of Downtown Minimalist Pendants with black cloth cords serves as functional art over the tables.
At One World Brewing in Asheville, North Carolina, Downtown Swing Arm Sconces offer a contrast to the white walls with their funky Chartreuse finish. These American-made wall sconces, with 20″ arms and a swivel knuckle for extra flexibility, become three-dimensional in the space.
And what would an architect choose for lighting his own meeting space? Michael Kollin, president and CEO of Kollin Altomare Architects, envisioned a minimalist, yet industrial work space. He chose the 6-Light Pendant Chandelier with a Galvanized finish and black-and-gold cloth cords for added color and texture.
The two chandeliers, placed end-to-end, run the length of the conference table. The adjustable cording allowed Michael to individually customize the length of each pendant while the galvanized finish provides the desired, old-school industrial look.
American-made and handcrafted with care, Barn Light's minimalist lighting provides maximum effect in every space!