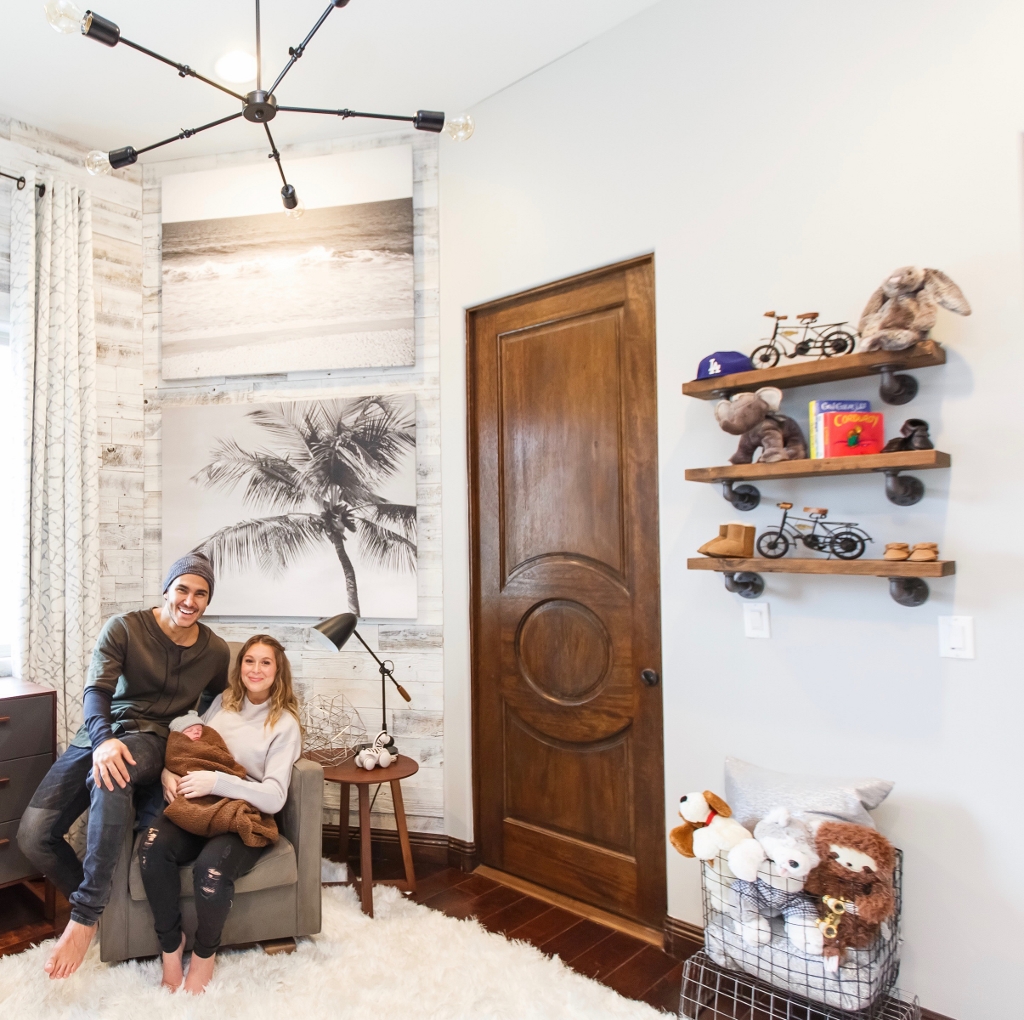 Modern Chandelier for Celebrity Baby Nursery
Celebrity babies may have high-profile parents, but their needs are much like every other newborn's. A comfy crib, a rocker for feeding time, and diapers. Lots of diapers.
Vanessa Antonelli, a New Jersey-based designer with an extensive roster of celebrity clients, was tapped recently by Spy Kids alum Alexa PenaVega and her husband Carlos to design their new baby's nursery. With every client, Vanessa spends a lot of time listening before she starts creating. Clients also fill out a questionnaire and share photos of anything they find appealing or inspirational. With this information, Vanessa begins the design process.
"Alexa's style is more light and bright with rustic décor, while Carlos likes dark wood, modern furniture, and industrial touches. And both of them absolutely love the beach," Vanessa says. "I wanted to find a way to create a space that blended all of those things. It sounded a little strange at first, but I knew there had to be a way I could make it work cohesively for them."
The result is a soothing neutral space filled with rustic touches including wooden shelves with industrial pipe supports, a dark wood crib and dresser, and a metal marquee. When choosing a ceiling light, Vanessa wanted to find one that complemented the nursery's clean lines and small industrial touches.
"I actually started to design this space with an idea for a light in mind, but no idea if that light actually existed," Vanessa explains. "I've worked with Barn Light Electric in the past and I'm always impressed by the unique and modern designs. When I went to the website, I found exactly what I thought I had dreamed up and was able to customize it to fit the design."
Vanessa's dream fixture is the Ellis Adjustable Arm Chandelier. This handcrafted chandelier features a Black finish, five bare bulb sockets, and horizontally adjustable arms that can be manipulated into a variety of positions.
"I love that it's adjustable," she notes. While most of her clients are thinking about the present, Vanessa knows all too well how fast the baby years go. It's never long before clients come back to her ready to transition to a "big kid" space.
"I go into my designs knowing this, and I try to give them versatility even if they don't know it," she adds. "The ability to adjust this chandelier means they can leave it like this forever or adjust the arms any time they want a different look."
Vanessa designs juvenile spaces exclusively including bedrooms, playrooms, and outdoor spaces. She seeks out American-made products whenever possible and is passionate about finding companies that have a story behind them.
"Barn Light Electric pays incredible attention to quality and detail, and offers a quick turnaround time," Vanessa says. "I love families who put their heart and soul into their business. There are so many incredibly talented and creative people who have turned their craft into what supports their family. I go out of my way to find and work with those companies."
Photos courtesy of Chris Veith Photography