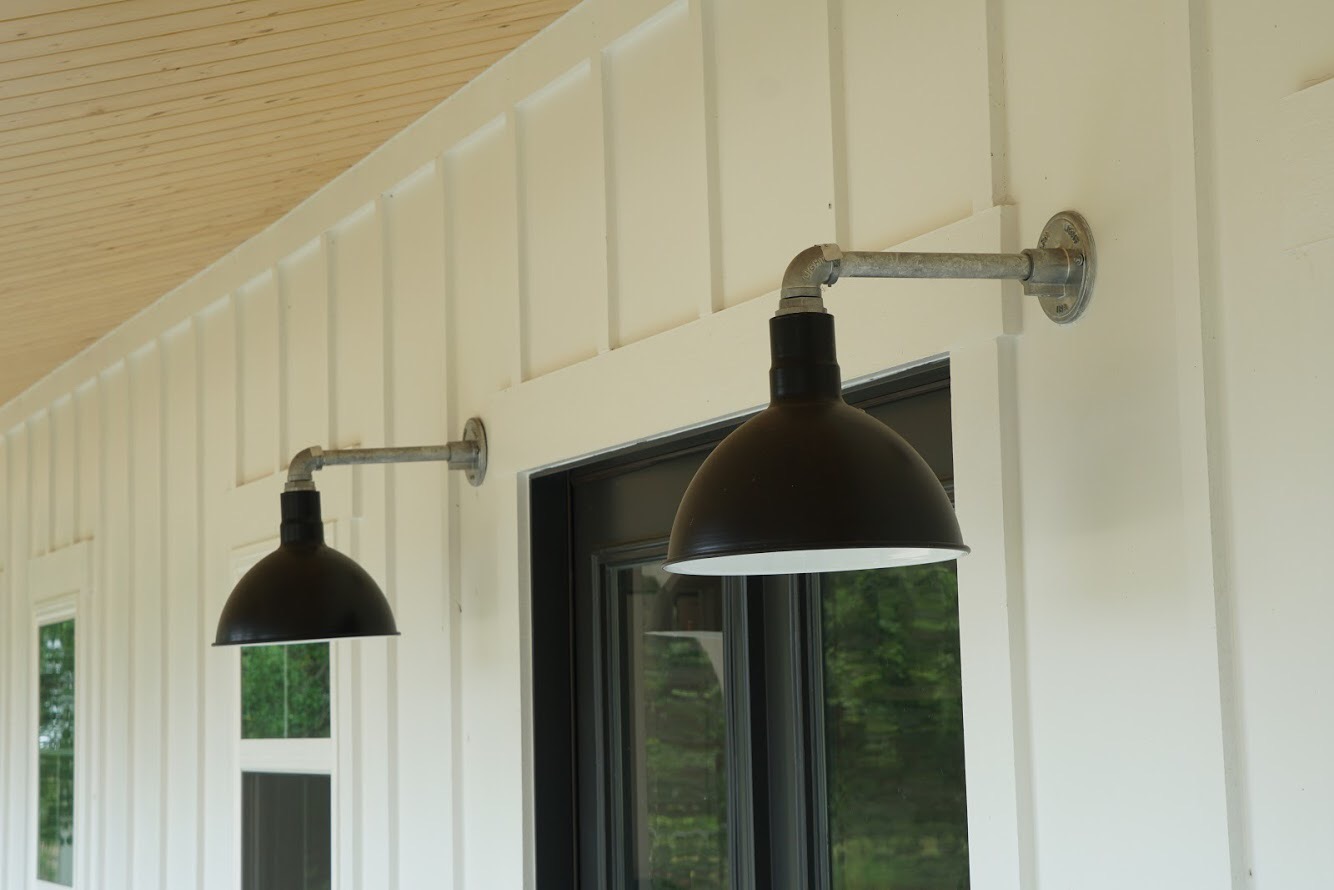 Deep Bowl Barn Lights Define Modern Farmhouse
If you follow the Barn Light Electric Instagram feed, you'll likely remember this beautiful photo. With close to 2,000 likes and loads of comments, it's pretty clear that people are still crushing on the modern farmhouse look.
Today we're visiting with Kanga Room Systems, the creators of this sweet little space. Sales Manager Taylor Bielamowicz describes this project, located in Burton, Texas, as a small studio plus one of their larger farmhouse packages nestled nearby amongst the trees.
"The design direction for this project was a 'modern farmhouse' and our Kanga Cottage line is the epitome of the perfect country cabin," Taylor says. Her clients own a graphic design firm in Houston and a country art gallery in Round Top that features the husband's work. The cabin and studio are the perfect mix of both their country and city lives. Taylor notes that nothing but barn lights would complete the look they desired.
"Aesthetic and color were key in the design process," she explains. "Almost everything in the two buildings is painted either white or black/charcoal. It was important that the light fixtures complement the style of the buildings in a modern, yet almost rustic fashion."
The perfect blend of modern and rustic came in the form of the Wilcox, our popular deep-bowl shade that is available as a gooseneck light, pendant, and wall sconce. For the exterior of the studio, the customer chose the Wilcox Gooseneck Light with 8″ shades.
These smaller shades flank the front door without being obtrusive while the sleek Black finish pops against the white facade. These handcrafted gooseneck lights feature a G4 straight gooseneck arm with a Galvanized finish.
"The Wilcox Gooseneck lends itself to the quintessential barn style the customer wanted, but is still unique and distinct to the individuality of these buildings," Taylor notes. "The galvanized gooseneck arm gives the light fixture a more casual look while the black shade provides an upscale flair the cabin deserves."
Two larger Wilcox Gooseneck Lights, with 12″ shades, were installed on the farmhouse — two by the front door and one on the screened porch. These larger shades provide plenty of light and protrude from the wall a bit further on G17 arms.
The homeowner continued the look on the interior of both buildings with Wilcox Vented Pendant Lights. These bold 20″ shades are customized with circle vents in the neck to provide a bit of uplighting to the ceiling. They also feature the same Black finish as the goosenecks along with black-and-white cloth cords. Two pendants are in the home and two add to the natural light in the studio.
"The black shades are definitely the best part," Taylor says. "Many customers stick to strictly galvanized lights, but those black shades are the perfect pop against the white, trim, and windows. The dark lamps are just the right touch to give the studio and cabin the perfect farmhouse look that gives everyone absolute Pinterest envy!"
Photos courtesy of Kanga Room Systems