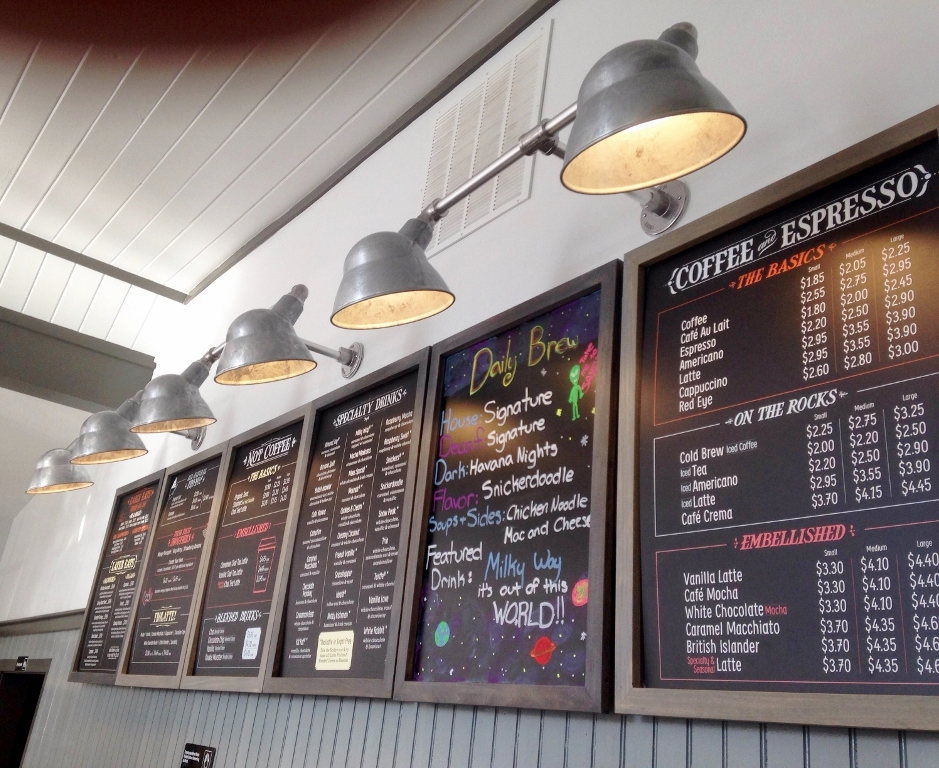 Restaurant Lighting That Satisfies Both Style and Safety
The restaurant industry is not for the faint of heart. Rising above the competition in a crowded marketplace involves creating a space that promises not only excellent food but delivers an experience in a setting that customers want to revisit again and again.
Lighting presents a special challenge. Safety and security are concerns, but commercial lighting should also play a vital role in establishing the look, feel, and special vibe of any restaurant.
Today we're looking at some of our favorite eateries that get five-star reviews for their lighting choices!
Well-lit signage is key to guiding customers throughout a space and bringing attention to wall-mounted menus. The owners of Saxby's Coffee in Buckingham, Pennsylvania, chose the Dual Arm Emblem Sign Light to highlight six menu boards behind the counter. These American-made wall lights feature a rugged construction in the style of vintage gas station lights. Customized with 10″ shades, a Galvanized finish, and 12″ brushed aluminum gooseneck arms, these sign lights not only provide plenty of light on the boards but add a dollop of farm style too!
In Atlanta, designer Lindsay Denman chose the durability of porcelain enamel with Fire Chief Sign Lights at Gusto Wood Fired Pizza.
"You can't beat that porcelain enamel finish. It's so smart looking," says Lindsay. "We did not want these to look aged or rustic or corroded. We weren't going for a garage look. This is modern and new!"
The brand consultant for Sushi Maki in Miami, featured in this post, wanted to draw attention to the sushi-making station. Chris chose the simple, yet distinctive Mig Pendant Light finished in creamy Delphite Blue to catch the eye but not overpower the space.
Nearby, a grouping of Downtown Minimalist Pendants with black cloth cords serves as functional art over the tables.
Bars present their own special lighting issues. Subtle lighting that offers needed illumination without dangling in the customer's face is key. The Orange Anchor in Georgetown features a chic look with clean lines and pops of orange and steel. The nautically inspired Flush Mount Guard Sconce in a vivid Orange finish color brings an industrial vibe to the bar without being obtrusive.
A restaurant's exterior lighting must draw attention to the building while also providing plenty of lighting for safety after dark. We profiled Highland Brewing Company in this post showing how classic gooseneck barn lights brighten up their parking lot.
These American-made Original™ Gooseneck Lights sport 16″ shades, Galvanized finish, and G2 gooseneck arms. Builder Brock Ashburn notes that he chose the long gooseneck arm to help project the light away from the posts and cast light more directly over the walkways and parking lot.
"Functionality and aesthetics are important to me and I'm very happy with the lights," Brock says. "And I'm very proud to have bought from a company that makes light fixtures on the East Coast!"