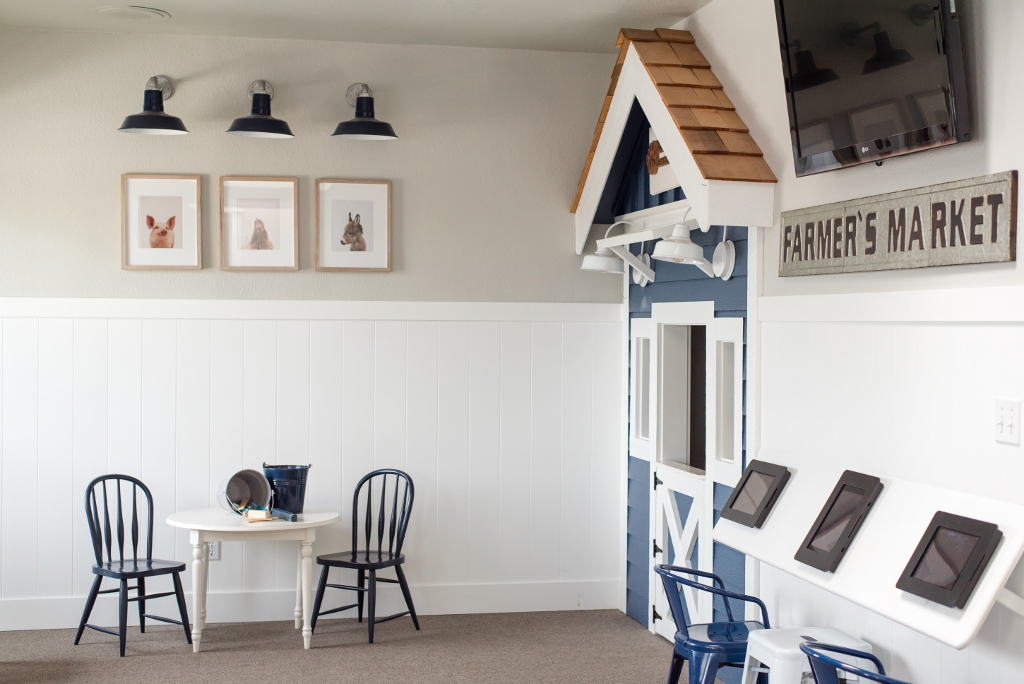 Barn Lights Add Fun, Soothe Fears in Pediatric Dentist Office
Going to the dentist strikes fear in the heart of many adults. For kids, the fear can be even greater thanks to the uncertainty of what exactly will happen in that big scary chair!
When designer Terrie Day of Allure With Decor was approached about remodeling a pediatric dentist office in Medford, Oregon, she wanted to create a space where kids could feel at ease and even have some fun.
"The old office was very outdated so our team redid the entire space," Terrie says. "We painted over outdated murals, and added wide plank wainscoting in the waiting room, a fun playhouse, and an active iPad wall."
Working with a farm theme, the team created a playful space with light, airy walls that feature adorable animal art. Terrie scoured the internet searching for Navy Blue barn lights and came across Barn Light Electric.
"I really wanted deep blue wall sconces to illuminate our animal art," she explains. "It was really fantastic that I was able to customize both the gooseneck lights and the playhouse sconces." Terrie chose the Original™ Warehouse Gooseneck Light for the gallery wall. She customized these American-made wall lights with 12″ shades, Navy finish, and G16 straight gooseneck arms in a Galvanized finish.
"These act as gallery lights illuminating our farm animal artwork," she notes. "It's a rather long wall and I wanted to fill it up with larger shades. Our palette for the office was navy, white, and grey so the Galvanized arms fit in perfectly with this!"
The nearby playhouse was added to entertain younger children while they wait to be seen by the dentist. Terrie selected 8″ Arlington Wall Sconces in White to flank the barn door.
"I love the crisp white of the Arlington Wall Sconce! The smaller scale of these sconces is a perfect fit for the playhouse," she adds. "The lights are of great quality and are so perfect in both size and color. We love the mix of the lights and how they coordinate without being a match!"
Photos courtesy of Allure With Decor and Sharon Westergard Photography