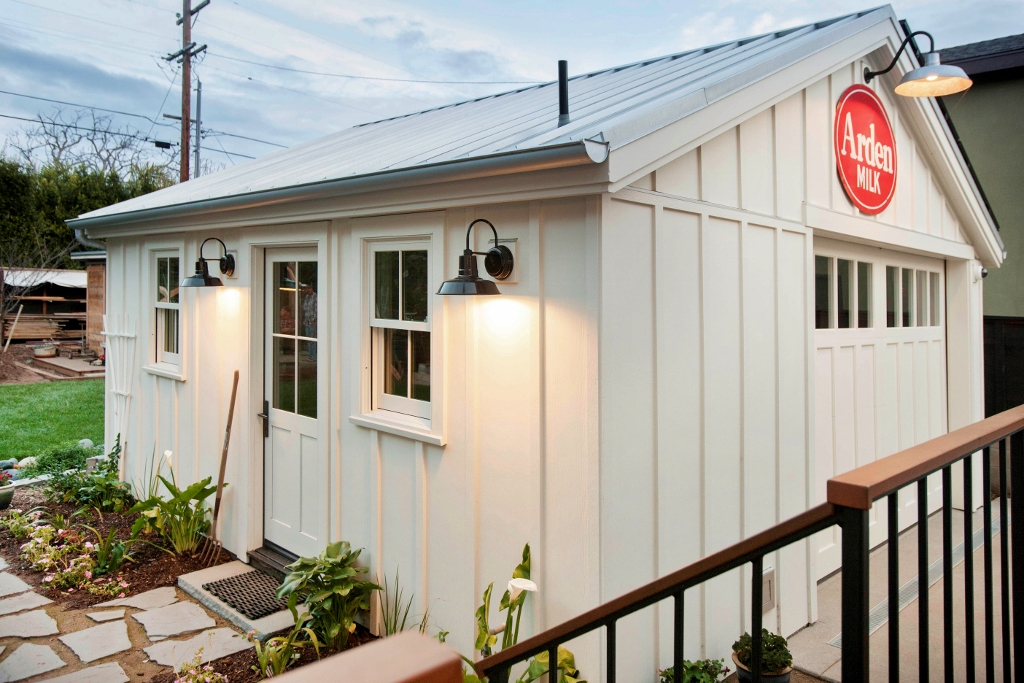 Handcrafted Barn Lights Exude Rustic Style in New California Farmhouse
The relationship between builder and homeowner is often a contentious one. The build process is rarely simple or easy and is marked with countless decisions, unexpected problems, and delays. Throw money into the mix and it's no wonder both sides get testy!
When Mark Sheddon, of Encinitas, California, decided to tear down his home of 37 years and rebuild, he teamed up with Jeff Maitner of Halcyon Trade Building to create his dream home. Their builder/homeowner relationship set a new standard for how the build process can work. Here is Mark ready to get started!
"I was going for an all-American, traditional farmhouse feel," Mark says. "Think rural Midwest, New England style." Mark made it clear from the beginning that he wasn't racing a deadline to finish. He just wanted to get it right.
"That was music to my ears!" says Jeff. "Quality is a default setting for me and to work with a client with a like-minded, quality-first approach made for a truly beautiful finished product. We loved having Mark's help and passion alongside us every step of the way."
Mark owns a 1949 red Ford truck and he wanted a garage that was as special as his ride. The detached building mimics a carriage house, and Jeff knew a gooseneck barn light was the perfect choice for the peak. Mark chose the Original™ Warehouse Gooseneck Light to highlight his vintage sign on the exterior. He customized this handcrafted wall light with an 18″ shade, Galvanized finish, and Black G15 gooseneck arm.
"Being able to customize the light in the gable peak was crucial to make it fit in the small space above the sign, light it well, and not look crowded," Jeff explains. "The color mix was a nice blend of the galvanized accents on the exterior of the house and the black lights everywhere else."
On the back side of the garage, Mark picked out matching Original™ Wall Sconces to flank the man door. He customized these 12″ wall sconces with a Black porcelain enamel finish.
"The quality is great and they are easy to clean," Mark notes. "They will no doubt outlast me!"
Inside the garage, three Original™ Stem Mount Pendants add industrial style to the space. Mark chose a Galvanized finish for these  14″ shades and customized them with a Red wire cage to match his antique truck.
The interior of the home is accented with reclaimed timbers and a soft grey palette with dashes of teal throughout. When searching Barn Light Electric's color chart, Mark and Jeff discovered the Teal finish option and knew it would be perfect for the Original™ Chain Hung Pendant over the dining table. The 18″ Teal shade is suspended from a Galvanized chain.
"We wanted to add that pop of color and the style contributed to the causal elegant farmhouse feel," Mark explains. Jeff adds that he was familiar with the Barn Light brand for a long time, and Mark's home was a great fit for quality, American-made lighting.
"This was a special project and Mark deserves the recognition for his passion and willingness to do things right!" Jeff says. "Working with quality products and tradesmen makes all the difference in creating a standout finish that will last a lifetime."
Photos courtesy of Halcyon Trade Building and Photographer Paul Body