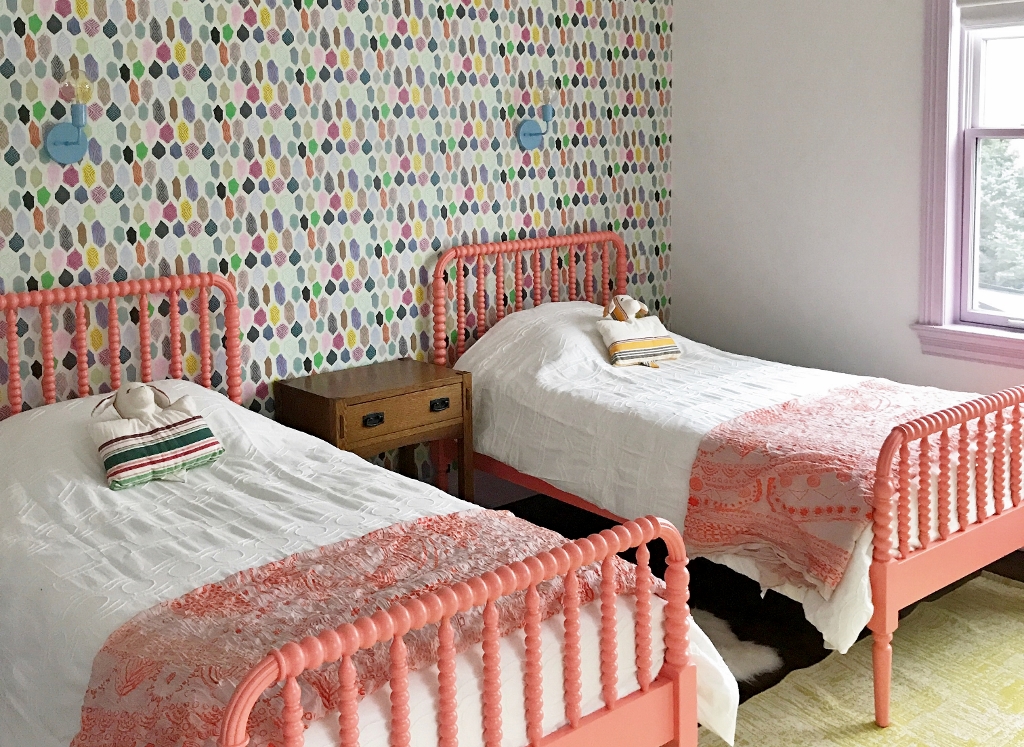 Minimalist Wall Sconces Provide Subtle Accent for Colorful Bedroom
As an interior designer and the mom of two young children, Maggie Natarelli loves creating spaces that aren't too fussy and feel accessible yet are beautiful and lasting.
"Young parents deserve good design too!" Maggie says. Based in New York, she recently worked with a family with three-year-old and five-year-old girls. Everything in the home is kid friendly and there are no spaces off limits to the children.
The homeowners moved in last fall and have been redesigning room by room to make the space reflect their own tastes and needs. When it came time to renovate the girls' bedroom, the youngsters offered a lot of input.
"Their favorite color is…wait for it….purple and pink," Maggie says. "But we didn't want it to be too princess-y so we settled on a lavender and coral palette — reminiscent of a really good sunset." The family loves color and has a fearless approach to pattern, so Maggie started with a bold wallpaper and Jenny Lind beds.
With the eye-popping wallpaper, Maggie opted for sleek wall sconces over the beds. She chose the Downtown Minimalist Wall Sconce to create balance in the space. She customized these American-made lights with a Delphite Blue finish and installed them bulb side up so small fingers wouldn't be tempted to touch the hot bulb.
"Since the room is so full of color, I knew that if I couldn't find an exact match with the lighting, I would have to go with white," Maggie explains. "The Delphite Blue pulls the periwinkle from the wallpaper perfectly. With the adjacent painting, indigo throws, and other pieces, we keep it from being too pink and purple but still satisfy the real clients — the young girls who sleep here."
Maggie loves supporting businesses that keep production in the U.S. and employ American workers. And while ethics are important to her as a designer, she adds that Barn Light also delivers timeless designs, approachable prices, and high quality — all of the qualities she looks for in lighting.
"The versatility of these fixtures is awesome. They give the beds a cocoon feeling for bedtime reading and remind me of the summer camp of my childhood dreams," Maggie says. "Barn Light products are so versatile and approachable, I find a way to work them into most of my projects."
Photos courtesy of Maggie Natarelli, Raised by Design