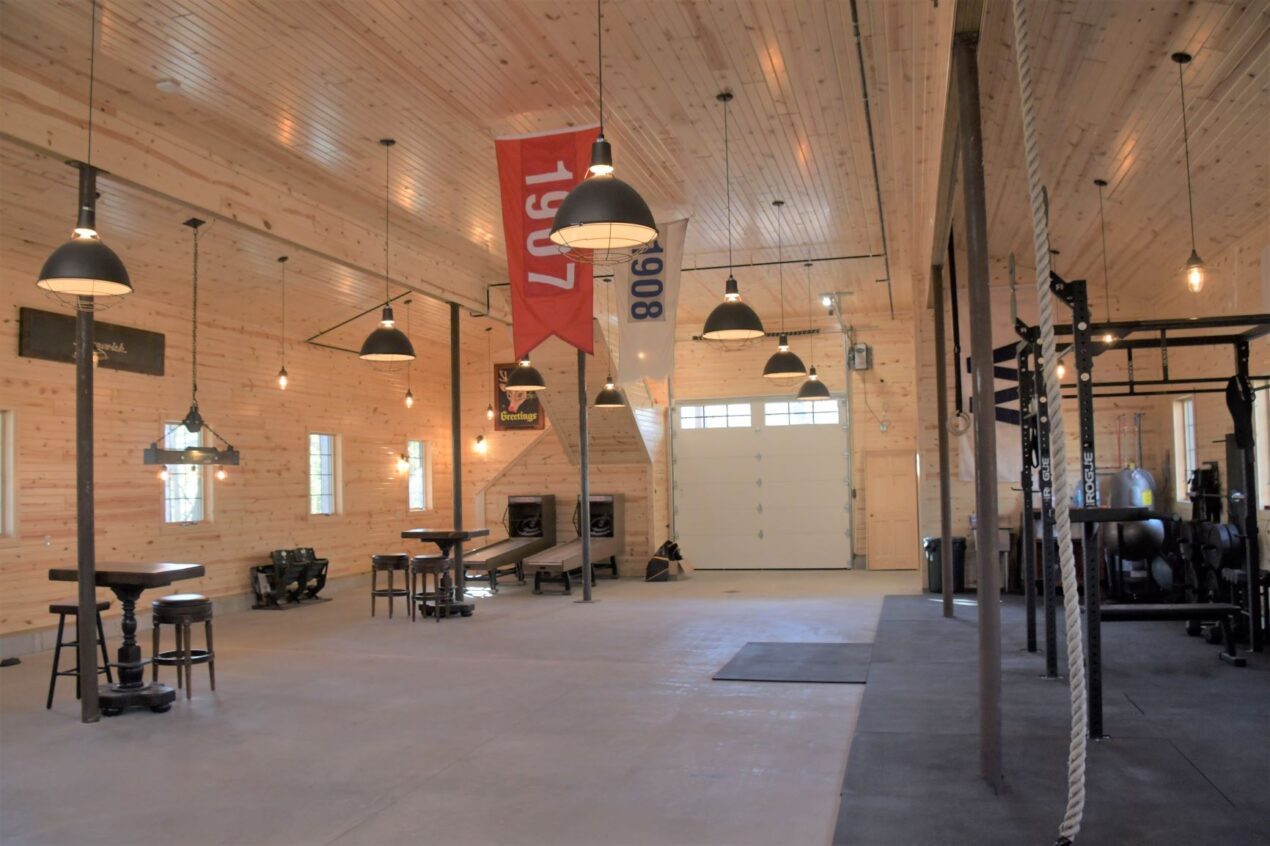 Industrial Lighting Adds Pop of Style to Michigan Pole Barn
When the ongoing pandemic closed gyms, parks, and other recreational facilities across the country, Americans were forced to get creative with workouts at home.
Luckily for Chris and Nancy, the perfect space for health and recreation was right in their own back yard. The construction of a pole barn on their property in Newaygo, Michigan, wrapped up right as the Covid-19 disaster started to unfold.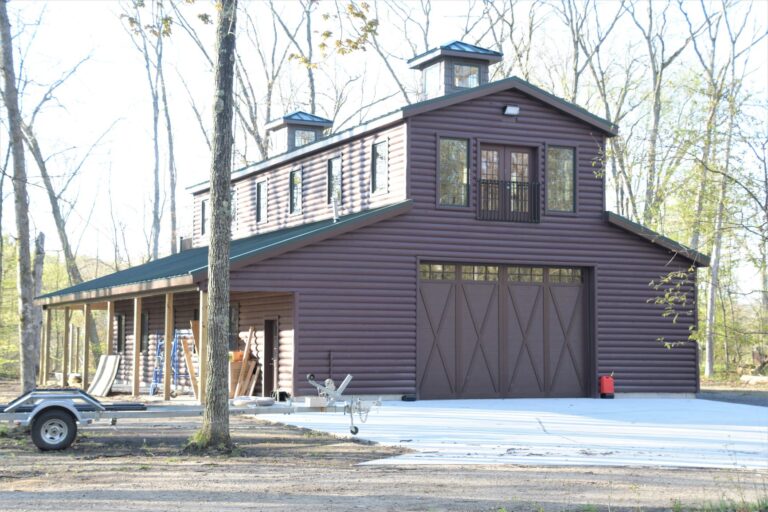 "Half of the space is a crossfit gym where my older son and I train. My wife is big into biking, so we have a Peloton as well," Chris says. "The other half of the space is for family fun — pool table, foosball table, darts, and skeeball." While having a place in the woods provides a natural workout space, there's no excuse for this family to miss a workout even when the weather is bad!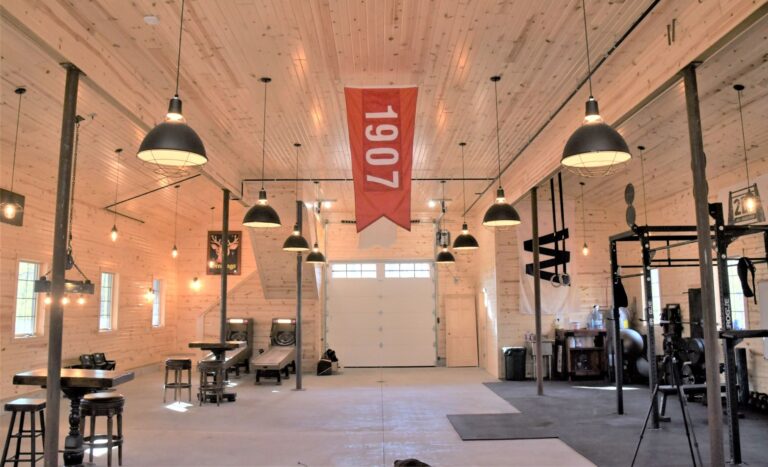 In addition to the enviable workout area, the barn includes extra rooms for family members who visit throughout the year. Chris also stores his "baby" in the barn — a 20′ Wooldrige Alaskan XL drift boat used for fly fishing the Muskegon River.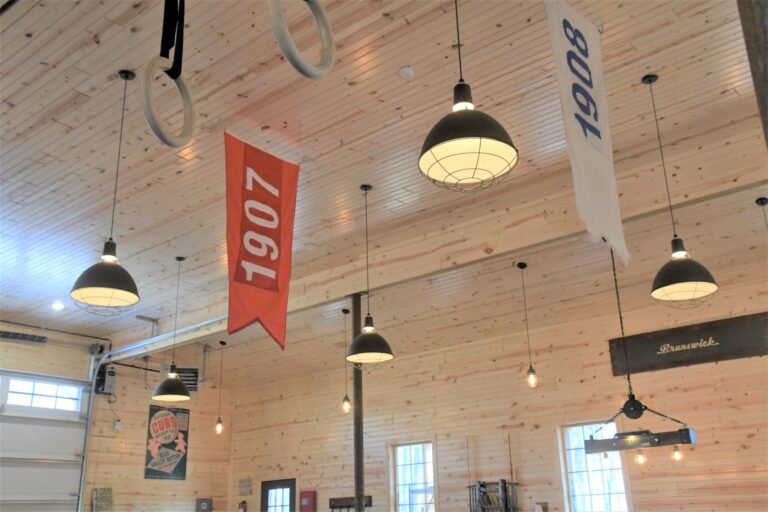 The design of Chris and Nancy's new barn complements their Honka Finnish log cabin home. They searched for lighting with an industrial feel but that would not overpower the space. They found Barn Light Electric after an extensive search on Pinterest and Etsy.
For the center of the cavernous space, the couple chose the Wilcox Uplight Cord Hung Pendant. They installed a dozen of these handcrafted, deep-bowl pendant lights customized with 18″ shades and an Oil-Rubbed Bronze finish. The couple also chose brown-and-black cloth cords and wire cages to add to the industrial vibe.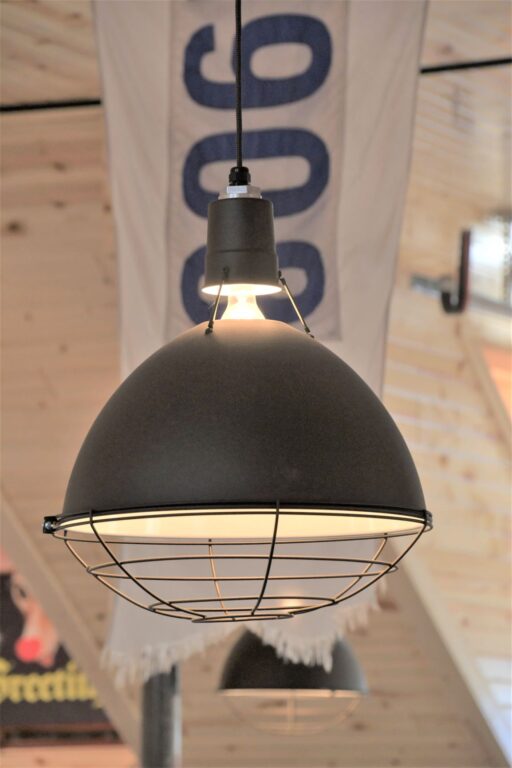 "These pendants are ideal for optimal lighting for the center of the pole barn, and also for the way they provide light back up to the ceiling," Chris explains. "We wanted the big, bold look these lights provide, and the finish color matches our hooks and decorative pipes."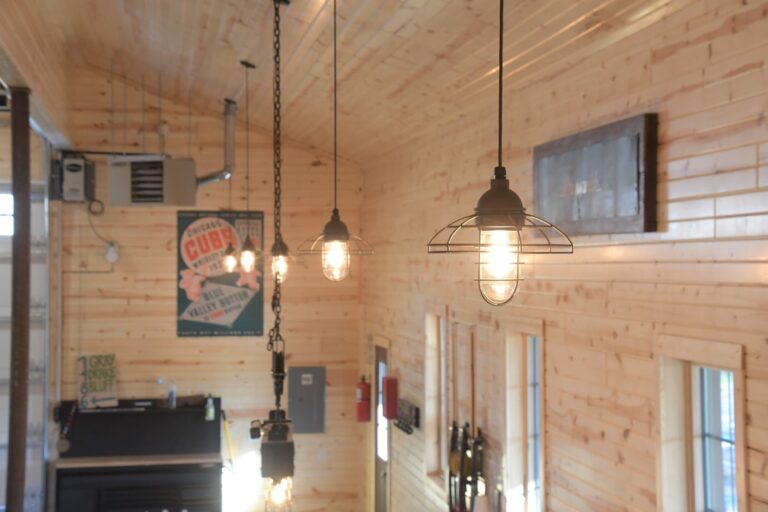 Along the outer walls, Chris and Nancy opted for the Blue Collar Pendant Light. They customized these American-made pendants with 12″ shades, the matching Oil-Rubbed Bronze finish, and clear glass.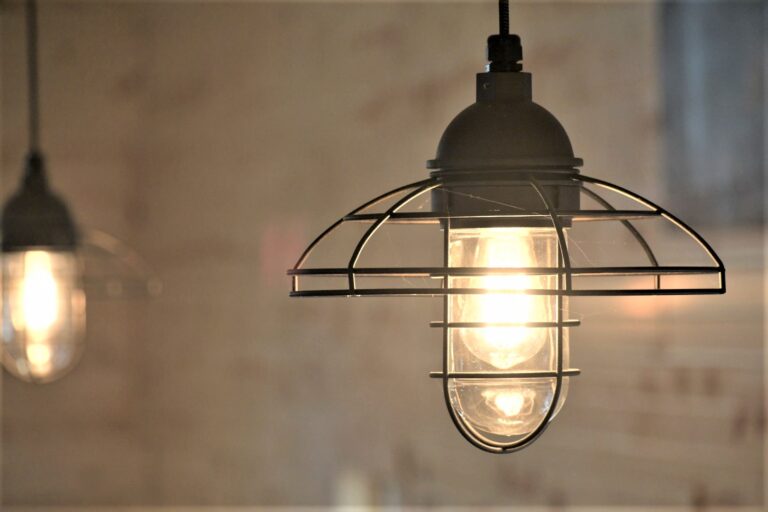 "These are smaller than the Wilcox Lights, but they have a similar look with the cages and cloth cords," Chris notes. "They have a unique appeal with the glass that provides a great glow for the space." The couple had their electrician install dimmers to completely control the lighting in the barn.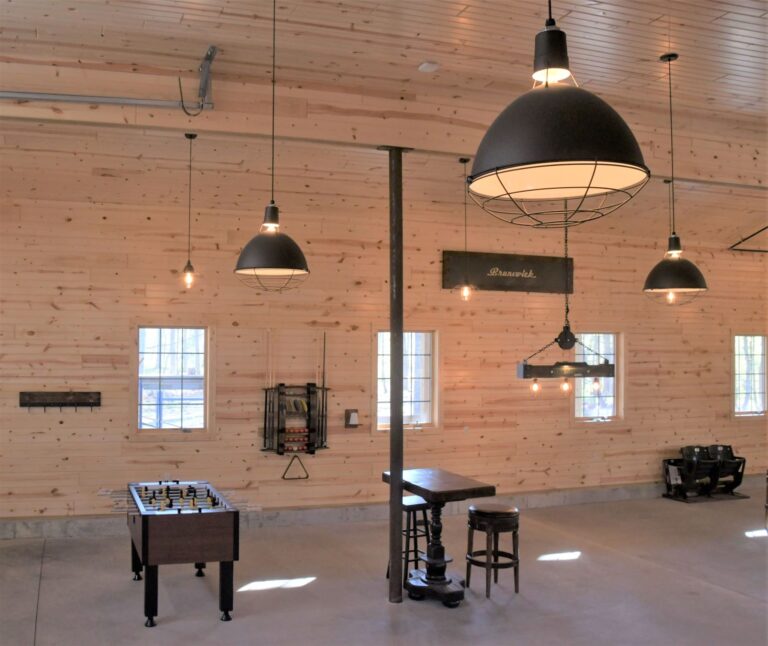 Both the Blue Collar Pendant and the Wilcox Uplight are handcrafted in Barn Light Electric's Florida manufacturing facility and can be customized in dozens of ways. Commercial-grade materials and careful attention to detail by our artisans assures that each fixture is of the highest quality.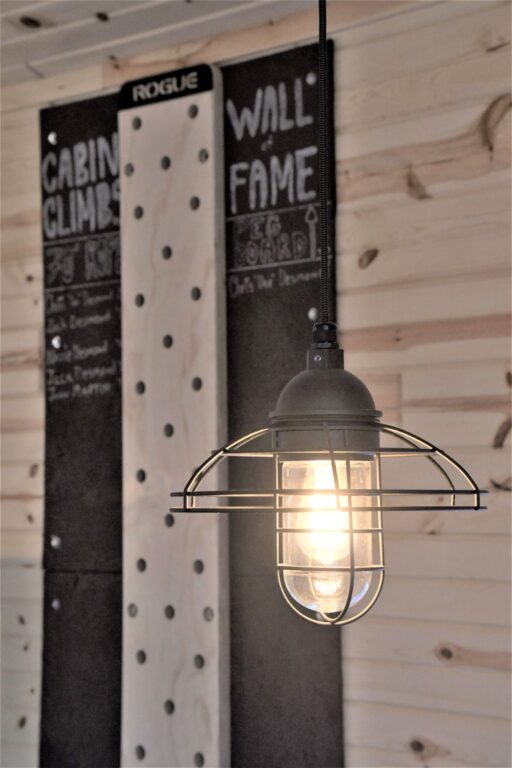 "These lights were the key missing piece once we had the space built," Chris says. "We could have settled for some ceiling puck lights, as our builder suggested, but we wanted to make the space pop. They're timeless, and we built this place to last for generations. We wanted a style that would, well, never go out of style!"
Photos courtesy of the homeowner