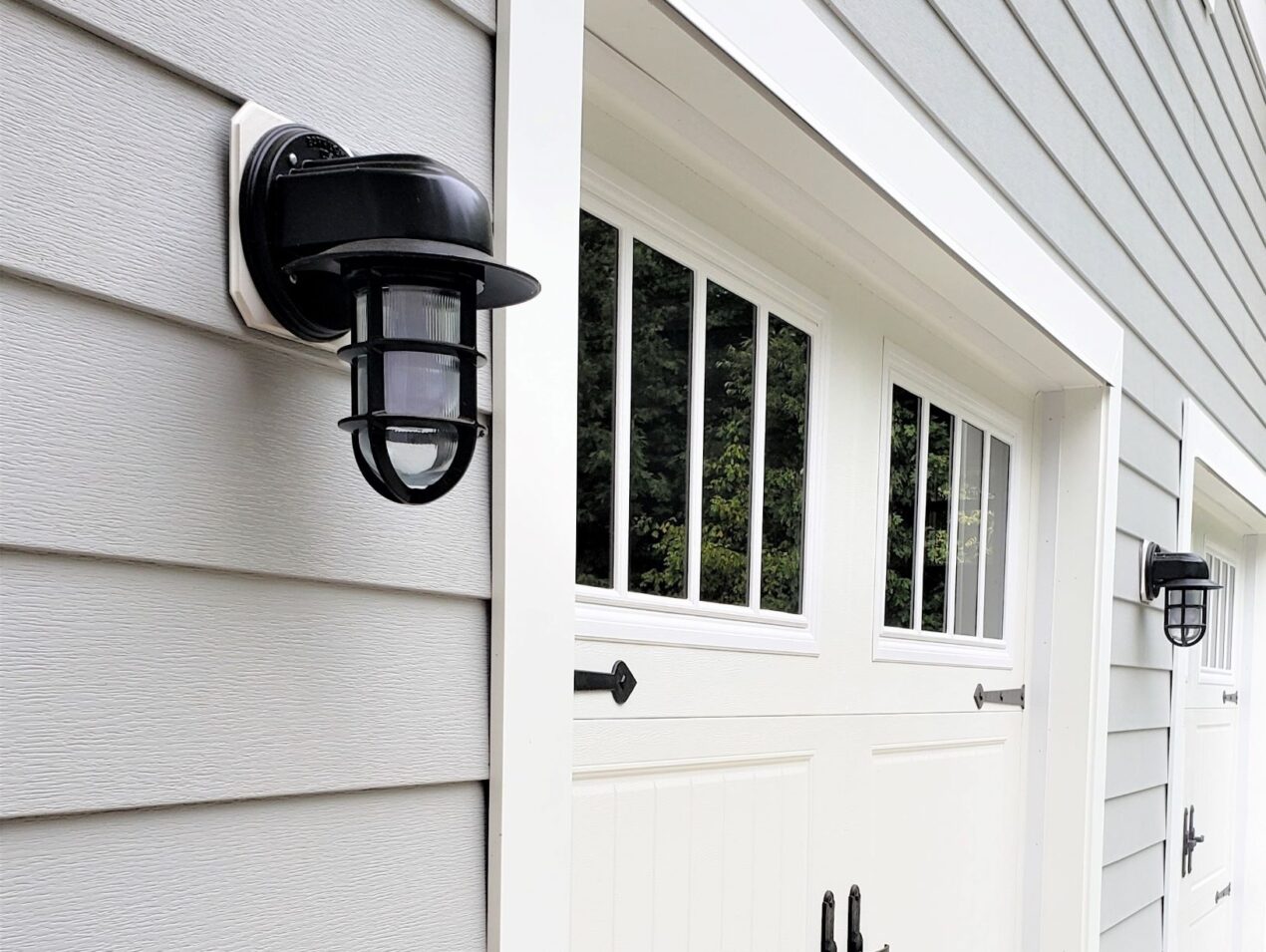 Easy-to-Customize Outdoor Lighting for New Craftsman-Style Home
When Scot started construction on his new home in Dogue, Virginia, he remembered an ad for Barn Light Electric that he saw in a magazine at the dentist's office. The Florida-based company and its tagline — Where Vintage and Modern Collide — stuck with him.
"It's funny how things like that work out," Scot says. "We chose Barn Light Electric for our lights because 'made in the USA' was important to us in the construction of the home." Today, we're taking a look at the exterior of Scot's craftsman-style home.
For the front door, areaway entry, and garage man door, Scot chose the Aero Gooseneck Light. He customized these handspun fixtures with 16″ shades, a porcelain Black finish, and G65 chain-supported gooseneck arms.
"The Aero lights are reminiscent of old service station lights," Scot explains. "We collect industrial antiques and the lights lend themselves to the feel of many of the things we like to collect."
The Aero features a stacked neck design with a flared shade that provides plenty of downward focused light. Crafted from commercial grade steel, the shades are finished with high-gloss, porcelain enamel that will never fade.
"The Black finish complements the gray siding and our red front door," he adds. "And the chain on the G65 adjustable arms looks cool."
For the screened porch, Scot chose another classic warehouse shade in the Esso Gooseneck Light. These compact wall lights are customized with 10″ shades and G11 gooseneck arms in brushed aluminum. With deep family ties to North Carolina and as a graduate of UNC Chapel Hill, Scot chose our Delphite Blue finish for these lights as "it is the closest thing Barn Light offers to Carolina Blue!"
Scot opted for a more nautical look for the garage with four Streamline Industrial Guard Sconces. These wall sconces are customized with a Black finish, flared shade, heavy duty cast guard, and ribbed glass.
"These sconces have a clean, simple, nautical look that goes well with our river setting," Scot explains "The flared shades and ribbed glass give the lights a classic look that complements the house style." The variety of customizing options allowed Scot to build each light exactly as needed for each space.
"Our lights are one of the first things that people notice about the house. We love to show them off and share our experience with your company," Scot says. "We love the fact that our lights are unique and high quality, but we mostly love the fact that they are made in the USA by American workers!"
Be sure to check back soon as we'll continue our tour and take a peek at the lighting selections for the interior of Scot's gorgeous home!
Photos courtesy of the homeowner