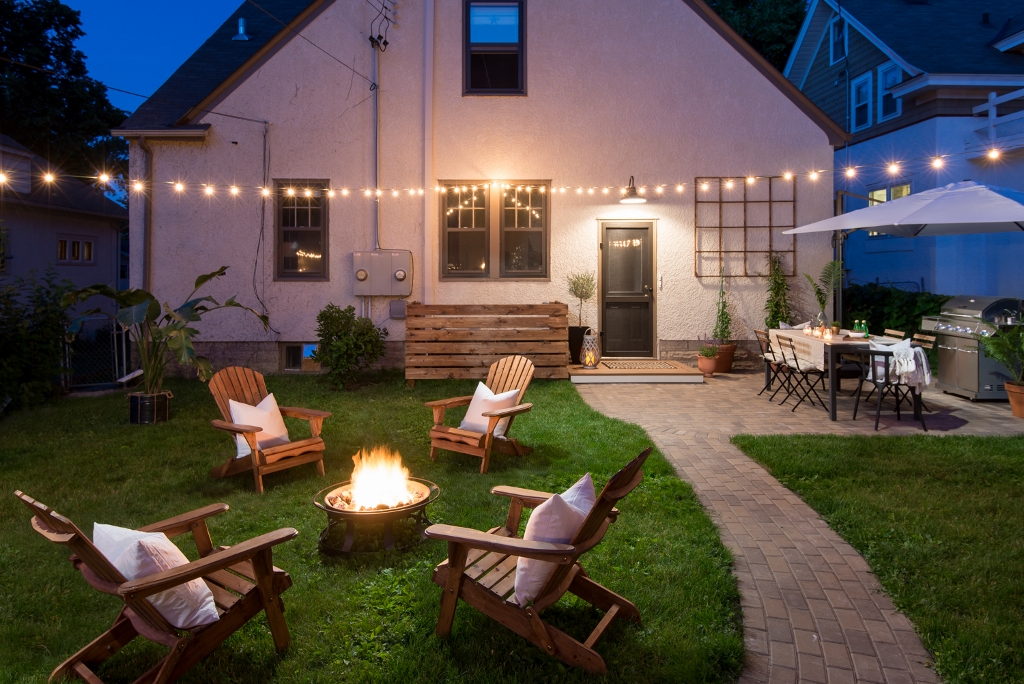 Summertime & the Living is Easy with American-Made, Outdoor Lighting
Kids aren't the only ones who relish the long, lazy days of summer. While we adults may still have to work for a living, extended daylight affords more time for entertaining and relaxing. And great outdoor lighting means the party can go on even after the sun goes down.
With back yards, patios, and porches getting a workout during these months, it may be time to update your lighting if those cheap, imported fixtures the builder installed have seen better days.
It's important to remember that any light fixture exposed directly to precipitation must be rated for "UL wet location" use. This blog post reviews wet, damp, and dry-rated fixtures.
This backyard may be small but it boasts a long, narrow swimming pool with a pool house. The designer for this project chose the Wilcox Gooseneck Light to highlight the door and bar area of the pool house. These American-made wall lights feature 10″ shades, an Industrial Gray finish, and G15 gooseneck arms.
Out in Malibu, California, Maggie Pierson, of Maggie Pierson Designs, also fell in love with the Wilcox Gooseneck Light for this outdoor shower. With its hand-spun, deep bowl shade, the Wesco is a dark-sky friendly fixture perfect for summer nights.
This homeowner created an outdoor space that complements her 1930s, Tudor-style home. Over the door, a Union Gooseneck Light provides a blend of vintage and modern design with its classic warehouse shade finished in Bronze. A dusk-to-dawn photocell ensures that the light comes on at dusk and turns off at dawn. String lights add to the ambiance after dark.
Warm weather also means more time relaxing on the porch! This sweet space on Tybee Island, Georgia, is both colorful and inviting with its aqua deck chairs and a Seaside Wall Sconce in a bright Magenta finish.
Our radial wave shades always look beautiful in waterfront locations as the gentle curves mimic the waves rolling by. This Radial Wave Industrial Guard Post Mount Light was inspired by vintage gas station lighting, but the updated, fluted shade offers an eye-catching addition to a dock, driveway, or landscape.
A front porch swing is an ideal place to wile away a summer afternoon. Carrie chose The Original™ Stem Mount Pendant to highlight her special space. She customized this American-made pendant with a 14″ shade, Galvanized finish, and 18″ stem.
Nothing says summer like cooking outdoors, and Glenn from Thousand Oaks, California, wanted ample lighting over his outdoor cooking space. He chose the Dual Arm Emblem Sign Light with 10″ shades to light up his 42″ grill.
Be sure to amp up your summertime dining with Barn Light's Porcelain Enamel Dinnerware. Whether you choose a blanket on the grass with a basket of goodies or layer a picnic table with all the fixins, our dinnerware, serveware, bowls, and cups add style and color to your meal!