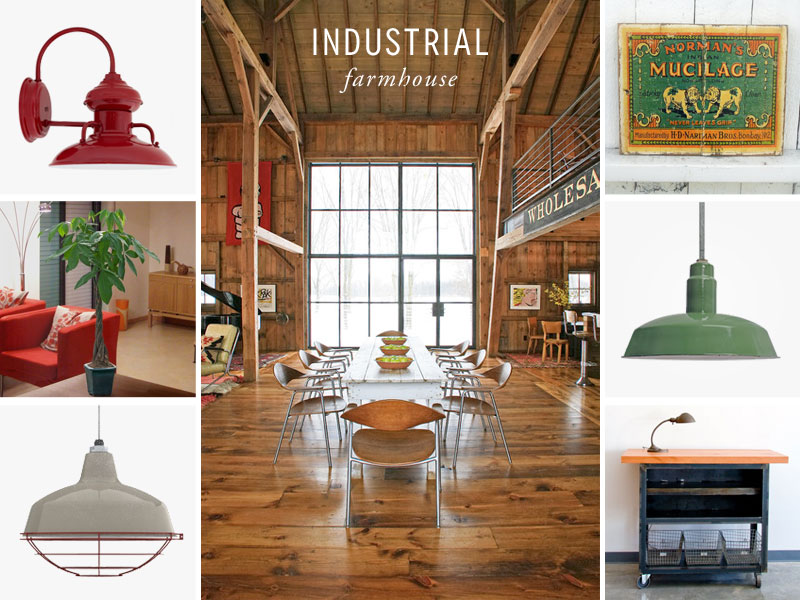 Style Me Sunday: Industrial Farmhouse Loft
We were inspired by the folks at Northworks Architects and Planners when we discovered their beautifully refashioned Michigan barn home. While their innovative redesign has function and style in mind, it is evident that they cared about the history and integrity of this barn structure. With our roots sinking deeply into barn and farmhouse aesthetics, this space resonates with us. This Style Me Sunday we're combining some of our favorite rugged vintage lighting and industrial farmhouse accents that will give your home, apartment, or loft a warm and historic barn ambiance.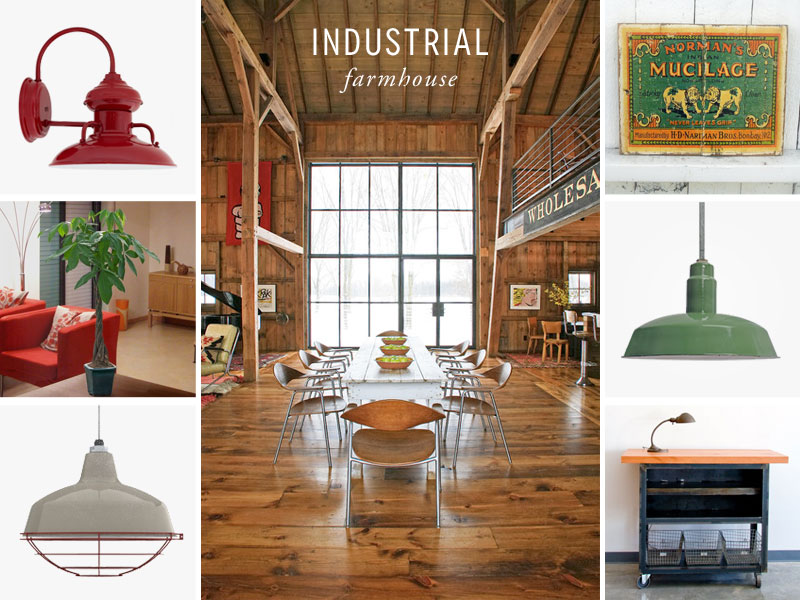 One of the charms of living in a barn or ranch style home is the expansive interiors. These spacious home designs allow you to play up dramatic elements like lighting and wall art. Wall sconces like The Laramie Wall Sconce channel rustic, Western style while maintaining an elegant silhouette. Plus, with vibrant finishes like barn red, the Laramie Sconce will not go unnoticed! Another must-have piece is a distressed vintage sign. These pieces, like the English Bulldog Advertisement Wooden Sign, are like glimpses into history. Who doesn't love a little nostalgic signage?
If you don't have large, open windows like this Michigan barn, pendant lighting will be your best friend. Maintaining a stylish presentation while emitting a broad spectrum of light is the barn light's specialty. This 18″ Green Benjamin® Stem Mount Warehouse Shade is wide enough to reflect over a dinner table and its rustic condition is so shabby chic! If you're looking for a more compact factory light, try the Ashland Pendant Light. With a rainbow of finishes and collection of accessories to choose from, the Ashland can go from modern sleek to industrial utilitarian. For extra barn-style lighting, try adding a cage!
What's farming without the greenery? If you're like many, the green thumb may not be in your jeans. Fortunately, some household plants like his Large Braided Money Tree are fairly low maintenance, but their vibrant hues add fresh life to your space. Remember, bigger is better in spacious homes so enjoy adding lots of foliage.
Industrial decor, tables and consoles are ideal for the barn-style home. Because of their distressed, utilitarian nature, they fit right in to the pastoral look. The Urbanization | Factory Utility Cart can serve different functions in a variety of spaces. Use it in a large kitchen as a moving island or in a stylish loft or apartment as a craft table or display.
You don't have to live in a barn to enjoy industrial farm house style — all you need are a few simple accents.
Michigan Barn Space courtesy of Northworks Architects and Planners | The Laramie Wall Sconce from Barn Light Electric | English Bulldog Advertisement Wooden Sign from Jezebel Treasures | 18″ Green Benjamin® Stem Mount Warehouse Shade from Barn Light Electric | Ashland Pendant Light from Barn Light Electric | Large Braided Money Tree from Giving Plants | The Urbanization | Factory Utility Cart from Barn Light Electric