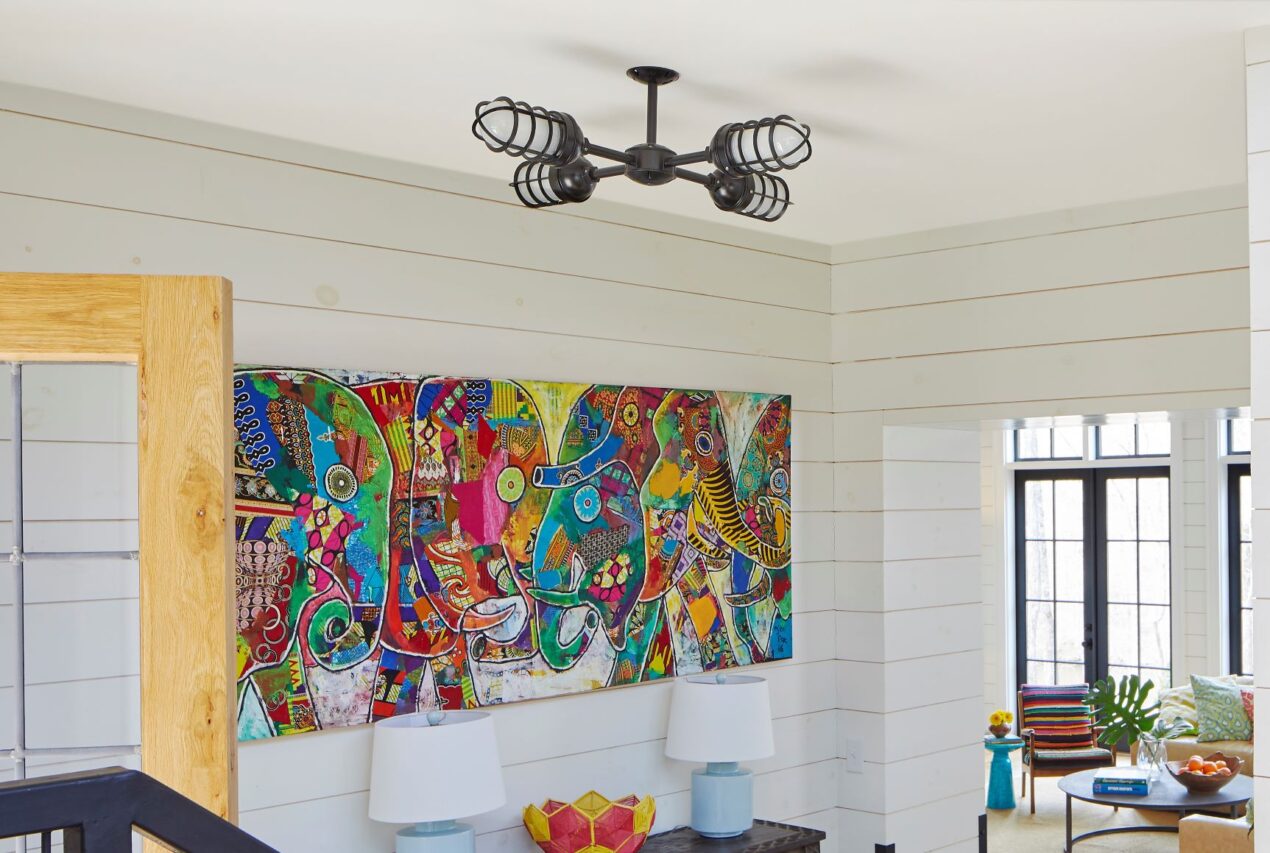 Rugged Industrial Lighting Adds Memorable Style to Farmhouse
Last Monday, we started a tour of Allison and Steve's brand new farmhouse located just outside of Birmingham, Alabama. If you missed the post, be sure to click over and see the explosion of color in the kitchen and mudroom!
Today, we're continuing our tour of the couple's modern farmhouse which is filled with natural materials, family treasures, and lots of laughter from three kids.
The house was designed by Long and Long Design in Homewood, Alabama. At the time of construction, Allison was living in Zambia so all of her selections, including lighting, had to be made online.
"The priority throughout the house were fixtures that are straightforward, industrial, hardy, and down to earth," Allison says. "I picked out all the lighting while overseas, and when I finally saw everything in person, I was thrilled!"
In the entryway, Allison chose the Sputnik 4-Light Chandelier to make an eye-catching statement. She customized this industrial-style chandelier with a Black powder coat finish, 6″ stem, standard cast guard, and frosted glass.
"I needed a fixture that didn't hang too low but provided a fun element for the white walls," she explains. "The black echoes the trim work and I like frosted glass for a softer dispersion of light."
For the kids' playroom, Allison searched for a fixture that wouldn't get lost in the high ceiling. The Foundry 4-Light Chandelier offers a similar industrial aesthetic as other fixtures she chose with its rugged cast guard-and-glass design. These two fixtures are customized with a Textured Black powder coat finish, 12″ stem, standard cast guard with no shade, and clear glass.
"We didn't need another color to compete with everything else going on in this room," she notes. "And we needed brighter light, so we opted for the clear glass here."
Above the checkerboard-painted wall, Allison chose Elliptical Sign Lights to bring attention that space. She customized these fixtures with 9″ shades, a White powder coat finish, G22 gooseneck arms, and a swivel knuckle for easy positioning of each light.
"I have always loved sign lights and knew I needed to use them somewhere," she says. "The painted wall in the playroom is the perfect place because they allow for highlighting the amazing pattern and color on the wall while the white blends in with the top of the wall."
Allison also used Elliptical Sign Lights in the dining room to highlight her colorful artwork from Africa. These fixtures are customized with 9″ shades and a Black powder coat finish. The G26 gooseneck arm and swivel knuckle option help direct the illumination precisely.
"I love the simple lines of this fixture; very graphic against the white walls," Allison notes. "The gooseneck arm provides movement and grace, and the swivel option allows me to angle the fixture exactly where I want it."
More vivid artwork adorns the walls as we move from the living room up the stairs to the upper floor. These pieces are highlighted by a Streamline Industrial Guard Sconce which are similar in style to the chandeliers Allison chose for the entryway and playroom.
"I hadn't planned on hanging anything in the hallway at first, but it was such a perfect moment for something beautiful to look at while going up the stairs," she explains. "I wanted a fixture that stayed close to the wall and wasn't too fancy or delicate. These fit the aesthetic I was looking for — simple lines, great design, and slightly industrial." Allison customized these American-made wall sconces with a Black powder coat finish and frosted glass.
Next Monday for our final leg of the house tour, we will explore the exterior of Allison's home plus her cozy, screened-in porch. You don't want to miss it!
Photos courtesy of the homeowner and Jean Allsopp