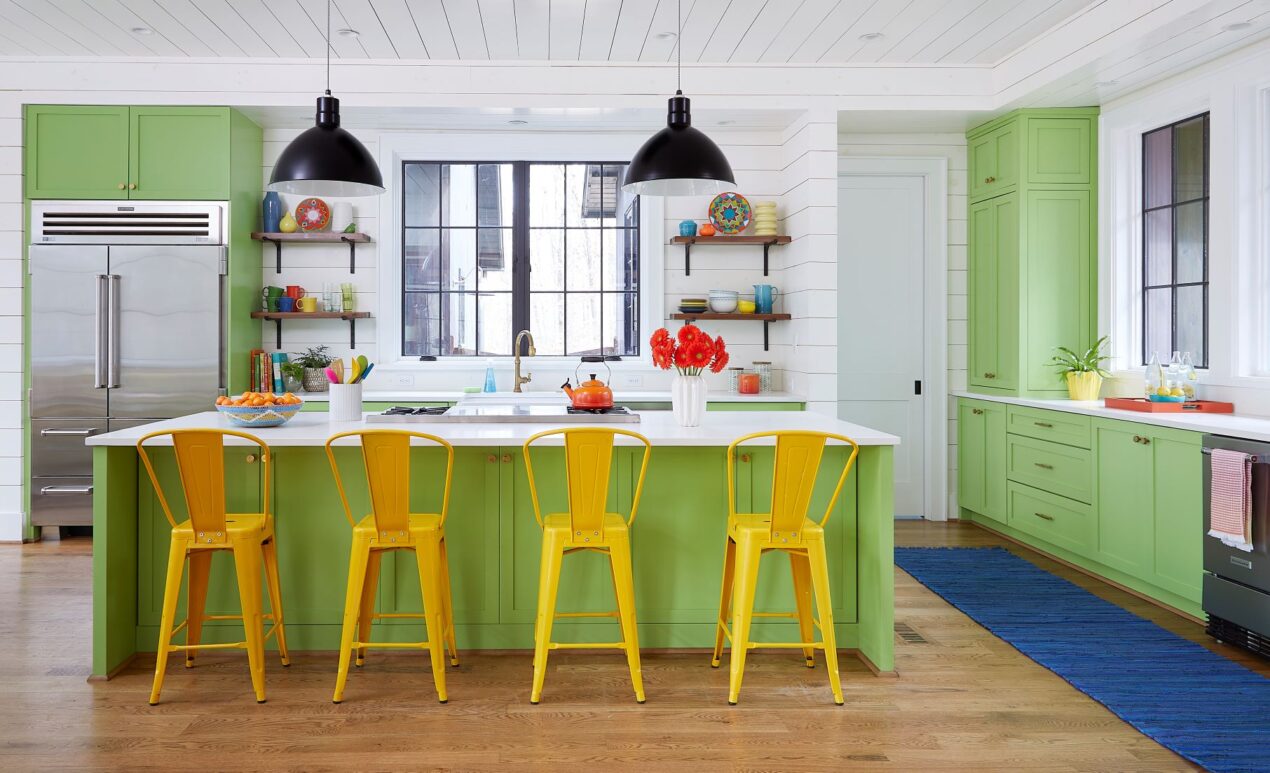 Deep Bowl Pendants Add Wow Factor to Colorful Alabama Farmhouse
Using color effectively in home design takes a special eye. Some homeowners shy away from too much color while others embrace it wholeheartedly.
When we stumbled upon Allison and Steve's home in an HGTV Magazine feature this spring, we fell in love with Allison's special touch with color. While the dark-stained exterior blends beautifully with the natural surroundings of the community, vivid hues burst forth in every room. We're launching a three-part series today on this lovely farm home located just outside of Birmingham, Alabama.
"Our vision was a modern farmhouse," Allison says. "I liked the idea of a very monochromatic look on the outside with bright, airy interiors. The interiors are all about happiness and joy, with nothing too pious or fancy that can't withstand a family of five plus various pets."
The heart of this family's home is the kitchen offering 480 square feet of color and light. The bright green kitchen island sees daily use along with a cozy banquette with plenty of windows to bring the outdoors in. Allison searched for lighting with simple lines and quality construction.
The island is highlighted with Wilcox Deep Bowl Pendant Lights customized with generous 20″ shades. These handspun shades sport a Black finish and black-and-white cloth cord.
"I wanted a bold statement over the island; nothing too ornate or detailed," she explains. "The Wilcox gave the wow factor I was looking for in the size I needed. I didn't want wimpy fixtures!" She adds that the Black finish doesn't compete with everything else in the space, and the cloth cord is a special finishing detail that makes the pendants special.
In the nearby mudroom, another pair of Wilcox pendants brightens this busy space. These American-made pendant lights feature 16″ shades and a Buttery Yellow finish.
"I was planning to do these pendants in White, but a good friend thought the room needed a pop of yellow," Allison notes. "Once she said that, I was all in. The yellow is a perfect complement to the other colors in the room and gives a moment of fun when you see them."
A Dutch door leading to the mudroom from the outside opens to reveal the bright blue room, happy yellow pendants, and a couple of irresistible faces.
Be sure to check back next Monday as we continue our color-filled tour of Allison's gorgeous home!
Photos courtesy of the homeowner and Jean Allsopp