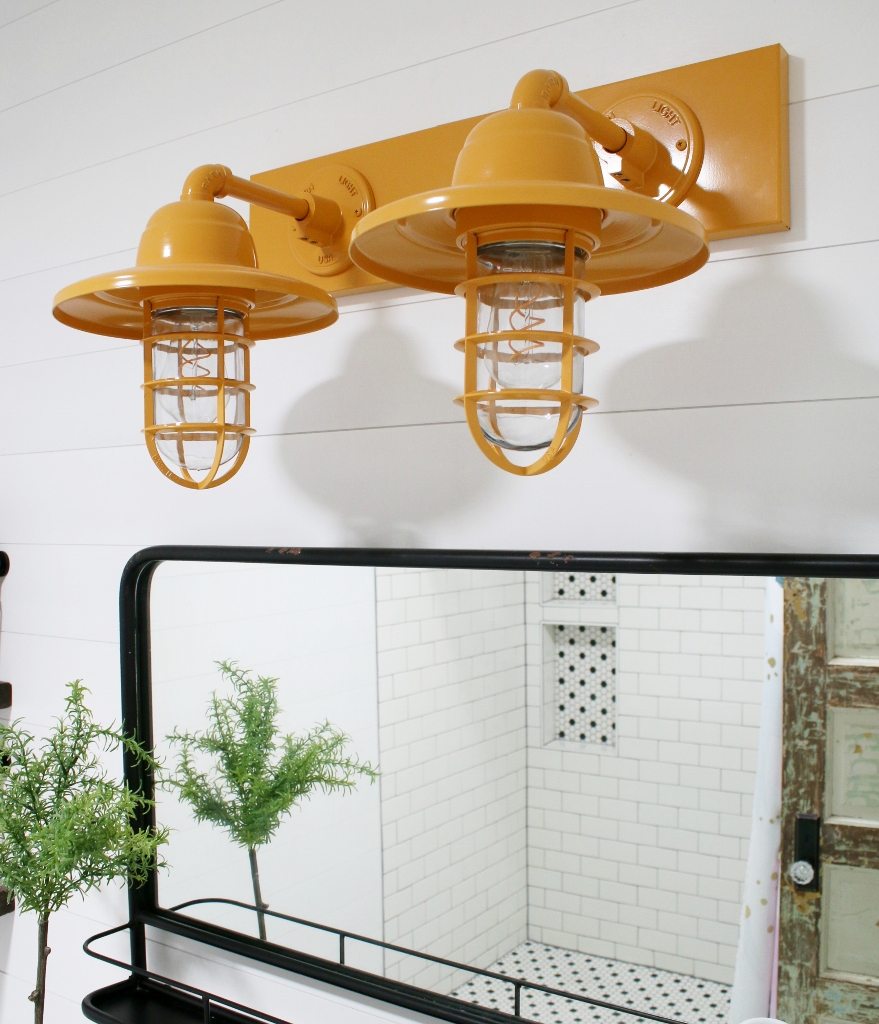 How to Choose Vanity Lighting for Both Function and Style
You may regard the time standing at the bathroom sink as minimal. But those minutes are oh so important as we prepare ourselves to greet each day and as we wind down each night.
Proper vanity lighting is one aspect of bathroom design that is often overlooked. Functionality is key, but vanity lights can also add a stylish focal point in these smaller spaces.
In bathrooms with plenty of space around the mirror, lights on either side work well for proper illumination without shadows. Becky, an interior designer, chose the Kao Wall Sconce as her inspiration for her new bathroom. She customized these compact, vintage-style wall sconces with a creamy Jadite finish.
Jennifer chose a small Oil Rubbed Copper fixture to highlight the rustic style of her bathroom vanity. The petite Fargo Wall Sconce, with its 5″ shade, provides the perfect spot of light. Jennifer notes that the higher arc on the sconce arm adds height visually while still saving space.
Kelli chose the Industrial Guard Double Vanity Light in Yellow to complement her linens and rug. She customized this American-made wall sconce with a standard cast guard and clear glass. This double vanity light has roots in the nautical lights once prominent on turn-of-the-century ships. Each guard-and-glass fixture is topped with a mini warehouse shade and can be customized with one of 28 finish colors.
When an artist friend gave Helen a piece of orange formica, she found the focal point for her bathroom remodel. Helen chose the Downtown Minimalist Sconce to highlight the new vanity and add a coordinating punch of color to the wall. These handcrafted vanity lights feature an Orange powder coat finish and half chrome light bulbs.
Bathrooms seem to be a popular spot these days for schoolhouse lights as shown in this blog post. Darci opted for the classic look of opaque glass on the Primary Schoolhouse Gooseneck Light to highlight a reclaimed fir vanity. She chose a Black fitter and G26 gooseneck arm along with double painted Black bands.
With a strong statement wall like this, Amy needed an equally strong lighting choice. Our Union Gooseneck Lights, hand-spun from raw copper, can handle the task! Customized with 10″ shades and G22 gooseneck arms in a contrasting Black finish, these gorgeous fixtures give Amy's bathroom a spa-like feel.
As Anne searched for new vanity lights, finding fixtures that were easy to customize was important. A long-time customer of Barn Light Electric, Anne knew she could find exactly what she needed. She chose the Barn Light Mini Eclipse Wall Sconce and customized these 7″ wall sconces with a Galvanized finish and G38 gooseneck arms.
For a minimalist aesthetic, the Vanity Strip Light joins bare bulb sockets to a sturdy backing plate. Easy to customize with 30 finish colors to choose from, this fixture comes in both three- and five-light designs for spaces ranging from small powder rooms to larger master bath suites. Don't forget this versatile fixture for laundry rooms or in tight spaces above the kitchen sink as well.
To get your industrial fix, don't miss The Lang Machine Age Wall Light which David chose for his bathroom remodel. He customized this American-made, steampunk-inspired fixture with copper sockets and red cording for a splash of color.
"The unexpected red cloth cords provide a surprising, fun, and wonderful contrast in color and texture," David says. "And the copper sockets next to the brass mirror is a perfect match."